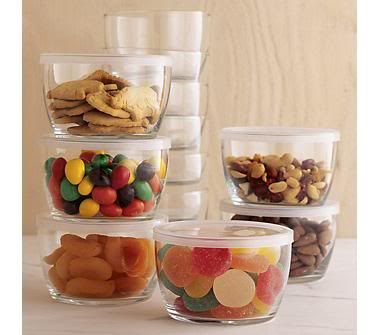 The following is a guest post from Becky at Our Peaceful Home.
The dangers of plastic are being broadcast everywhere. You really can't pass by a healthy or green living blog without being warned about not only the toxic effects plastic can have on your health but also the dangers it can have to the environment. And it just seems like EVERYTHING is made out of plastic!
For years I carried a plastic Nalgene water bottle; when I became more frugally minded I started saving plastic yogurt and cottage cheese containers to store food in, and I would almost always use a microwave oven to warm up my leftovers that were stored in plastic.
Now we know that plastics have cancer-causing chemicals that are released in the form of a gas that can get into our food, drink, and can contaminate the air we breathe. Eliminating these plastics in our life is essential to our personal health and the health of the environment we live in.
When plastic is around every corner, here are a few things that I have done to rid my home of some of those harmful chemicals.
•    I now use a stainless steel water bottle. It is not only plastic free but it keeps my water colder longer.
•    I got these wonderful glass storage containers from Crate and Barrel for Mother's Day. I love them! They have a plastic top that the food doesn't touch, I can pop the top off and microwave them. I knew what I was getting this Mother's Day but they were completely worth it! They look small, fit almost anywhere but they can hold so much food!
•    I use a reusable bag at the grocery store and farmers market. Not only are they green and reusable but they don't break when you have them stock full of groceries.
•    I also have seen reusable sandwich and snack baggies made out of fabric. Both of which I don't have yet but I would love to have them!
I continue to keep my eye out for plastic-free solutions! I know there are others I haven't found yet and others that will come out soon. Have you found any plastic-free solutions? I would love to hear from you!
Sign up for our Newsletter
Google+ Comments