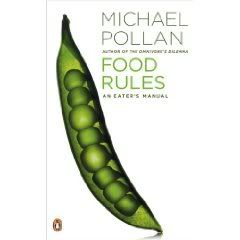 This is my ongoing,11-week series about Michael Pollan's book, Food Rules: An Eater's Manual.
The first 21 rules fall into a section called, "What Should I Eat? (Eat Food.)." This installment covers rules 10 through 12.
Rule 10: Avoid foods that are pretending to be something they are not.

Imitation. "Tastes like." "I can't believe it's not." All of these are targets of Pollan's wagging finger, along with artificial sweeteners, fake fats and foods that come with funny names (Quorn and Tofurkey, I think he's looking at you).
Rule 11: Avoid foods you see advertised on television.

Pollan points out that only the biggest food manufacturers can afford to advertise their products on TV. Many of these ads are generated to counteract criticisms of the foods, which "they simply reformulate (to be low-fat, have no HFCS or transfats, or to contain fewer ingredients) and then boast about their implied healthfulness, whether the boast is meaningful or not." But if you see fruits and veggies advertised, you can still eat them, and don't blame Mr. Pollan if you don't!
Rule 12: Shop the peripheries of the supermarket and stay out of the middle.

This is a great rule, one that nutritionists have espoused for years. Fresh food is on the outside of the store so it's easy to restock (and less convenient for you to get to). But Pollan cautions you to still read the labels — your yogurt might be laded with high-fructose corn syrup.
How do these rules feel?
Excellent reminders. And they bring good news: You do not have to purchase anything that is advertised by Fabio!
Sign up for our Newsletter
Google+ Comments