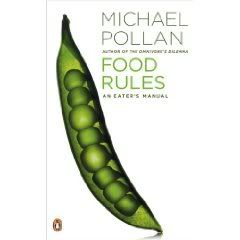 This is my ongoing,11-week series about Michael Pollan's book, Food Rules: An Eater's Manual.
The first 21 rules fall into a section called, "What Should I Eat? (Eat Food.)." This installment covers rules 13 through 15.
Rule 13: Eat only foods that will eventually rot.
Remember the urban legend that Twinkies will never rot? When I was in high school, the story went that you could nail a Twinkie to a roof and it would endure for years. I don't know about that (what about precipitation? crows?) but if you are a fast food junkie, beware — check out this video about a desiccated Happy Meal for inspiration:

Or see Morgan Spurlock's McDonald's experiment:

Rule 14: Eat foods made from ingredients that you can picture raw or growing in nature.
Another way to remember "Eat real food." Pollan cites the ingredients in Twinkies or Pringles as a case in point. Alas, because I do like Pringles (although I can't say the last time I ate them). But actually, Pringles ingredients are:
DRIED POTATOES, VEGETABLE OIL (CONTAINS ONE OR MORE OF THE FOLLOWING: CORN OIL, COTTONSEED OIL, SOYBEAN OIL, AND/OR SUNFLOWER OIL), RICE FLOUR, WHEAT STARCH, MALTODEXTRIN, SALT AND DEXTROSE.
I've seen worse, although those ingredients do include some partial ingredients.
Rule 15: Get out of the supermarket whenever you can.
Pollan suggests buying food at a farmer's market, where there is no high-fructose corn syrup (assuming you avoid the booths of any unscrupulous bakers — at some of our farmer's markets, there are more booths selling snacks, lunch, meat and baked goods than produce, but probably most of them aren't using HFCS or partially hydrogenated oils). I can also assure you that no trans fats will grow in your garden, so plant something — after all, it's almost spring!
Sign up for our Newsletter
Google+ Comments