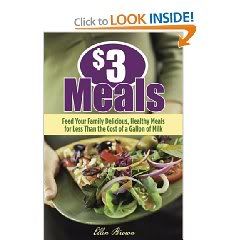 My giveaway for Ellen Brown's delicious cookbook, $3 Meals: Feed Your Family Delicious, Healthy Meals for Less than the Cost of a Gallon of Milk, must have struck during a too-busy holiday season, because those of you who entered had great odds!
Nevertheless, one lucky reader will get a little extra holiday gift to help start the New Year cheap (and yummy, and healthy). I used the random number generator at Random.org to pick a winner from all the comments received on that post, and that winner is …
Rob!
Rob's winning entry was the one listing his favorite cheap and easy meal:
My favorite cheap and easy dinner has to be Easy Tuna Casserole- Just make a box of Kraft (or other) type of Mac and cheese to the directions stir in 1 can of tuna, 1 can of cream of mushroom soup, Throw in some frozen green beans or peas- top with Crushed potato chips or crackers and bake at 350 for 15- 20 minutes.
When you get the cookbook, Rob, you will have to try Ms. Brown's take and whip up your own white sauce. I promise it's good!
Check out the comments on that original post for a few other quick, easy, cheap meal ideas from readers.
Thanks, everybody, for reading Cheap Like Me and entering this contest.
Sign up for our Newsletter
Google+ Comments