This year I'm celebrating the holidays with a "12 Days of Christmas" series on the abundances of our kitchen and garden. Share your experiences, too, and happy holidays!

We're in the home stretch! On the 11th day of Christmas, my true love gave to me …
11 pickled beets
10 cellared squashes
9 candied bacon strips
8 oranges' peels, candied
7 dozen pounds of pork … and fat to render
6 farm-fresh eggs,
5 daikon pickled for banh mi,
4-some gallons of beer,
3 quarts of applesauce,
2 half-gallons of sauerkraut,
and 1 quart of yogurt, homemade.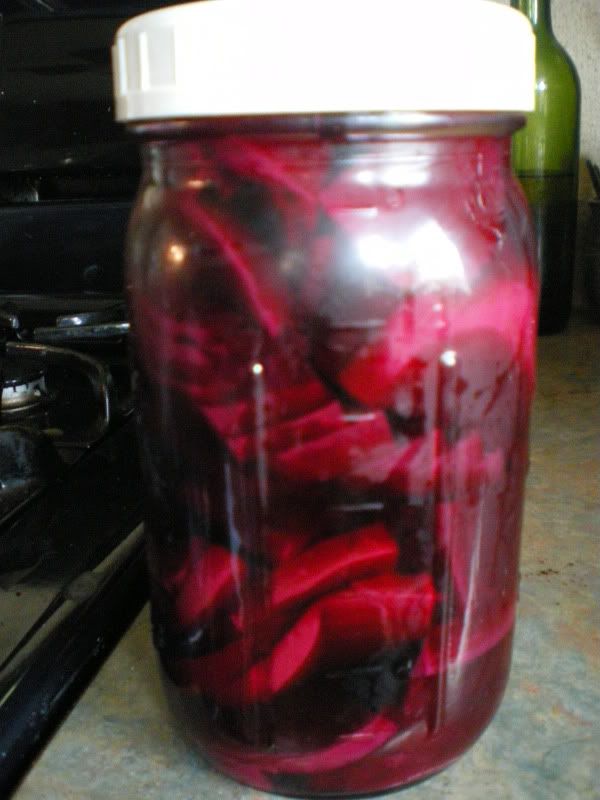 My true love really did give these to me. Or made them, at least.
Come November-ish, I was looking at the pile of dirty old beets in our produce bin — not to mention the still-hopeful leaves of our own crop in the garden outside — with one heartfelt expression:
Meh.
You see, all the many pounds of kale, the aforementioned cellared squashes, the cucumbers I grew and pickled (very badly! such as forgetting sugar in would-be delicious recipes), the apples, the eggplants sliced and roasted and frozen (and which I cannot eat, having an oral allergy to them, although Mr. Cheap and Mlle. Cheap like them), had taken their toll. Beets, you see, can wait, and so they did, until they risked turning hairy and rubbery, mayhap even moldy, in the fridge.
Fortunately, Mr. Cheap mustered the late-fall wherewithal to cook them, peel them, slice them, and pop them in vinegary jars in the refrigerator. Pickled, maybe something like this, but I think with more vinegar. And so they were saved. They are, if nothing else, beautiful!
Now, how to use them? This list has some good ideas for adding them to salads, to provide some sparkle and fiber, color and, of course, iron.
Sign up for our Newsletter
Google+ Comments