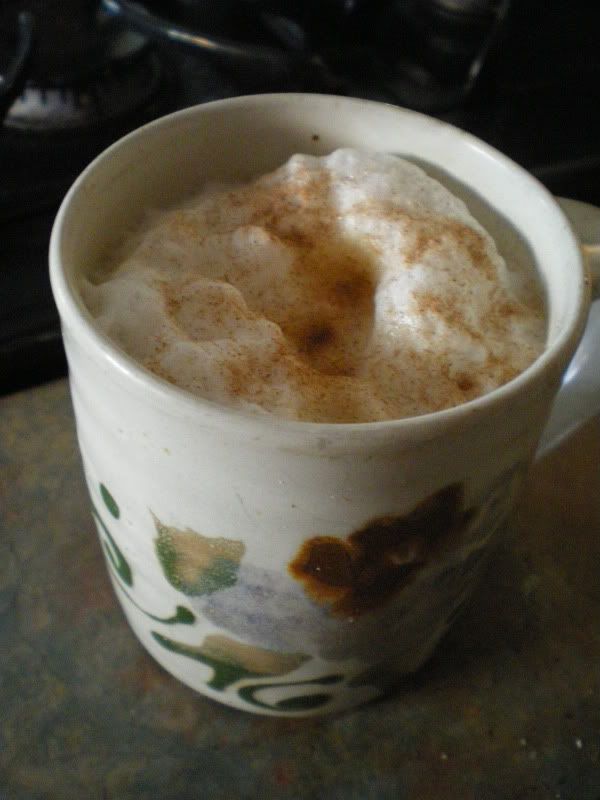 As you might know, a very famous coffee chain makes a popular fall and winter beverage called the pumpkin spice latte (let's give them a little nickname … PSL for short). I admit that I'm among those who rush out each fall and suck down the spicy, sugary goodness. In fact, a conservative estimate would put my PSL spending this fall alone, starting as soon as it was launched in September, at $40 or more.
Often, buying designer coffees is my main cash outlay, so I don't really mind if I spend $4 or $5 a pop on them, but I do try to frequent independent coffee shops. Sadly, the PSL lures me in to the chain again and again, so that I forget what my favorite stores even look like — not to mention the calories and sugar (with nonfat milk, 260 calories and 48 GRAMS OF SUGAR!, and if you're a whipped-cream aficionado, it's 330 calories). Compare that to the American Heart Association's recommended 25 grams of sugar DAILY for women. No wonder I didn't drop a pound this fall…
Finally, I reined myself in, and lately I've been even better. But sometimes the hankering still hits, and so I have been experimenting with making PSLs at home.
I started when I spied a gently used espresso/cappuccino maker in the alley near my CSA pickup point. It was lovingly set aside, as if for someone to take, and that someone was me.
I turned to a recipe from The Kitchn online for a pumpkin spice latte, using homemade pumpkin puree. It was okay, with a tobacco-y flavor that I correlate with the original PSL, but I couldn't finish it, and then I almost gagged when I poured out the remains and lumpy pumpkin was in the bottom. Somehow, just knowing I had lumpy orange goo in the bottom of my coffee mug was a major turnoff.
To complicate this little experiment, the machine sounded like a jet plane taking off, didn't froth too well, and Mr. Cheap didn't like the espresso. Our kitchen contains approximately 12 square feet of counter space, so if an appliance doesn't pay, it doesn't play — and the machine went back onto the heap.
Next I spotted a frother wand at Cost Plus for $10. I've yearned for one of these since someone raved about it at a holiday party gift swap where I wasn't the lucky winner. Lo and behold, Cost Plus also had a bottle of Torani Sugar-Free Pumpkin Spice syrup, regularly priced around $7 and on sale for $5.25. I popped both in my basket as a Christmas gift to myself. (Yes, I do know that if you are watching your budget, you should never buy Christmas gifts for yourself. Ahem.)
The wand whips milk into an amazing foam in about 20 seconds. (I really only wanted the cappuccino machine for the foam.) A little syrup, a bit of espresso from our stove-top maker (we have this one, chosen because it is stainless steel instead of aluminum), and I have a DIY PSL for a fraction of the cost.
DIY Pumpkin Spice Latte (makes 2)
3/4 ounce of coffee grounds (or to fit your espresso maker); or use strong brewed coffee
1 cup of milk
3 Tbsp sugar-free pumpkin spice syrup
2 tsp vanilla extract
cinnamon-sugar (optional)
Brew the espresso as usual, or brew strong coffee. Froth milk in 2 mugs. Warm frothed milk in microwave if desired. Pour 1 1/2 Tbsp of syrup into each mug. Add vanilla if desired. Pour espresso or coffee into each mug through the foam. Sprinkle tops with cinnamon sugar if desired.
Cost per serving: $0.53 (an 87 percent savings over a $4 cup at the big green chain)

(AND that includes organic milk, organic coffee purchased at Costco for $5 per pound, syrup purchased at $7 per bottle, and the gas for the stove! Does not include whipped cream, vanilla or cinnamon sugar.)
Don't have an espresso machine or frother, but want to justify it? If you typically suck down two purchased PSLs per week, and switch to homemade, you could pay off a $40 stovetop espresso pot and a $10 frother in about 7 weeks. Your purchases would pay for themselves before spring arrives … and keep saving money next fall, too. You'd save even more by just using brewed coffee.
And if you're saying "but coffee is my break at work!" you could mix it up in a thermos or thermal mug and keep the frother in your desk drawer, or skip the frothing and just warm it up — if you want to feel posh, keep a can of whipped cream in the communal fridge (maybe disguised with a Vegemite label or something to keep vultures away!).
Oh, and the calories in the homemade version? About 75 per serving (using 2% milk) if you put on the sugar topping. That's just 27 percent of the full-sugar version at the chain.
Sign up for our Newsletter
Google+ Comments