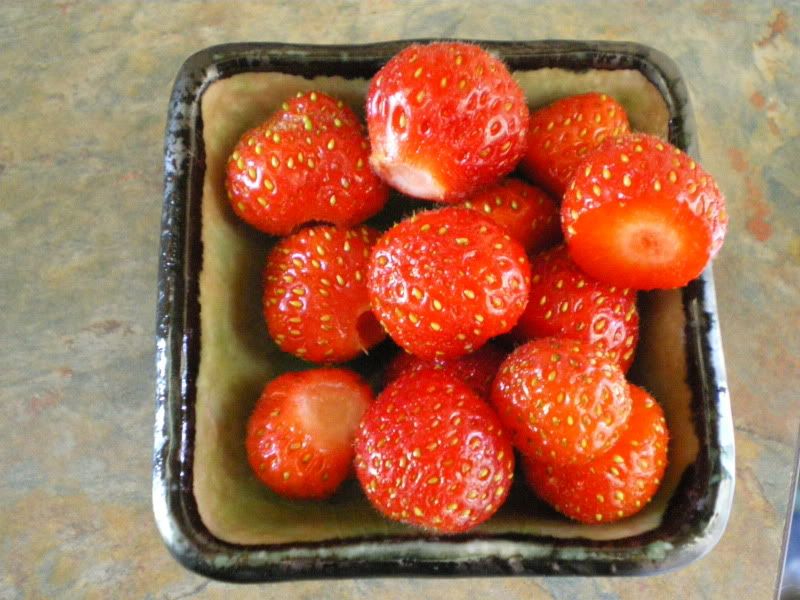 If all has gone well, by the time you read this we are getting home from a camping trip this week. We picked camping for a less-expensive vacation getaway, giving us a chance to enjoy our beautiful state of Colorado.
Hopefully, our garden survived without us. We've been enjoying our first really decent strawberry harvest (after putting in plants two years ago), and our cherry tree was just about to burst out in ripeness when we left home.
Meanwhile, here are a few good links from last week:
BOGO Jamba Juice coupon
Deal Seeking Mom posted a link to a BOGO Jamba Juice coupon, which sounds delicious this summer. The styrofoam cups make me cringe a little bit, but I do have a reusable Jamba Juice mug that I received at a 5K race once up on a time to ease the green guilt.
Origins recycles cosmetic packaging
As a follow-up to my recent post about Aveda recycling caps, now I've learned (via Smart Family Tips) that Origins has launched a program to recycle all cosmetics packaging. Just drop it off at an Origins counter. This is especially exciting for materials like tubes, lipstick caps, compacts, etc., which don't fit into most community or residential recycling programs. The Origins FAQ explains which materials are accepted and how to participate. Although it doesn't quite guarantee that all materials will definitely be recycled, it's certainly a step up from simply throwing them away.
Menstrual cup alternatives
Crunchy Chicken is celebrating her second year of using the Diva Cup with a paean to the wonders of the cup itself, and a few gripes about the company's communication processes. If you've been thinking about using a menstrual cup, check out the end of her post for a list of other brands of menstrual cups — and the comments for any feedback that might be helpful to your decision.
More sun in the garden — or a solar cooker

If your garden has had some shade creep up on it, Living the Frugal Life has a tip for bringing more sunlight in. We typically have the opposite — in especially scorching summers, we have mounted garden row cover on stakes above our tomatoes and peppers so that those sun-lovers can get enough relief to keep their flowers and set fruit.
I wouldn't give up my windshield shade, though. The black dashboard of my Subaru gets burning hot, and shading it from the sun makes a huge difference in how hot it gets inside. If you see shades like the one she pictures at a sale, though, you could use them for the garden (even in winter?) or making a solar cooker — so grab 'em while they're hot (har, har).
Popsicles galore
It's getting hot out there, and nothing beats cooling down with a frozen treat. TipNut has posted a list of a whopping 55 different recipes — that's almost enough to make one a day for most of the rest of the summer! There are juice popsicles, smoothie popsicles, and popsicles for the grownups, from Vietnamese Coffee popsicles to vodka-infused popsicles to cardamom-rhubarb creamsicles (say what?).
All those recipes are just in time to whip some up for tomorrow's 4th of July/Independence Day celebrations in the United States. What flavor do YOU choose?
Sign up for our Newsletter
Google+ Comments