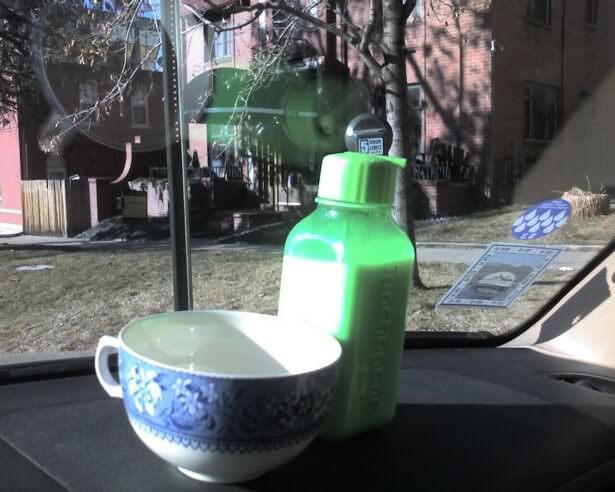 Tomorrow night, a great old band, English Beat, will play live in my hometown of Denver. I don't think I'll be there, but I've had this song in my head. Here's a hint — the photo at right is about remedying a slip-up.
I rent a shared office part-time. Usually, I bring my own coffee from home in the morning, in a nice stainless steel mug that my husband orphaned.
But this week, I decided to make some coffee at the office after a long, long weekend of working more than playing. I like some milk in my coffee. Before I knew it, the coffee had brewed, and I found myself in the situation of many office workers … sipping coffee:
from a styrofoam cup,
stirred with a plastic spoon, and
diluted with (don't tell Michael Pollan!) lactose-free, "lite" artificial creamer. It contains two items on the "avoid" list, and the only item that would pass Pollan's rules 2 and 3 is "sugar." Ugh.
Oh, dear.
The next day I brought in a little container of milk and my own mug. I can keep the milk in the fridge all week and wash the container on the weekends.
If you're feeling guilty of an eco-sin or a nutrition sin, here's a song to absolve you … unlike the song's narrator, at least I didn't ruin two lives this week.
And now for the wrap-up:
When something that sounds too good to be true – isn't – from WiseBread. Stories of amazing deals, and cautionary tales.
Also from WiseBread, a recipe and cost breakdown for homemade dog food. Have any of you made your own dog food? I do make my own dog biscuits, but we buy fancy allergenic-free dog food at the pet store for Schnauzer Cheap (who has allergies to dust, or something).
Happy birthday! Or if it's not today, it's surely coming up within the next year or so. Suddenly Frugal has a list of birthday freebies for you.
Sign up for our Newsletter
Google+ Comments