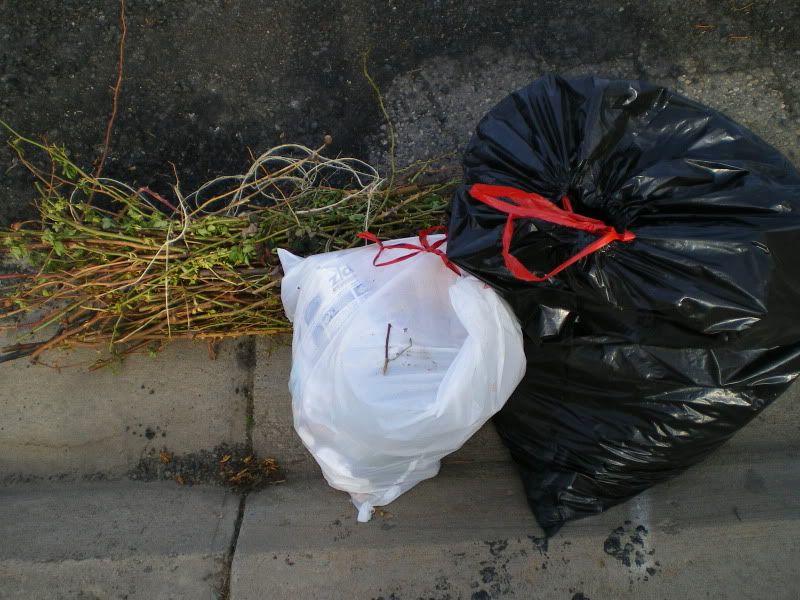 On Sunday, my blog was featured in an article in The Denver Post. The article talked about my family's efforts to recycle many items. It also mentioned some statistics about trash. If you saw the paper edition, it included a bar with some statistics about garbage:
The article mentions that we average about half a 13-gallon kitchen trash bag per week.
And yet pictured above is our actual trash load for this week. HUGE for someone claiming not to make much trash, right?
What is frustrating is that of those three big bundles of garbage, less than half of the 13-gallon white bag is actually *waste* that isn't easily recyclable.
The rest is organic matter that could be composted and turned into reusable dirt, if only we had the means.
We have a compost bin, and we use it for our household food waste, our yard trimmings (such as they are — we have a small, somewhat sparse lawn, and we use a push mower, so we don't have too many clippings, and they stay on the lawn), our shredded paper, etc.
But we simply don't create enough volume of compost to be able to have bulky items like the ones in the image above — some pruned rose branches and a bag of weeds and old stalks from garden plants, as well as several squash from our CSA share that we never ate this winter, but which now are turning bad — break down in our compost.
The good news, which is not pictured, is that we were getting rid of several rose bushes, too. We put an ad on Craigslist offering them to someone who would dig them out, and within minutes had 10 takers. A man came and dug them out and took them away that afternoon!
What about city composting?
Of course, this would be solved by a municipal compost program. These programs can take larger items, because their greater volume of materials and industrial turning-of-the-compost makes big stuff break down faster.
Many city-based programs make it possible for restaurants to compost their waste, for everyone to compost waxed paperboard (like milk cartons), and even for meat and dairy waste to be composted. (These items are biodegradable, of course, but they break down slowly unless the compost pile is very hot, and they can attract distasteful pests. Wouldn't it be great to compost them? Sometimes a chicken bone or two is stinky enough to make us prematurely take out a trash bag.)
City programs are possible, but not too common. Read about what the City of Boulder, Colo., is doing if you want some inspiration. Boulder is striving to be a zero-waste city, and composting is an important part of that goal. Also quoted in The Denver Post are some statistics from "The Story of Stuff," which notes that yard trimmings and food scraps make up about 25 percent of household garbage. If you add wood products and paper and paperboard products (other organic materials) as the EPA's organic materials Web site does, the total is more than two-thirds of the waste stream! Imagine taking that much stuff out of landfills and converting it to usable fertilizer.
"But doesn't your city have composting?" you might ask. Yes, Denver does, but the program is on life support. The city rolled out a pilot program for green waste recycling last year. With budget cuts due to the economy, it almost got the axe, but it's been extended through 2010 for homes in the original area only that pay a yearly fee. After that, who knows?
Wouldn't green recycling — municipal compost everywhere — be wonderful? When I took out our trash, I looked across the street at our neighbor's house. They had been working in the yard all day Sunday, too. Typically, they have a trash can with a bag or two in it. This week, they had this: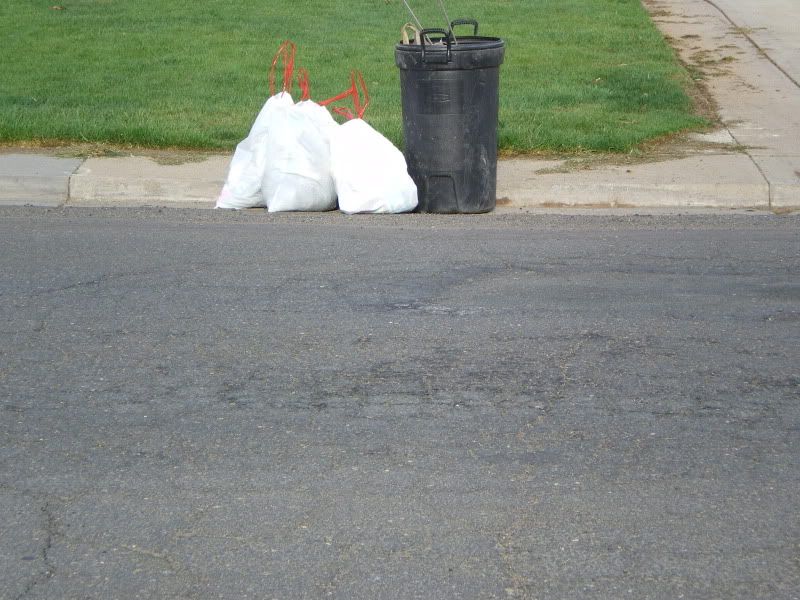 Probably a lot of that is recyclable, if only we could.
How about your neighborhood?
[poll id="6″]
Sign up for our Newsletter
Google+ Comments