Happy St. Patrick's Day!
Spring is not quite here, but Mother Nature is working on it. This is the traditional day to plant peas in the garden, and I woke up to this: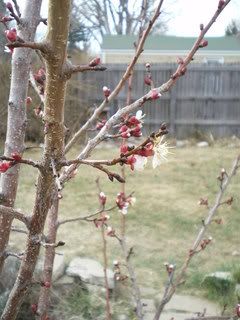 It's our apricot tree in bloom. This process is especially exciting this year, because this is our tree's third spring — the first year we really might hope it could make some fruit. And to make it even more of a hopeful harbinger of the season, last week we had some very cold freezes — in the 10-degree range — just as the tree was budding. I was sure it wouldn't manage to bloom after that, yet here it is.
Of course, here in Colorado, March is our snowiest month, and we've had snow as late as May (or even, on a rare dramatic occasion, June!), so we and our apricots aren't out of the woods yet. But if … if … just imagine that wonderful fruit.
Sign up for our Newsletter
Google+ Comments