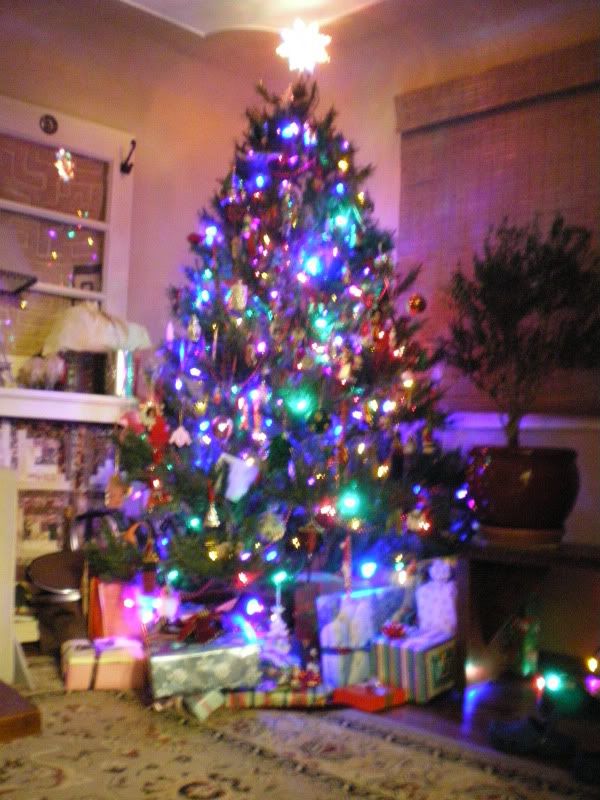 'Tis the season to run around like the proverbial chicken with its head cut off — but I hope you all are also finding time this season to take time to enjoy your family and friends, other loved ones, your home, and the prospect of a new year that will hopefully be more prosperous than this year has been for many.
At our house, the halls are decked, the tree is trimmed, and we are just about ready for the holiday festivities to launch in earnest. I have a few more homemade gifts to finish (that gives you an idea of my agenda today!), a few more gifts to wrap, and then the celebration can begin.
(If you notice a bunch of gift-wrapped presents under that tree, instead of gifts in reusable bags, you are correct — this year, Mlle. Cheap wanted to help wrap gifts and I couldn't resist her wiles; and she asked that her own gifts be wrapped so she can't peek! Who could resist that logic?)
One thing I have been appreciating about the holidays is their spirit of abundance. In that light, later this week, I'll launch a series on the 12 days of Christmas, highlighting one "abundance" we have in our kitchen or from our garden.
Also, keep your eyes peeled for a couple more giveaways — they will be good ones!
I hope you'll join in too with your comments. — and if nothing else, 2010 will surely be smoother sailing than 2009 was!
Sign up for our Newsletter
Google+ Comments