Do you have a canine friend around the house? Is his/her bed looking a little careworn, or perhaps smelling a little, how do you say, rank?
Fret no more – now is your chance to WIN a fresh new Molly Mutt dog duvet. This ingenious idea from Molly Mutt is a sturdy, stylish, all-cotton dog bed cover.
Best of all, Molly Mutt customers pay no crazy shipping charges to get a great big dog bed sent from who-knows-where. Instead, new doggie (or kitty, to be fair!) duvets come rolled up in a compact envelope with no extraneous padding.
You fill up the duvet with your old, unneeded or discarded clothes, blankets, stuffing from an old pet bed, or whatever – et voila! A cozy new spot for your animal companion, that's easy to ship, easy to wash and looks fantastic in your home, too.
But do the pets like it? I'll let a photo essay starring Schnauzer Cheap speak louder than words.
First, I opened the envelope, unrolled the duvet, and set it down on the floor in the living room while we had dinner. Swiftly, the dog found it.
A few days later, I spread out the duvet and its liner. Even unstuffed, the whirling-for-best-position began.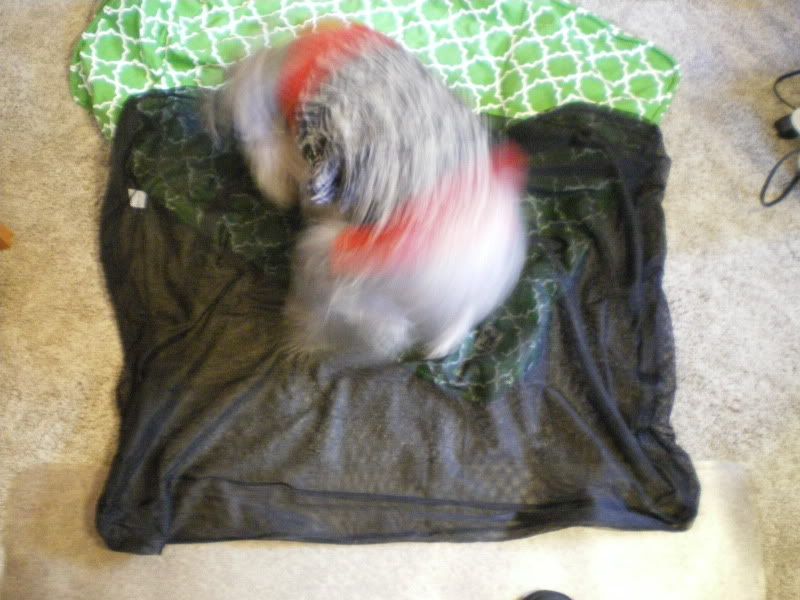 I pulled the dog off to lay out some old clothes we were planning to use to stuff it (a perfect use for torn and stained stuff that is not quite up to thrift-store par) …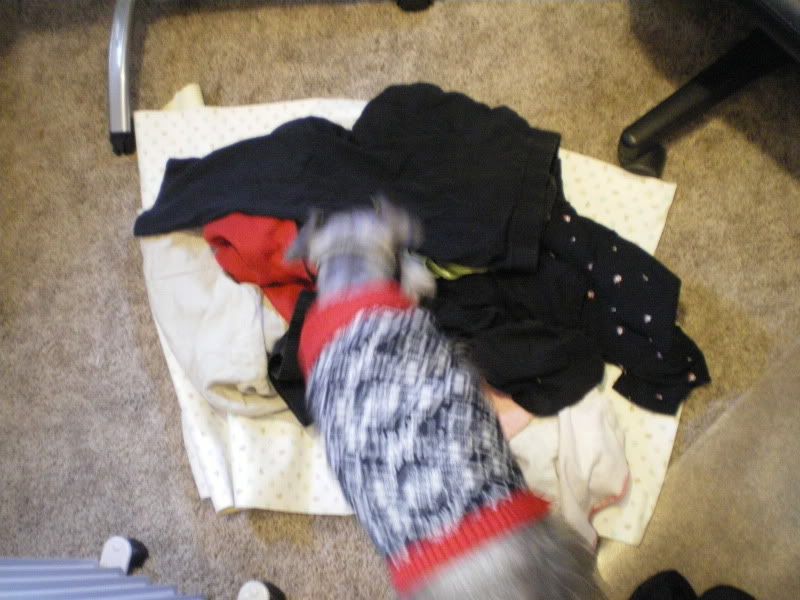 … along with a bag of sub-par wool fleece I had around for my spinning habit.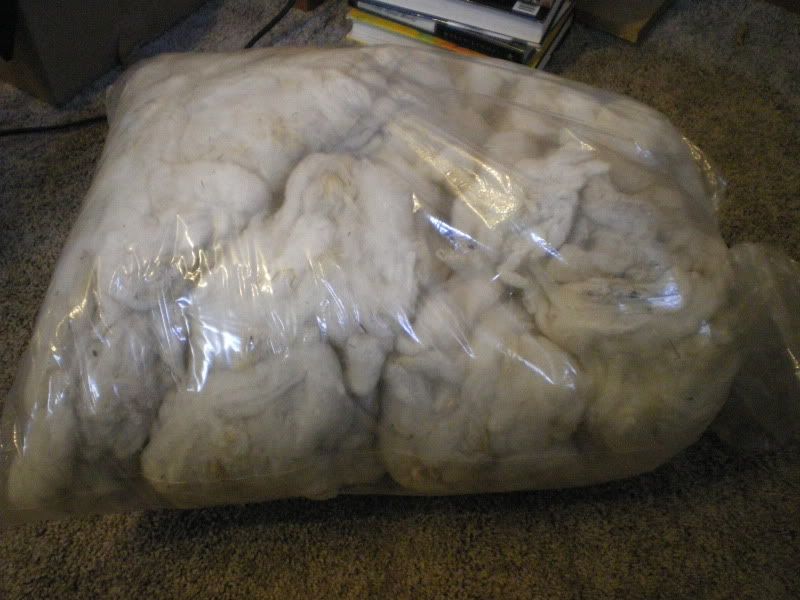 It was necessary to examine the duvet cover inside and out.
Next, testing who is dominant – dog or duvet: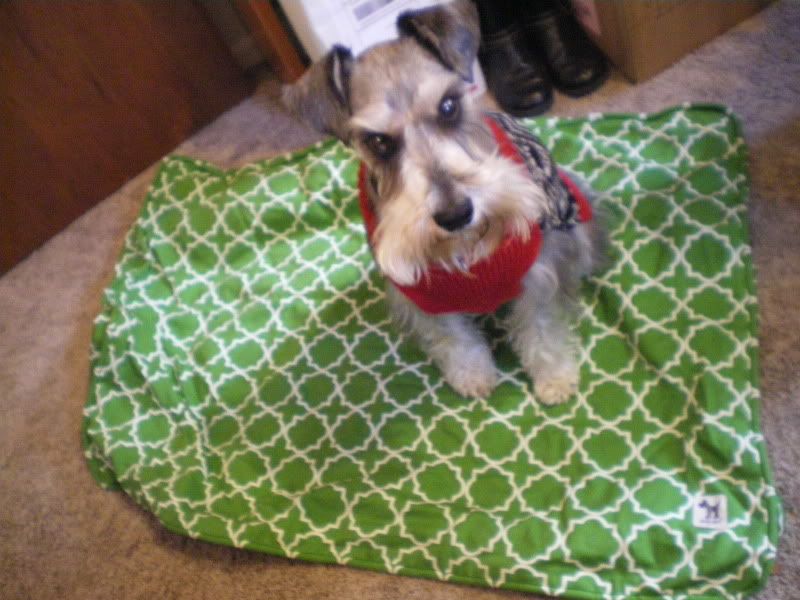 Soon, it started to feel pretty cozy.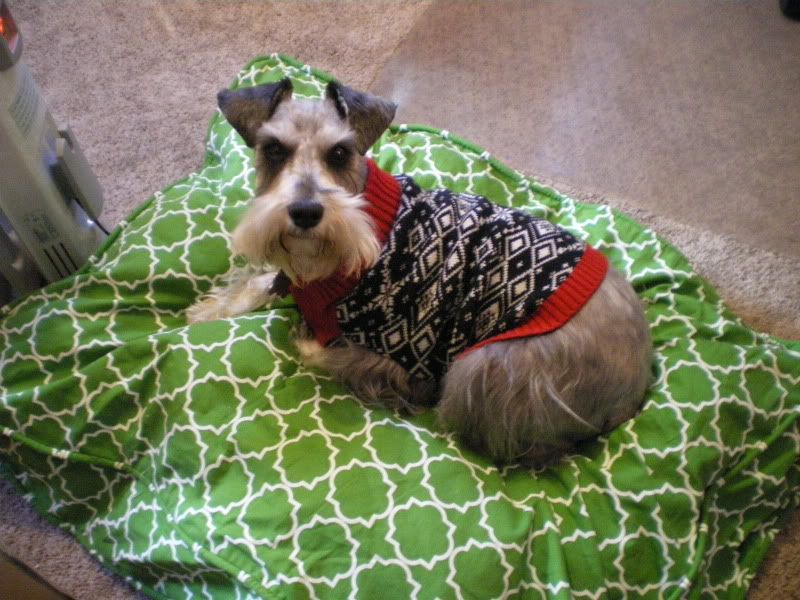 And within minutes, Schnauzer Cheap was right at home.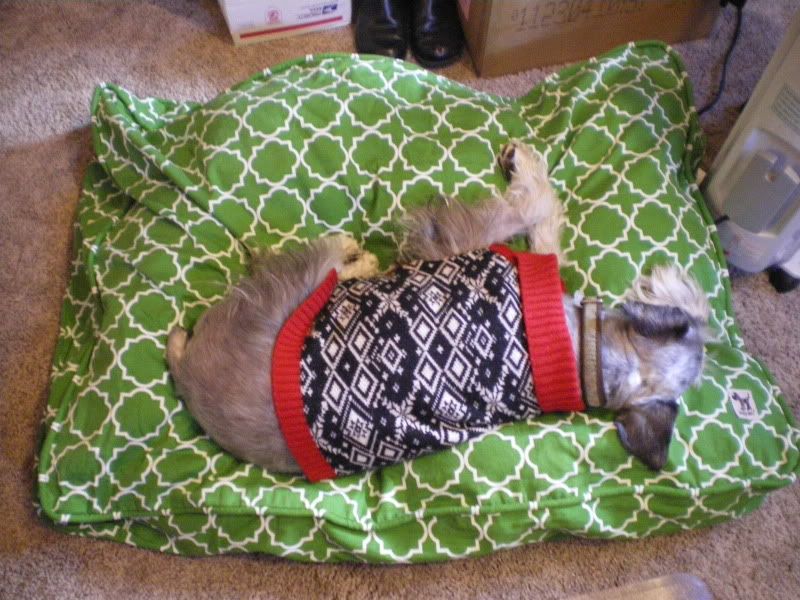 Looks pretty good, doesn't it? Later, I added some more stuffing from an old dog bed, so it's firmer and more amenable to the digging-a-hole-to-China action necessary before a good nap.
I love that it looks good enough to lie around in our living room or dining room.
Want your own?
Molly Mutt has offered to give away a dog duvet to one reader of Cheap Like Me! To enter, click over to Molly Mutt's site and check out their inventory. Then leave a comment here with your name, e-mail address (either in the log-in or in the body of your e-mail), and which duvet you would like to have if you're the winner. I'll pick a winner by random selector on March 4, 2010, and Molly Mutt will ship directly to you.
Good luck, and THANKS, Molly Mutt!
Disclosure: I received a sample duvet from Molly Mutt in exchange for this review & giveaway.
Sign up for our Newsletter
Google+ Comments