Is it worthwhile to pay the price to join a membership warehouse, such as Costco, Sam's Club or BJ's? Or is carrying that little plastic card tantamount to proclaiming that you're a sucker?
All of these warehouse membership clubs promise to pass the savings of bulk purchasing on to members — but they come with hefty annual membership fees ($35 to $100 per year).
As with most frugal endeavors, joining a membership warehouse has good and bad points. A quick rundown of the pros and cons of warehouse club membership might include these:
Pro:
Many per-unit prices are lower at warehouse clubs.
Some per-unit prices (cat litter, eggs, diapers) are much lower at warehouse clubs.
Savvy shoppers can save packaging and trips by buying in bulk.
Limited choices can save the "brain damage" of endless comparison shopping and paralysis of choice.
Some warehouse clubs offer rebates that make shopping even sweeter — for instance, Costco offers Executive Members a 2% reward check annually on all purchases throughout the year. If the rebate check is less than $50 — the difference between regular and "executive" membership — the warehouse will refund you the difference in cash.
Con:
Buyers need storage to store bulk purchases, or a system to divide purchases with others.
Purchasing can cost more up front to get a better per-unit price.
Those vulnerable to temptation might find it hard to resist a good deal on an unneeded item (flat-screen TV, anyone?).
Choices are limited.
Warehouses aren't available everywhere and can be in inconvenient locations.
Prices tend to always be good; but they are not always lower than regular stores.
Putting the pedal to the metal: My experience
We started shopping at a Sam's Club (when there was no Costco in our area) to buy cat litter and diapers. (We used cloth diapers, but used disposables at night to minimize nighttime changes — and waking). At that time, we calculated that those two items paid for our membership fee.
When Costco opened, we switched to Costco because of the greater availability of organic items and preferable company philosophy. Today, we no longer have a cat or a child in diapers, but we are still active Costco members. Some of our regular "deal" items have included:
Software – I typically save about $20 per year off retail price on tax preparation software.
Clothing – Mr. Cheap has several pairs of Calvin Klein and Ralph Lauren jeans in his wardrobe, purchased at Costco for $22 each, as well as nice socks and undershirts, and Mlle. Cheap snoozes in organic-cotton PJs bought for less than $10 a pair.
Gasoline – Gas is regularly a few cents a gallon cheaper. I don't go out of my way to buy it, but when we're there, we fill up.
Eyeglasses – We just purchased two pairs of eyeglasses (frames and lenses), including one pair of non-reflective, strong-prescription lenses made extra thin, with rounded edges to look better, for around $250 total.
But what about the everyday purchases that bring us back again and again? I put our buying to the test by comparing the Costco prices to grocery prices for 19 items we buy again and again.
The individual savings percentages might not impress you. But if you purchased the whole list at once, it would cost $171.67 at Costco … and $538.71 to buy the same quantity at the grocery store (and Amazon, in one case). That's a savings of 68 percent or $367! We buy all of these items annually — many of them more than once — so the savings on our purchases conservatively equal at least $500 per year. That more than pays for the $50 annual membership fee (and even the $100 executive membership).
Here's the complete rundown (click the image to see it full-size in a separate window):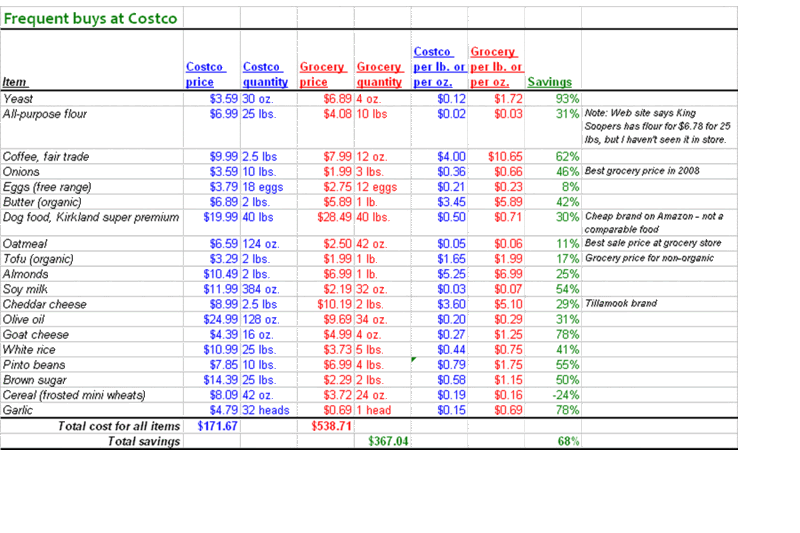 Which warehouse is best?
If you have Sam's Club and Costco in your area and are wondering which is a better deal, Wide Open Wallet compared the two on certain purchases.  Sam's Club came out $7 cheaper on $400 in purchases (not quite 2% savings). She notes that she will stick with Costco because it is not part of the Wal-Mart empire.
Saving even more
For those who are interested in examining specifically whether the items they purchase are a better value at a warehouse store, The Simple Dollar posted recently about how to calculate cost per unit, and how to determine the value for you.
The uber-frugal can calculate an advantage in shopping at Costco during a busy time (like Saturday noon) when the sample tables are bustling. At least one couple argues that they save $250 a year lunching on Costco samples every week.
Try club membership for free
If you're new to a warehouse, here's how to try one for free:
Costco members can bring a guest to shop with them at the warehouse. You must make purchases together on one receipt.
Sam's Club periodically offers trial memberships. Through May 25, you can try a free one-day membership. Sam's also is promoting a summer membership for $15 for 100 days — "just 15 cents a day." But note that a full year-long membership starts at $35, or 9 cents a day.
Visit this blog for a free trial pass to BJ's clubs (activate the trial membership by July 6, 2009).
Do you have other tips for saving big bucks at warehouse clubs (or not)? Or have you found little-known products available in warehouses or online that help you save even more?
Sign up for our Newsletter
Google+ Comments