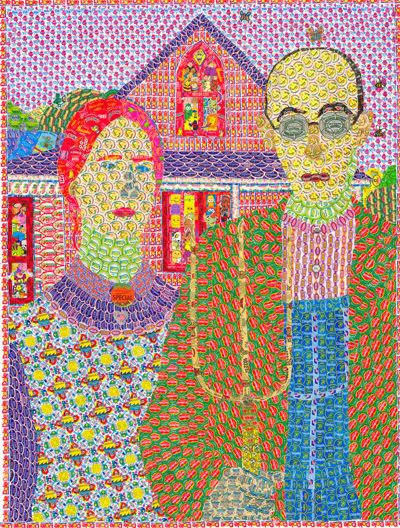 … or at least let someone else do it for you.
Barry "Wildman" Snyder — the Stickerman — makes art out of the smallest of our modern-life castoffs: produce stickers.
You know, the little stickers that carry your veggies' PLU codes ("PLU" apparently stands for "price look-up" code) to the scanner or scale at the grocery store.
The Denver Post profiled him on Labor Day, and the good news is that he is seeking more stickers! That means you can save your stickers and send them to him, to perhaps see new life in an artwork someday.
Here is his sticker plea:
S.O.S. the Save Our Stickers Foundation provides a new home and a meaningful purpose to these unassuming stalwarts of our supermarket lifestyles. Won't you please help? If you could find the compassion in your heart to simply peel these valiant warriors off the skins of your preferred produce and then place them, sticky side down, on a piece of notepaper (paper, not plastic) they can live as artwork, (united with thousands of fellow food stickers as part of a symbiotic visual presentation), bringing joy to young and old alike.

Please send your stickers to:
Barry "Wildman" Snyder
POB 301
Erie, CO 80516
Do your part for art – save those stickers!
Sign up for our Newsletter
Google+ Comments