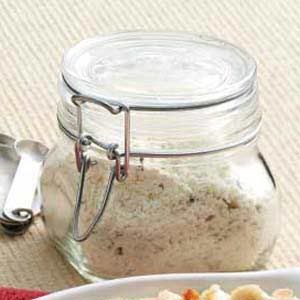 Many easy-cooking recipes include a can of condensed cream of [chicken, mushroom, celery] soup. But these soups aren't exactly healthy.
Condensed "cream of" soups are loaded with sodium, for one — one serving of Campbell's Cream of Mushroom soup contains 1995 milligrams of sodium, or 81 percent of the daily recommended total intake. It also contains 18 grams of fat, 4 of that saturated.
This recipe, sent my way by our CSA (community-supported agriculture) farm, Grant Family Farms, makes a low cost, low-fat substitute for canned cream soups in casseroles or soups. Make up a batch of the powder and keep it in the pantry. When you are ready to use it, mix it with water and heat, stirring, until it thickens. (Cheaters or those in a time crunch could throw it into your recipe with a little water — maybe not as much, as it won't have the thickening power without the heat/stir step.)
You can easily make this gluten-free by checking your bouillon for GF status.
If you're keeping track of the nutrition data, this recipe has 0.3 grams of fat and 216 milligrams of sodium, according to a version posted here.
Cream Soup Substitute
2 cups dry milk powder
3/4 cup cornstarch
1/4 cup chicken or beef bouillon granules (vegetarians, look for veggie options at a health food store)
1 tsp dried basil
1/2 tsp pepper
2 tsp dried minced onion (optional)
Mix together and store in a covered container in refrigerator.
To use combine 1 1/4 cups cold water with 1/3 cup of the mix in a small saucepan. Cook, stirring constantly, until thickened. Substitute this sauce for a 10-ounce can of condensed creamed soup. Add herbs such as thyme or dill or 1/4 cup minced fresh onion when preparing (optional).
Sign up for our Newsletter
Google+ Comments