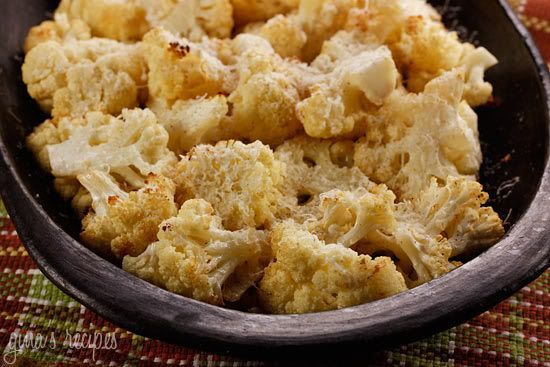 It's fall, and that means it's time for the white vegetable: Cauliflower.
I love to use cauliflower in a green curry, for instance, where it has a great texture, soaks up flavor, and doesn't add a cabbage-y aroma like its cousin broccoli might.
Last week, we tried this recipe for Balsamic & Parmesan Roasted Cauliflower, courtesy of our CSA (community-supported agriculture) farm, Grant Family Farms.
It's quick, easy, and tasted delicious. I skipped the "toss in a bowl" step — instead, I drizzled the baking sheet with oil, sprinkled on half the herbs and seasonings, added the cauliflower, then drizzled the rest of the oil and seasonings over that and stirred the whole thing around.
Balsamic & Parmesan Roasted Cauliflower
8 cups cauliflower florets (about 1 large head)
2 tbs extra-virgin olive oil
1 tsp dried marjoram
1/4 tsp salt
Freshly ground pepper to taste
2 tbs balsamic vinegar (we save by buying this at Costco)
1/2 cup Parmesan cheese (finely shredded)
Preheat oven to 450°F. Toss cauliflower, oil, marjoram, salt and pepper in a large bowl. Spread on a large rimmed baking sheet and roast until starting to soften and brown on the bottom, 15 to 20 minutes. Toss the cauliflower with vinegar and sprinkle with cheese. Return to the oven and roast until the cheese is melted and any moisture has evaporated, 5 to 10 minutes more.
Sign up for our Newsletter
Google+ Comments