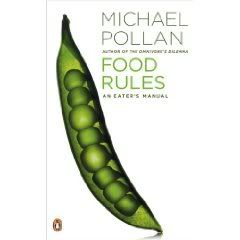 This spring, we've conducted an 11-week series about Michael Pollan's book, Food Rules: An Eater's Manual. If you're just tuning in, you can scroll through the posts here.
Today, we've come to the end:
Rule 64: Break the rules once in a while.
Pollan urges us not to obsess and to relax a little about food … especially if we stick with rule 60.
I think it's a good idea. The problem with obsessing is that it's easy to get anxious in our society, especially where all our alleged role models are thin, tan and hairless — while telling us, usually, that of course they don't tan, and they just happen to be blessed with good genes. On the flip side, I guess if you have good genes you are virtually assured a career in show biz! (Darn those genes.)
And on the other side, the problem with relaxing is that it's easy to relax one day … then keep relaxing and treating ourselves until that becomes a way of life. (Believe me, I know from "relaxing.")
What did I get from Food Rules?
This challenge was thought-provoking for me, even though I tended already to do many of the things in this book. It was excellent timing for my family: We were also watching "Jamie Oliver's Food Revolution," which was exciting for Mlle. Cheap and caused her to think a lot about what she eats — especially as she is getting more into athletics — and how other kids and other Americans eat.
The No. 1 change I'm taking from this series is to eat less meat, using the guideline of being choosy about how meat has been raised . For 10 years, after high school, I was a vegetarian. I gave it up in dribs and drabs when I was working for a cooking school, where I was surrounded by incredible foods all the time, and then for real when I was pregnant and found myself craving meat on occasion. My family eats meat, and so gradually we've consumed more and more. But really, I'm happier being more vegetarian, so I've been focusing on organic and humanely raised meats, and avoiding meat where I can't be sure of its origin.
We are not big processed-food eaters, but this summer should be even easier, because vegetables from our Community-Supported Agriculture (CSA) share will begin arriving next week.
What about you?
What have you gained from the Food Rules? Have you made any changes? Seen any results from it in your life?
I hope you enjoyed the series!
Sign up for our Newsletter
Google+ Comments