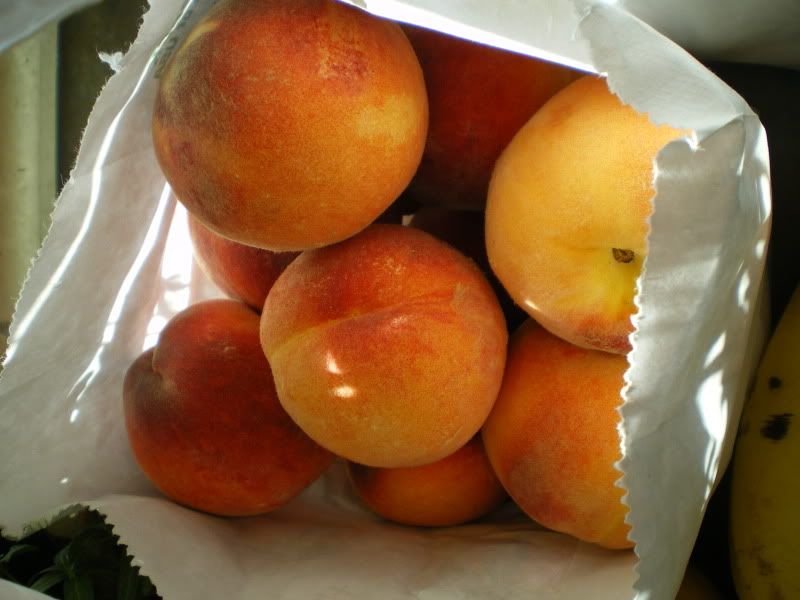 We are in the heart of our CSA season here, with fruits and veggies rolling in. Most recently we've been enjoying these beautiful peaches.
They are delicious, organic peaches from Colorado's Western Slope. In honor of the first day of school last week, Mlle. Cheap and I agreed to use some of them to make a peach pie for dinner.
But I thought the first day (for both Mlle. Cheap and Mr. Cheap, whose 5th-grade class also started school that day) merited a yummy dinner all around.
First, when Mlle. Cheap got home from school, we got the pie into the oven. I had prepared the crust earlier in the day — an easy, food-processor recipe from How to Bake by Nick Malgieri. I always make a butter crust, because I love the flavor. The recipe — as suggested in Malgieri's recipe for a peach pie with almond crumb topping — is a sweet crust with an egg in it for richness and to protect the crust from the moist filling.
Then we peeled the peaches and sliced them per Mr. Malgieri's instructions — which were a revelation! I knew how to peel them — like this:
Wash the peaches gently.
Slice an "x" in the base of each peach with a paring knife.
Drop peaches, about 3 at a time, into a pot of boiling water.
Get them out with a skimmer or slotted spoon (I put them in a bowl for a few moments). (Here you're supposed to put them in an ice water bath, but I always forget/don't bother.)
Without burning the bejeesus out of your fingers (ideally), grip the skin and pull it off the peach, using the flaps of the "x" for leverage to get started.
Malgieri's tip for slicing the peaches is to hold it in your hands, as if you are a giant cradling the earth from north pole to south between your thumb and index finger of your non-dominant hand. Then use your paring knife to slice the peach from north to south. Gently flip that wedge out of the peach and into a bowl. Repeat the slice and flip motion around the whole peach till you are left holding just the pit.
I thought a light, rich, yummy main dish would be good, and more importantly, I wanted to use up the shell peas that had been sitting in my fridge for one to two weeks, depending which bag we're discussing.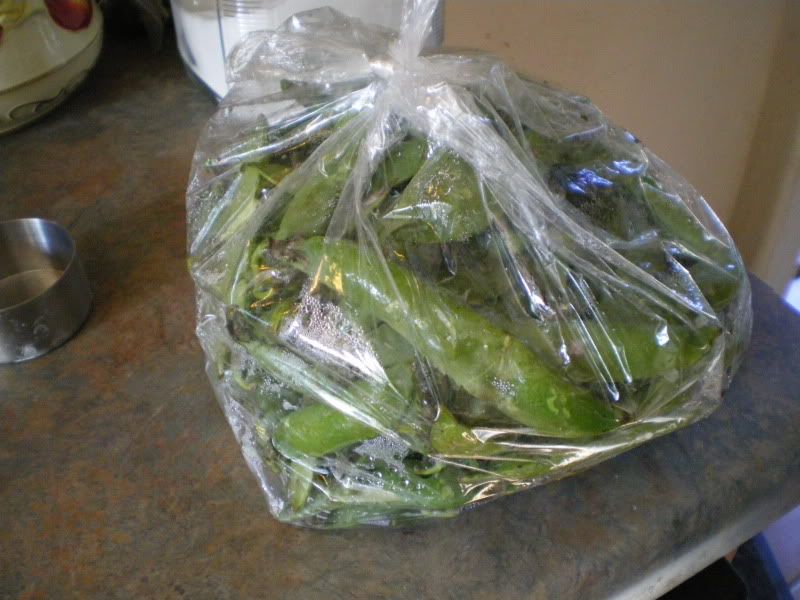 I set some water to boil for pasta and started shelling peas. I had about 1 1/2 pounds of peas, which, shelled, turned into about 1 1/2 cups. When the water boiled, I put in pasta to cook. The ideal pasta for peas is orrechiette (charmingly, that means "little ears") but we didn't have any, so I went with mini farfalle. My goal was to match the size of the peas to the size of the pasta as closely as possible, because that makes the most pleasing dish.
Then I set about making a bechamel sauce. I used a recipe very similar to the one at that link, from Cooking from an Italian Garden, and it turned out perfectly. That might be a first for me — usually I am impatient and add milk that is cold, or fail to add it a bit at a time, but this time, I was patient. Maybe the glass of wine helped.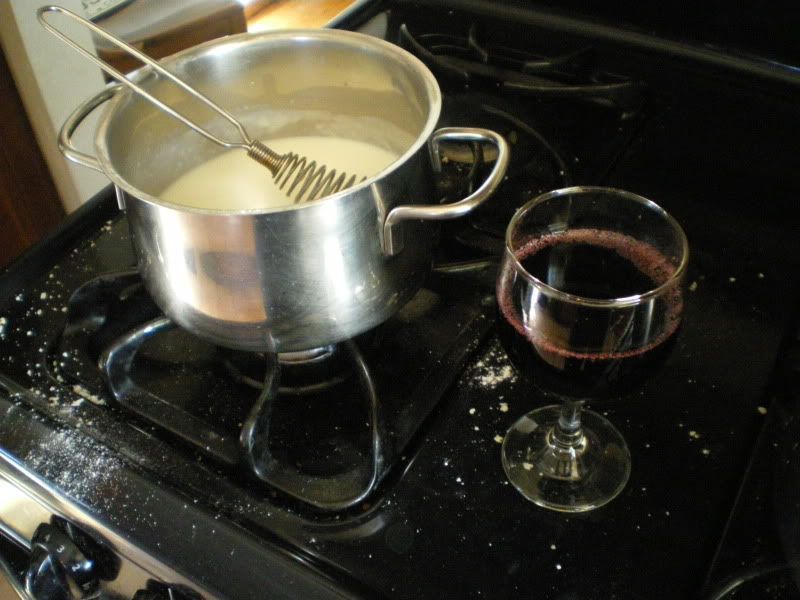 When the pasta was almost finished, I added the raw peas and let them boil for just a minute or two so they would stay nice and crisp. With the heat of summer fully set in, the peas are a little starchy, but still pretty good. They tasted good with the pasta and sauce, with a nice sprinkling of Parmesan cheese.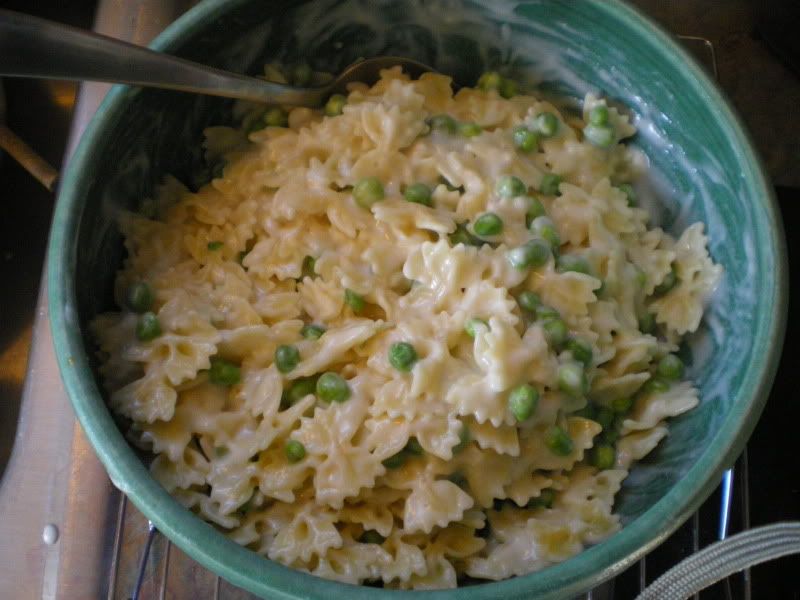 I thought I had photographed our other dish, but apparently I somehow didn't save the image. I had boiled the baby beets in our CSA share when I received them, and then refrigerated them. As the pasta cooled, it was a simple matter to dice the beets, sprinkle them lightly with balsamic vinegar and sprinkle blue cheese on every plate. I had intended to add some greens, but by that time, everyone was home and hungry, and we didn't care much about the greens — we just wanted to get to the pie.
What did it cost?
The best thing about this back-to-school dinner (well … maybe second best, because it was yummy) was that the total cost was around $15. That includes a glass of wine each for Mr. Cheap and me, organic butter and milk, organic fruit and veggies, etc. I estimate that nearly half of that expense was the peaches, which came in at a value of about $6.
That calculation also shows the value of buying items in bulk. We save significantly on ingredients like blue cheese, butter, flour, sugar and nuts by buying them in bulk packaging from Costco. We also save on our fruits and veggies with our CSA membership.
Calculating the cost also motivates me to cook at home more often. $5 a person is a pretty good rate for a celebratory dinner, especially when Mr. Cheap took leftovers for lunch for a day or two afterward, and we all ate pie 3 more times. At most restaurants, dessert alone costs that much.
Oh, and the pie turned out very nicely…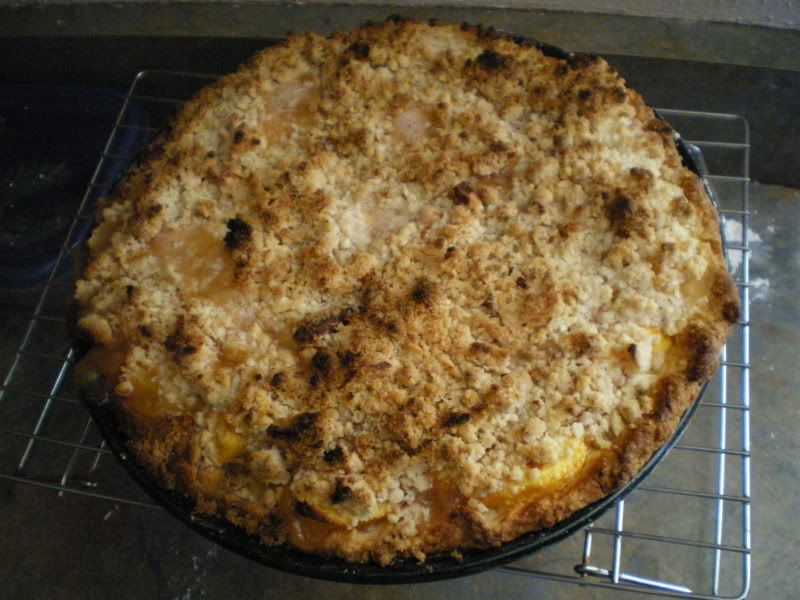 Sign up for our Newsletter
Google+ Comments