We are sprucing up our living room, and in the process of looking for a good storage solution, saw a little blurb mentioning some IKEA shelves in, of all places, Better Homes & Gardens magazine.
After a bit more research, we decided that even with shipping costs (Colorado's IKEA store is still on the drawing boards), the shelves were a good value (and a great place to invest the money from a small bonus for Mr. Cheap and the sale of our treadmill). We ordered them and waited.
In a couple of weeks, the shelves arrived at our door. They were delivered by freight truck and moved right into my living room in three large, flat boxes.
Inside, when Mr. Cheap began unpacking them, we were pleasantly amazed at the amount of packing materials involved.
Those materials are:
Several long sheets of craft paper – quite rough, obviously recycled (these will turn into holiday wrapping paper  stamped with potato stamps before they are recycled).
Three long, slim pieces of styrofoam (about 2″ by 2′) and two square pieces of styrofoam (about 9″ square), both about 1/2″ thick. These will be recycled on a special trip to Eco-Cycle one day; meanwhile, they'll join the rest of the difficult recyclables in a bag in my closet.
One square of cardboard folded into a rectangle — not even sealed with tape, but instead with grooves that fit into slots.
One long cardboard box that held the whole shebang.
The shelves themselves are pretty impressive, too. The notes on the item listing mention that the shelves are made of solid wood. The wood is pine (a fast-growing tree), and the composition is narrow strips of pine laminated together.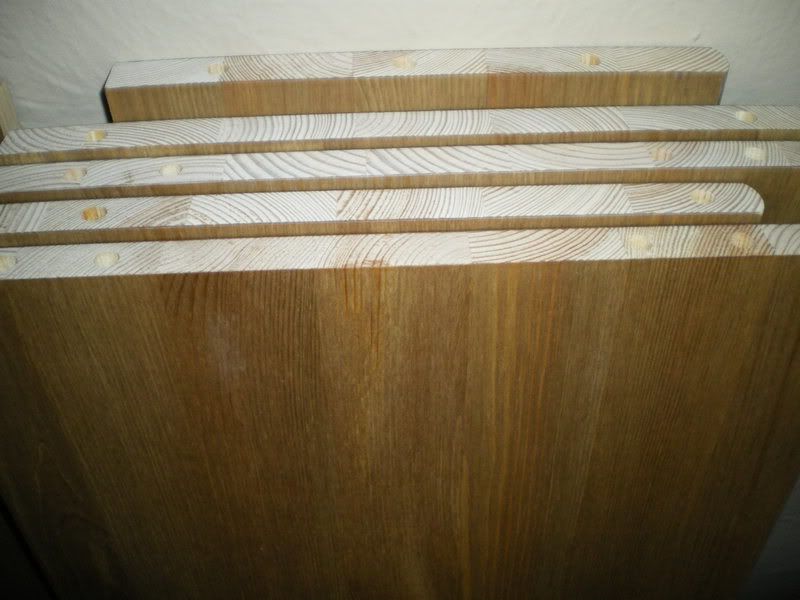 Lumber made from laminated wood has several benefits:
It reduces waste, because the flat portion of each board need only be 2″ wide or so, rather than 10″. This means manufacturers can use younger, faster-growing trees instead of old growth, and can use more of the tree instead of only the best part.
The resulting boards are stronger than a single board and less prone to warping from humidity and/or weight stress, especially when the direction of the grain alternates, as it does in the boards pictured above.
This type of wood also can have drawbacks, most seriously the glue used to create it. I tried very hard to get IKEA to explain to me what glue they use to assemble the shelves:
Q. The site said the bookcases are solid pine. I see they are actually laminated boards. This is fine, but we would like to know what adhesive is used to laminate the boards?

A. Here is a material description of the LEKSVIK bookcase.

Solid Pine: Wide, yellow/white graining with reddish heartwood. Pine is a rather soft kind of wood, and furniture may get pressure
marks.

Stain: A dye for coloring wood, which lets the grain shine through. Stain contains very carefully pulverized color pigment, but less than in usual paint.

Q. Thank you for your response. However … they are definitely NOT wide boards. They are made of narrow, 2″ boards laminated together into the width of the shelves and sides. This is fine, as it makes the wood stronger and is better for the environment. Our concern is that many laminated boards are constructed using formaldehyde-based resins. I am hoping IKEA would not use these types of resins, but I would like to know what is used to glue the boards together. I will attach a photo to show what I mean, in case there is some question. If I would do better to contact some other address, please let me know where to send my e-mail or call to get a response.

A. Formaldehyde is a gas, which occurs widely in nature.  It is, for example, naturally present is (sic) wood and fruit.  Formaldehyde is added to various products, such as adhesives, paints, varnishes and textiles.  High concentrations of formaldehyde can cause an allergic reaction. We have strict rules concerning formaldehyde, and we do not permit the use of paints and varnishes containing formaldehyde additives. For wooden products, we apply the German E1 standard and have done so for many years now. For textiles, we apply the Finnish regulations.  In both cases, these are currently the strictest within their field worldwide.

Glue is available in a great variety for different purposes.  White Glue (PVAC) is water-soluble and dries to give a colorless join.  It
is often used for furniture and is regarded as one of the most environmentally adapted glues currently available. Carbamide glue is used primarily for bonding veneer to particleboard.  Hot melt glue is used, for example, to fix edging strips to particleboard and to seal packaging.  Hot melt glue contains plastic.

Q. This does not quite answer my question. Please send a telephone number I could use to contact customer care.

A. [No answer.]
If I had to guess, based on the mysterious responses from IKEA, I would guess that the boards are laminated using carbamide resin, which sounds like it is essentially an organic product.
The shelves even come with a little groove cut out of the back to fit over our baseboard moulding, so they can stand flush against the wall. Mr. Cheap had to do a little bit of shimming & wiggling to get them to line up precisely even. But now there they are:
Ooh la la! IKEA, IKEA, where have you been all my life?
Sign up for our Newsletter
Google+ Comments