I bought a thermometer to see where things stand in my house when the thermostat is set at its usual 67 or 68 degrees Fahrenheit in the daytime.
The thermostat — actual temp (left) and set temp (right):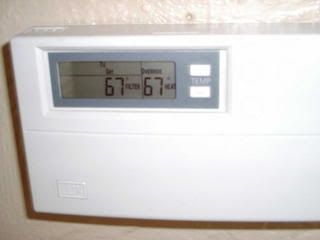 My thermometer in the bedroom — I've had the same result in the living and dining rooms, too. Temp (left) and humidity (right):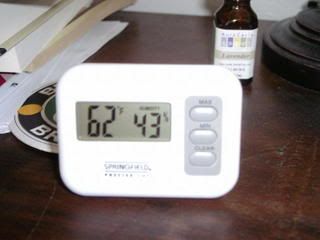 Somehow, 62 doesn't sound so balmy to sit around in all day. No wonder I am wearing a thermal shirt, other shirt, wool sweater and cashmere scarf, and my fingers are still blue. 🙁
The bad news: My energy bills won't stay the same if I adjust the thermostat to REALLY bring things to 68 degrees.
Oh, well. Is there a sad country song along the lines of, "Hey, Merle, bring me another sweater / it's cold as a cold one in here"?
Sign up for our Newsletter
Google+ Comments