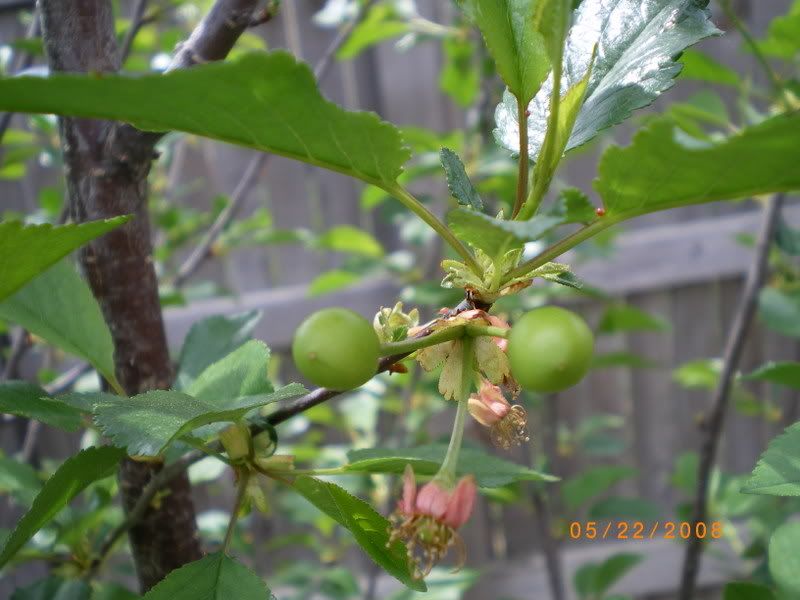 This weekend marked the official start of spring — our garden is in! And those are *real* cherries growing on our tree. There must be a dozen of them growing … enough for a Barbie-sized pie. Maybe a cookie.
Here's the what, where, how on our garden:
What
We just harvested all our spinach and froze it, totaling three pounds from a good-sized patch. A few more spinach plants are scattered among the lettuce.
We've had many good salads from our lettuce, which went in early, and now the lettuce is about to bolt.
We are gradually expanding our vegetable garden into our front yard. We have two pumpkin plants in the ground near our front drain spout (probably just jack-o-lantern pumpkins). Soon, we will carve away some more grass for a small bed to grow cantaloupes. And today we bought three wine barrel planters (not formerly my favorite "look" — but they are recycled, and so large!). In one of them we have planted scarlet runner beans that I hope will climb up and disguise our unattractive porch railings, and in front of the beans a bell pepper plant. In two more barrels in front of our house (on an also not-so-lovely bed of rock) we installed two Roma tomatoes and some basil seed.
In the back yard, we've got going:
Butternut squash (2)
"Sweet olive" cherry tomato, two "celebrity" tomatoes, one "Juliet," one "Big Boy," four more Roma (altogether three slicing tomatoes, seven paste and one cherry)
Peanuts (6)
Beets
Jalapenos (6)
Ancho chiles (2)
Bush green beans (6 square feet)
Brussels sprouts (6)
Potatoes (organic fingerlings from the grocery store that are growing fast in two separate containers)
Parsley
Dill
Onions that are going to seed from last year
Strawberries (about 10)
Cherries
A so-far-barren apricot tree
2 new baby apple trees
Kale (about 8 square feet)
Napa cabbage (only one survived).
Yet to come are cucumbers (about 8 … last year's 14 was way ambitious), new lettuce and radishes.
I think we even have some baby apples growing …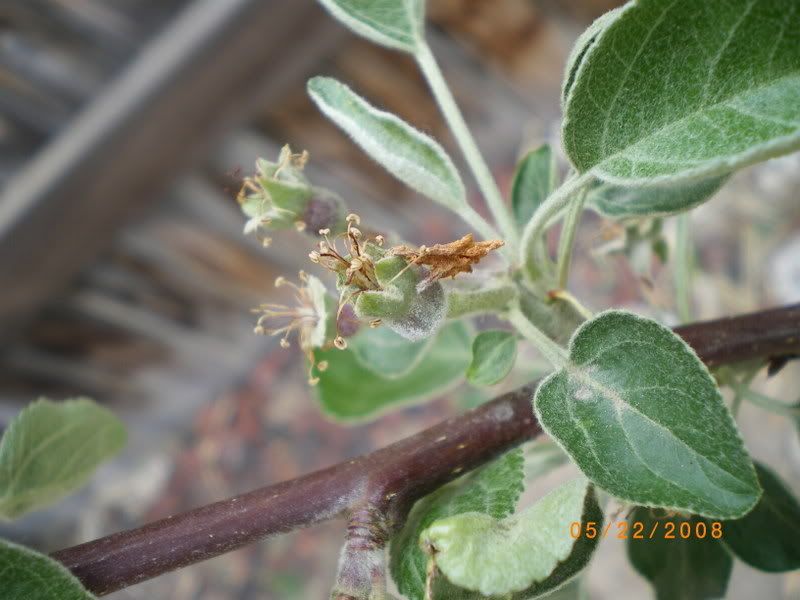 Where
Our backyard garden includes an herb garden where the apricot tree grows, a side garden with the cherry tree and strawberries, a previously abandoned corner measuring about 90 square feet (that we're giving to the squash, one container of potatoes and I plan to squeeze lettuce and radishes into the shadiest area), a regular bed about 48 square feet, and a triangular bed carved out of our lawn that measures about 40 or 50 square feet.
The apple trees are growing in two circular holes Mr. Cheap actually hacked out of our back driveway with a sledgehammer. Two tomatoes will grow in the recycling bins the city used to use, and the three whiskey barrels and two front yard spots are similar size.
Altogether, I think we're gardening about 215 square feet. Hey, it's .4% of an acre — and 3% of our lot.
How
This year, I tried to be very organized. I plotted out our garden carefully using graph paper. We planned ahead and didn't overbuy at the garden store. I grew many of the seedlings (butternut squash and peanuts are from our saved seed; I also grew the pumpkin, cantaloupe, scarlet runner beans and okra). The only "extras" we sprang for at the garden store were a bell pepper and some basil seed, which I had overlooked in my planning.
What we learned last year
We learned we wanted more paste tomatoes and didn't like yellow pear tomatoes nearly as much as we thought.
We learned the watermelon was a bust again.
We learned carrots aren't worthwhile.
We learned to give the winter squash PLENTY of room.
We learned we could save squash all winter, which makes it worthwhile.
We learned we could make okra work.
We came thisclose to getting brussels sprouts off our plants and want to try again.
We learned to love the wasps and spiders that ate so many bugs, we experienced virtually no pest losses.
Tell us about your garden! What, where, how, and what did you learn from last year?
Sign up for our Newsletter
Google+ Comments