As I write this post, it is Monday evening, and we have a frost advisory in Denver tonight. Worse, I am enough tired from a weekend away, and jaded from staring at my powdery-mildew and aphid-infested garden, that I have not bothered to go dash sheets over the plants. Wish us all luck, readers.
However, in the meantime, ripe vegetables are finally arriving en masse. Today and this weekend, more than 7 lbs. of tomatoes have come ripe. A few more and we'll be really ready to break out the new-to-us food mill for some sauce-making.
Our peppers have grown, beets are ready, scarlet runner beans have pods on them, and even the peanut plants are large and healthy beneath their carpet of tomato vines (will there be peanuts underneath the dirt? Stay tuned).
The potato plant hasn't died back yet, so I'm not sure if there are tubers in there.
We're having a small fall crop of strawberry plants, and the bushes have spread beautifully in the late summer.
And if the frost doesn't arrive, one huge pumpkin just might manage to turn orange, three petite cantaloupes might finish their maturation process, and our butternut squash could provide a fall surprise harvest.
The Meyer lemons are turning yellow, and the plant actually has leaves in preparation for its migration south indoors for the winter. (I believe the house wall to which it's adjacent will shelter it from any chill tonight.)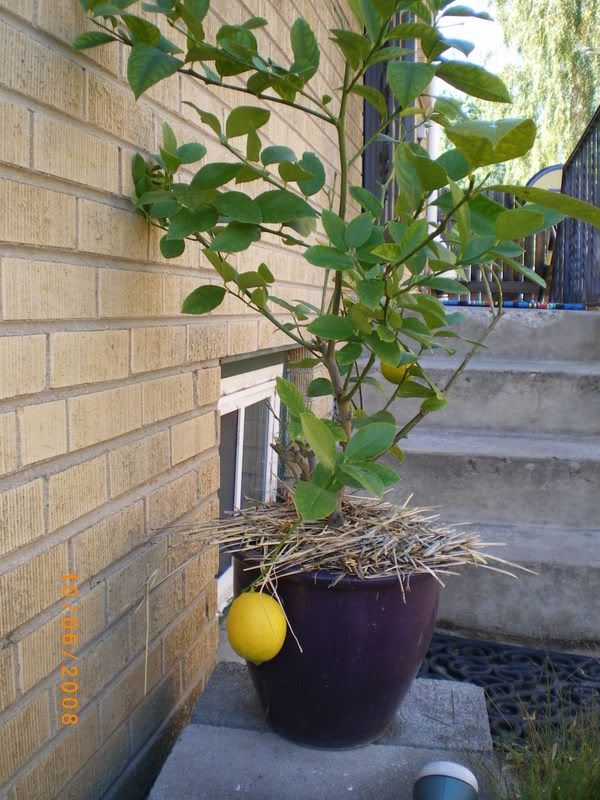 And best of all, if the aphids don't finish them off, I believe we will be able to harvest at least a few Brussels sprouts this year.
The sprouts already are big enough to eat. I view this achievement as a major accomplishment, as it has taken us three or four years of trying to grow Brussels sprouts to get them this far! Cross your fingers and suck some aphids off the plant …
How does your garden grow? Have you thrown in the towel? Tried ladybugs this late in the year for the aphid problem? Just starting out Down Under?
Sign up for our Newsletter
Google+ Comments