Spring is here and things are growing!
We have a bunch of crops started. In fact, the first batch of spinach is just about done — ready to pick, cook and freeze.
Lettuce is going into salads.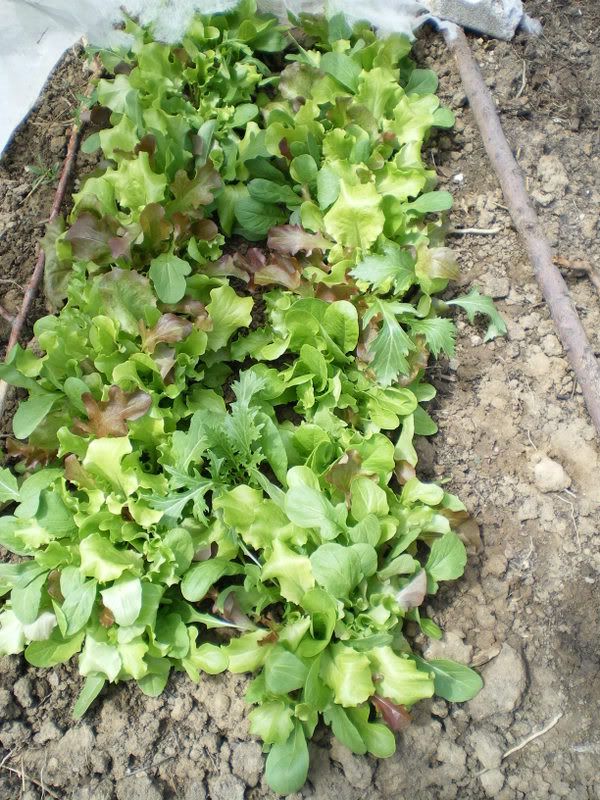 Inside, our seedlings have taken off — scarlet runner beans, pumpkins, butternut squash, cantaloupe, and okra.
The peanuts, on the other hand, started out looking like a mold/mushroom/space alien combination.
Outside, we've had blossoms on our apricot tree, cherry tree and apple trees … but I've only seen two bees so far, so I don't know if pollination is underway. It seems doubtful. Very sad.
Potatoes are just cropping up in one of our two containers.
We've got herbs coming along nicely, some self-seeded dill growing, and parsley that overwintered under the protective leaves of the frostbitten collards.
The peas … well, the birds ate them, and I don't know if they'll make it before it gets too hot.
And out of the six Napa cabbage seedlings Mr. Cheap set out under milk-jug cloches, just one is still fighting.
We're getting ready to plant beets, arugula, bush green beans and a new batch of lettuce and spinach. In just a couple of weeks, we can install everybody else: Tomatoes, the seedlings mentioned above, Brussels sprouts.
What's growing in your patch of Earth?
Sign up for our Newsletter
Google+ Comments