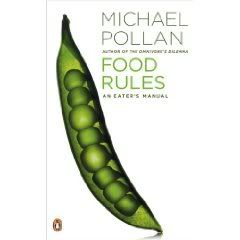 Over the past few years, author Michael Pollan has become the Winston Churchill of the green/organic/local eating movement. Many of you have probably read his recent books, The Omnivore's Dilemma: A Natural History of Four Meals and/or In Defense of Food: An Eater's Manifesto.
I have to confess … I haven't read either, although I have paged through them, and read about them. Although I devour books omnivorously (har har), somehow, these haven't found their way to my nightstand — or truthfully, I think I remember The Omnivore's Dilemma making it to my nightstand from the library, and then making it back, unread, when it was due to another requester a couple weeks later.
Now, Pollan has been all over the talk show circuit with his new book,Food Rules: An Eater's Manual. And recently, I heard a friend (and erstwhile reader here) mention that her family will be following some of the rules this month.
That inspired me to buy a copy of the book and dive in. One criticism of the book by some readers is that it simply distills his earlier books into bite-size pieces, but for me, that might be perfect.
The book includes 64 "rules for eating wisely," according to the back jacket copy, which also notes,
"Whether at the supermarket or an all-you-can-eat buffet, this is the perfect guide for anyone who ever wondered, 'What should I eat?'"
I plan to look at 3 rules per day, each Tuesday and Thursday, which will take a bit longer than 10 weeks. The series begins today and will conclude in mid-May. I hope you'll come along with me on the journey, bemoaning what favorite foods you would have to forgo with Pollan's rules, whether you are introduced to new traditions or ideas that you like, or debating ideas here.
I'll plan to name the rules briefly. If you want Pollan's commentary on each (also brief, but less so), pick up a copy of the book.
Sign up for our Newsletter
Google+ Comments