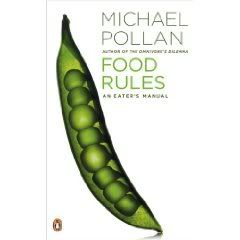 This is my ongoing,11-week series about Michael Pollan's book, Food Rules: An Eater's Manual.
Part III is called, "How Should I Eat? (Not too much.)." This installment covers rules 49 through 51.
Rule 49: Eat slowly.
This is not just an addition to the previous rule about taking it easy at the table, but also an encouragement to enjoy your food instead of wolfing it down.
Chewing your food slowly isn't just about polite table manners. It also helps you take your time to get to that 20-minute meal threshold, when your belly can tell your brain you've eaten enough. Additionally, saliva begins the digestive process, so sufficient chewing theoretically helps digest food more easily.
Rule 50: "The banquet is in the first bite."
This is another tactic to help you eat slowly. You'll get the most enjoyment out of the first few bites of a meal. As you go on, you'll get more calories, but not more pleasure.
This reminds me of hearing restaurant critics say that they cannot eat all the meals they are served in a given day, or they would overeat constantly. Instead, they might take two or three bites of each of several dishes and then put down the fork. They get the sense and the enjoyment without the overindulgence.
Rule 51: Spend as much time enjoying the meal as it took to prepare it.
I don't know … that means at a fancy dinner party, you might all be required to linger at the table for eight hours, while you'd have to scarf down your bucket of fried chicken in three minutes.
Or maybe that's appropriate.
For most of us, that would mean sitting around the table for an average weeknight dinner for 30 minutes or so. That seems like a good idea. And, Pollan points out, the purpose is to honor the cook for his or her work. If you've ever spent an hour on dinner only to have your family eat and run in five minutes, this one is for you.
Sign up for our Newsletter
Google+ Comments