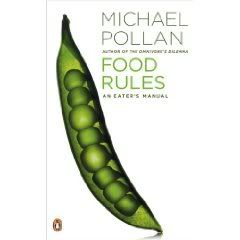 This is my ongoing,11-week series about Michael Pollan's book, Food Rules: An Eater's Manual.
The first 21 rules fall into a section called, "What Should I Eat? (Eat Food.)." This installment covers rules 19 through 21, and then we're done with this section!
But before we start, I wanted to point out two ways this book influenced my eating last week. First, I was shopping for some breakfast cereal. For a while around the new year, I was eating all gluten-free in hopes it would help with some muscle/joint issues, and at that time I gave up my beloved Frosted Mini-Wheats. They're pretty healthy, right? Full of fiber?
Well, that is true – the cereal contains 6 grams of fiber per serving, or about 24% of your daily requirement. But it also contains 12 grams of sugar — or 48% of a woman's daily requirement, according to the American Heart Association. And the ingredients are:
Ingredients

WHOLE GRAIN WHEAT, SUGAR, HIGH FRUCTOSE CORN SYRUP, GELATIN, VITAMINS AND MINERALS: REDUCED IRON, NIACINAMIDE, ZINC OXIDE, PYRIDOXINE HYDROCHLORIDE (VITAMIN B6), RIBOFLAVIN (VITAMIN B2), THIAMIN HYDROCHLORIDE (VITAMIN B1), FOLIC ACID AND VITAMIN B12. TO MAINTAIN QUALITY, BHT HAS BEEN ADDED TO THE PACKAGING.
Oh dear … that violates rules 4 and 5 (avoid high-fructose corn syrup, and avoid foods with sugar in the top three ingredients — which I suppose includes "two out of three"). And if you're vegetarian … well, Frosted Mini Wheats are not.
I moved a few steps down the cereal aisle and went with Post Shredded Wheat. The cereal has an easy-to-remember ingredient list — "Wheat," plus the same preservative as Frosted Mini Wheats, BHT, "added to the packaging material." (The CSPI puts BHT on a "caution" list.) It still has 6 grams of fiber, and 0 grams of sugar. If I add a half-teaspoon or so of my own sugar at home, it tastes just fine, and gives me just about 2 grams of sugar — a reduction to 8 percent of my daily recommended added sugar.
And Mlle. Cheap celebrated her birthday this weekend. We were shopping for some ice cream to have with the cake, and looked at the cheap store brand — but the ingredient list was a mile long, with high-fructose corn syrup on the list. We opted instead for a name-brand ice cream with just a few ingredients and sugar instead of corn syrup.
Now to the rules!
Rule 19: If it came from a plant, eat it; if it was made in a plant, don't.
Naturally, this eliminates both of my above foods, as well as sugar. In a pure way, this rule isn't going to work for me — but as a guideline of what to avoid, it sure does.
Rule 20: It's not food if it arrived through the window of your car.

Good one. And if you don't even have to get out of the car to get it … hmm. Red flag! It might sometimes be a "snack," it might sometimes taste good, but think twice. When my family were all vegetarians, this was much easier, except for the occasional fling at Dairy Queen. Occasionally, now, we are tempted, especially because we have many nearby locations of Good Times, whose beef is all certified natural — although in other areas of our life, we are mostly working toward organic meats.
Rule 21: It's not food if it's called by the same name in every language. (Think Big Mac, Cheetos or Pringles.)
Easy enough — you could also say if it's trademarked, don't eat it.
What about you? Have you made changes to your food-buying decisions or thought twice because of these rules?
Sign up for our Newsletter
Google+ Comments