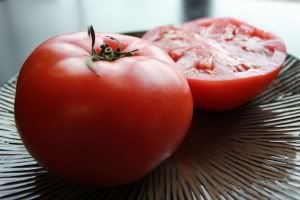 The following is a guest post from Liz Krause of SimpleItalianCooking.com.
A few years ago in my attempt to become more health conscious, it was decided that my husband and I would no longer eat meat products. We never termed ourselves vegetarian, as we simply wanted meals without meat and never truly felt a moral or ethical conviction over the consumption of animals.
As an Italian myself, there are lots of recipes I have come across that do not include meat products. I've also found some tips to make it easier to not only prepare Italian vegetarian dishes, but to actually find them.
Italian cooking can be very economical and by eliminating meat, you can quickly reduce the cost of your meals. Here are some tips I found when coming up with low-cost vegetarian versions of Italian recipes.
1. Use soup and salad cookbooks. As I stated earlier, looking for Italian-themed vegetarian cookbooks can often leave me wanting. So I started to turn my attention to Italian cookbooks which either had a good selection of soup and salad recipes, or were entirely devoted to those subjects.  Over time, I found that preparing healthy soups and salads was extremely cost efficient.  I would prepare to make a large batch of soup, divide it up and freeze what I don't need in airtight containers for another meal.  This is something I practice time and time again and encourage others to do the same.
Another tip regarding soups and salads (or any course for that matter) is to study the ingredients. Given time you will soon find yourself recognizing which ingredients complement other ingredients. With that knowledge, you will be able to substitute ingredients you may not have on hand with ones which you do. Using what you have available is another easy way to cut back on unnecessary trips to the grocery store which ultimately leaves you with a lower grocery bill at the end of each month.
2. Turn side dishes into main meals or prepare multiple side dishes. Side dishes are often easier to make and require less effort and time.  Learning to spot good side dishes that can be transformed into a main dish with the addition of rice or pasta is a cheap way of getting more bang for your buck. For example, a simple side dish of tomato salad (see recipe below) can easily be turned into a main meal by using it as a topping over long pasta – or short pasta if you prefer.
Another example is to take a side dish of garlic bread and turn it into a pizza by adding shredded mozzarella and a few cans of diced tomatoes with a dash of salt and dried oregano. Bake at 375 F. for 30 minutes or so, and you'll have a wonderful pizza in no time – much less than ordering out and much faster than making your own dough.
Keep in mind, pasta is one of the most economical choices for cooking. Aim to pay no more than $1 per box.  For pricier brands keep an eye open for sales and coupons – these can be used in conjunction and what would normally cost $1.39 a box can easily become $.99 a box!
3. Omit the meat or find a replacement. Don't throw away all your meat-filled cookbooks yet! With a little creativity, you can easily take a costly meat centered dish and turn it meatless by omitting the meat.  This will not work for all recipes – for example a meatloaf without meat just isn't always ideal.
However, if you find a recipe for chicken alfredo, follow all the instructions for the alfredo and pasta, then add in a variety of vegetables such as cut asparagus, green beans and zucchini cut in half moons. Instead of buying fresh vegetables which cost more, use frozen vegetables which are usually more economical.
A little history on Italian cooking
Only in the last few decades has meat become more popular in Italian cooking. Find some old Italian cookbooks and you may be surprised how many recipes did not focus on meat as the center of the dish. If anything, meat was used to flavor a dish – such as soup or sauce.  This is due to the fact that most Italians were peasants living in rural areas and had to survive with what they had on hand. Using meat was a luxury – saved only for special occasions and not as an everyday part of the meal.  With the Italians known for their wonderful flavors, we can take a lesson from their simplicity and focus on fresh herbs and vegetables as the source of their great aromatic dishes.
When cooking Italian vegetarian recipes, try not to think in terms of "vegetarian." Instead, focus on recipes that include lots of vegetables, fruits and beans.  Be creative and don't forget to keep a recipe book of all your altered recipes!
Recipe for Italian Tomato Salad
3 large tomatoes or 6 Roma tomatoes chopped evenly
Kosher salt
Extra Virgin Olive Oil
1/4 cup Fresh Basil [note from Cheap: Fresh herbs are expensive to buy! Grow your own in the garden or in a pot.]
Instructions: In a large bowl combine the chopped tomatoes, salt and olive oil. Toss lightly and let sit for 15 minutes before serving, or keep in fridge until ready.  When ready to serve, add in the fresh basil and give a light toss.  Serve when ready with fresh bread or pasta.  Serves 4.
Liz Krause grew up in an Italian family. However, it wasn't until she married her Italian husband that she really started learning how to cook Italian foods.  One of her first accomplishments was making her first homemade pizza from scratch, but after watching Lidia on Lidia's Italy make dough with a food processor (with much less mess) she has since upgraded the Cuisinart 11 prep plus food processor with great success.  She enjoys spending time in the kitchen and making healthy recipes for her and her husband.
Sign up for our Newsletter
Google+ Comments