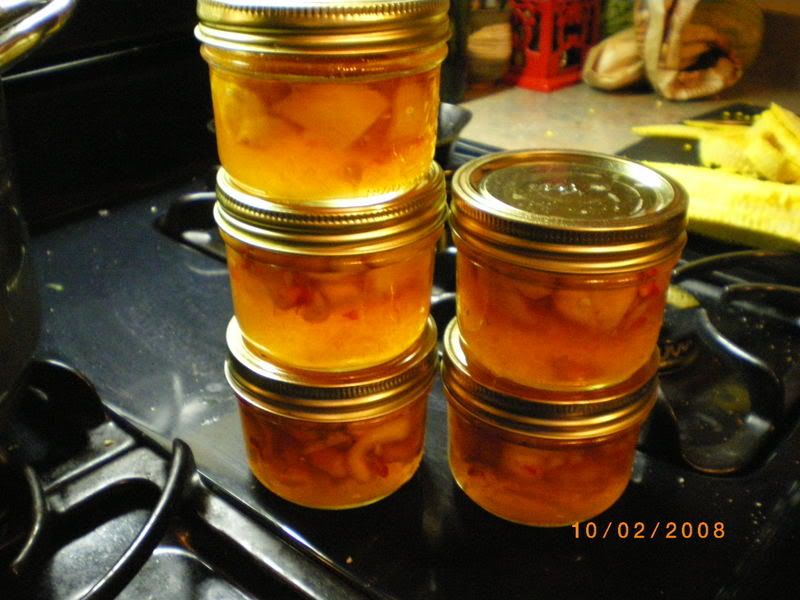 I arrived home at 5:30 this evening with my box of CSA goodies. I also needed to make dinner, pay the bills, pack for a weekend trip, clean up the kitchen, finish up some work, and plan for tomorrow morning, which includes a trip to the bank and walking dogs before leaving around 9:30 a.m.
Clearly, I had no time to deal with the food that isn't going to last forever. Here's what I did to process and preserve some of our CSA stash and make good use of the rest, all in a big hurry.
What we had
Our refrigerator still has leftovers from LAST week's CSA delivery. Those included:
Two yellow squash.
Four ears of corn.
Two heads of cabbage.
A head of lettuce.
A sad, wilted bunch of kale. Do you know about our kale problem? We have much too much kale.
And a watermelon that I hope will last till next week.
Plus, we have cucumbers, a bell pepper, a leek and a few other items.
Clearing it up
Before I get a CSA delivery, I try to clean out the fridge. I dumped Mr. Cheap's flu-killer soup (heavy on the cabbage, garlic and ginger … not sure if it would EVER go bad for those reasons, but he's been well for at least two weeks). I dumped the remains of a cucumber-and-tomato salad and the sad bunch of kale, all into the compost bin.
I asked my massage therapist if her big family likes veggies. She said YES! So I gave her one head of cabbage (the bigger one), the four ears of corn and the yellow squash.
At last, some room in the fridge!
What we got
Today, our CSA box included:
Some kind of melon.
A huge bunch of chard.
Tomatoes.
Herbs – dill, parsley, cilantro.
A head of lettuce.
Three beets.
Six ears of corn.
A pattypan squash.
An eggplant.
Three little zucchini.
Three yellow squash.
What I did
I managed our windfalls in several ways — eating, planning and preserving.
Eating
We had lettuce, beets, a big container of blue cheese in the refrigerator, and fresh baguettes at the store, as well as pecans in the freezer. Beet salad!
Pressure cooker beets
The beets are easy to cook quickly in the pressure cooker. Wash them, put them in the pot, cover with water (being sure not to overfill the pot), and put the sealed lid on. Set on the burner and turn it on. When the pressure begins to hiss, set a timer for 7 minutes. Cool quickly, peel and slice.
Basic balsamic vinaigrette
Mr. Cheap arrived home in time to make his own dressing. In a little container, he mixed together about 3 parts olive oil to one part balsamic vinegar (this ratio is to mitigate Little Cheap's complaint that "it stings"; add more vinegar if you prefer). Then he finely chopped 1/2 a beet and added it, with some salt and pepper, and tossed it all well.
We toasted the pecans, mixed it all together, and enjoyed with sliced baguette and butter from the butter bell, which I've relaunched now that it's cooler.
Preserving
Next was making some of our bounty last longer.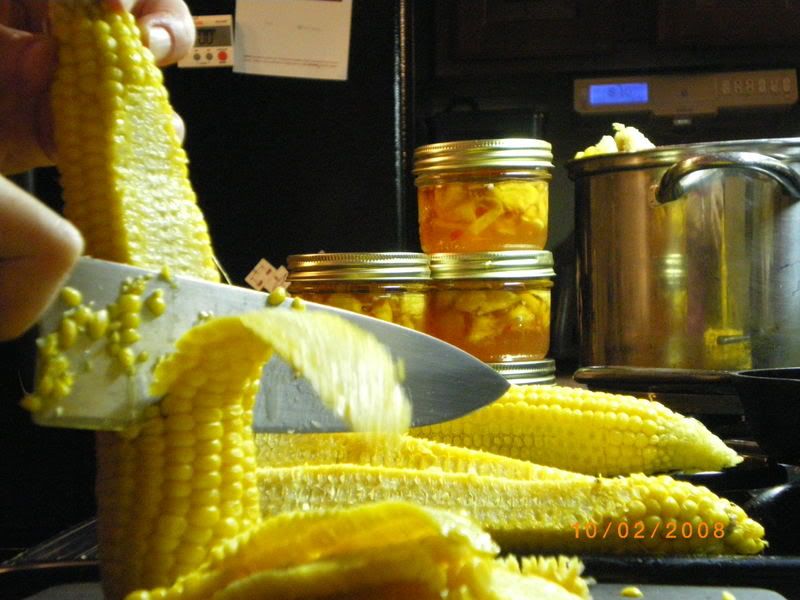 Corn
I don't know about you, but I believe a girl can only eat so much corn on the cob. Corn off the cob, however, can be a useful addition to many meals.
It's easy to freeze corn. Shuck the ears and toss them into boiling water for about 10 minutes. Drain and cool. (You can also grill them; our grill has been out of commission all year because it would cost $70 to refill our propane canister.) Set the ear upright on a cutting board and slice downward with a knife, liberating the kernels. Place into a jar, bag or container and freeze.
Bread-machine peach-jalapeno jam

Peaches are a prime crop in Colorado. We've had a pile of them waiting for Mr. Cheap to convert them to peach-jalapeno jam ever since we bought some blueberry-jalapeno jam and ate it with bread and cheese a month ago. Tonight I took pity on Mr. Cheap's busy schedule and made the jam myself.
This morning, I peeled the peaches and mixed up the ingredients for half a recipe of peach-jalapeno jam (peaches, sugar and minced red jalapenos from our garden) in a big bowl. During the day, I stirred it a couple of times.
This evening, I put a bunch of jars, lids and bands in the dishwasher (with the dishes that were there) and started it up. I stirred the jam mixture some more and put it into the container of my bread machine. I turned it to "start" and let it stir for 5 minutes, per my instruction manual, then canceled the cycle. Then I turned it to "bake," which cooks it for an hour, and let it go.
When the dishwasher and the bread machine were done, I parceled out the jam into 5 1/2 jars, put on the lids and bands (these are pictured at the top of this post), and set them in the refrigerator to cool. Tomorrow, I'll put them in the freezer. (Freezer jam will keep safely for a few days in the refrigerator and a few months or so in the freezer.) It is really zippy, sweet and delicious. Fingers crossed it will set up well.
Planning
Because our box this week included squash and eggplant, and we have tomatoes, bell pepper and onions on hand, I'd like to make a bit batch of ratatouille. I have an easy recipe I pulled from Real Simple magazine in 2003. It's great to eat with rice, bread, quinoa or couscous, and you can freeze it. The leftovers make a nice stewlike dish, or drain off any liquid and put it on a pizza crust, topped with some goat cheese, for an easy dinner. The ratatouille itself is low in calories and packed with fiber and nutrients.
And there you have it — the fast way to hack through a CSA delivery (and other fruit-and-veggie goodness) and get on with life, with three meals underway and more stashed and ready to go.
Chime in with any tricks you've picked up for quickly dealing with nature's bounty!
Sign up for our Newsletter
Google+ Comments