Things are growing beautifully in our garden, despite a heat wave that has us thisclose to breaking the record. (Denver's record is 15 days of highs over 90 degrees. Barring unforeseen cooling, we'll tie the record on Wednesday, break it on Thursday and blow it out of the water sometime over the next few weeks.) Even though I am a competitive person, this information is little consolation when it's been too hot to stand on my lawn barefoot without my feet feeling like they are burning. But this big beet doesn't care.
We've also got a lot of babies sprouting green wings in the garden.
The bush green beans have turned from little white flowers into stringy, fuzzy baby beans. Mr. Cheap has taken a lesson from their flourishing: "Next year, a bigger bean patch!"
Our first butternut squash is getting bigger — almost as big as its blossom this morning. That flower was in full bloom yesterday. The plant's blossoms are so big and bright that when I peeked inside early today, each bloom held a bee that appeared to be dozing.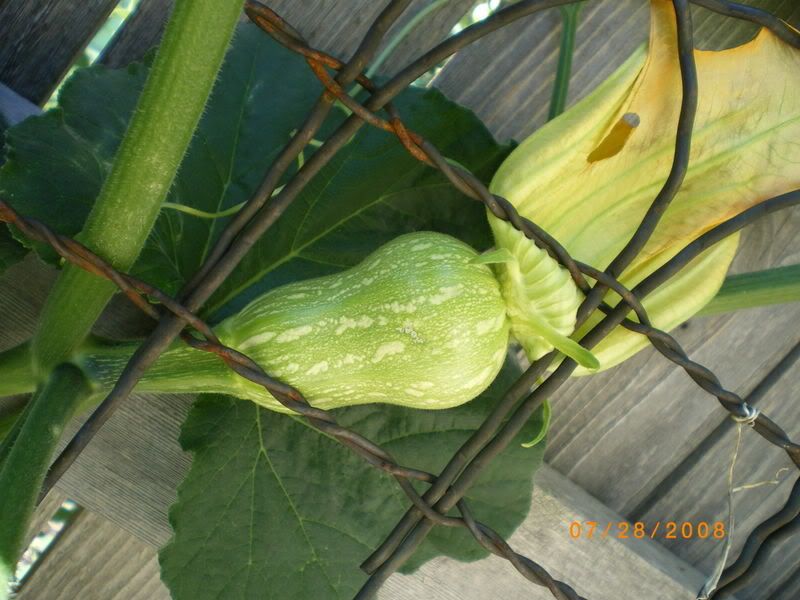 The cucumbers are growing at a staggered pace. We have cukes in three places. Next to the erstwhile pea trellis we have stair-step cucumbers — the one farthest west is about 8″ tall and growing flowers. The one fartheast east (shaded by dill and tomatoes) is about 4″ tall and still working. The volunteer next to last year's cuke patch (growing amid stones) is lanky and not producing. Then we have one wonder next to the compost bin. It is half buried by the Juliet tomato and the weeds, but its leaves are dinner-plate-sized and it is sprouting little cukes like this one (about 1.5″ long):
Our first BIG tomato is turning red (we've already harvested dozens of cherry tomatoes and two Juliet paste tomatoes, with more ripening as I type). This must be a function of the hot hot heat, because I don't remember every harvesting so many tomatoes so early:
And our potato is turning … done? Dead? I cautioned you that the potatoes may be making me eat my words:
Please wish my potato vitality, and wish us fortitude to survive the dog-tired, hot-dog dog days of summer. Happy gardening to you.
Sign up for our Newsletter
Google+ Comments