This year I'm celebrating the holidays with a "12 Days of Christmas" series on the abundances of our kitchen and garden. Share your experiences, too, and happy holidays!

On the ninth day of Christmas, my true love gave to me …
9 candied bacon strips
8 oranges' peels, candied
7 dozen pounds of pork … and fat to render
6 farm-fresh eggs,
5 daikon pickled for banh mi,
4-some gallons of beer,
3 quarts of applesauce,
2 half-gallons of sauerkraut,
and 1 quart of yogurt, homemade.
A few days ago, I wrote about our half an organic pig. That pig came with bacon. I used one package to create candied bacon, and then used some of that candied bacon for bacon fudge.
If you haven't heard of candied bacon, join the club — I hadn't either until I stumbled across a recipe for bacon fudge. The author was inspired, as I was, by the delicious Mo's Bacon Bar, manufactured by Vosges Haut Chocolat, which, however, costs more than $7!
The first step is candying bacon. It's easy; it just takes a bit of time. This recipe lays out the details. Essentially, you place bacon on a cooking sheet and sprinkle with brown sugar …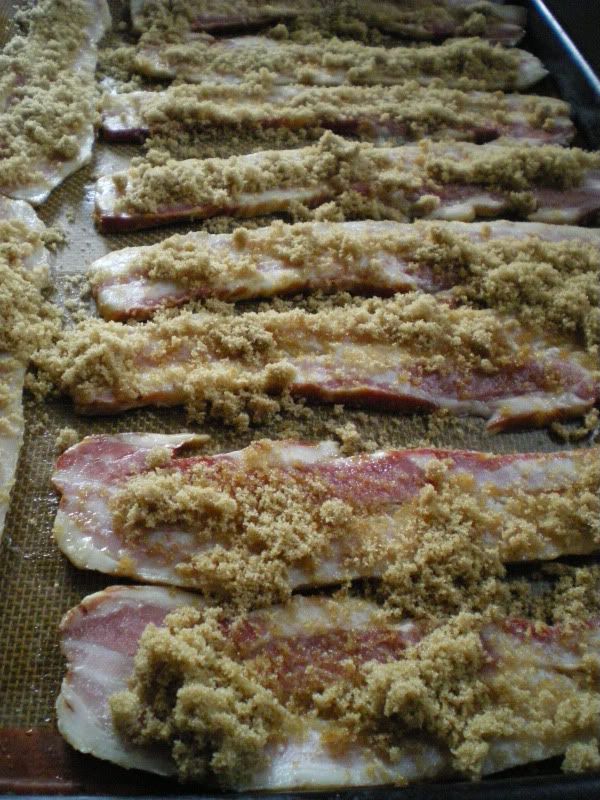 … then bake it in the oven while watching it carefully. (And, of course, clean the pan … yuck, greasy caramel!)
The next step is the fudge itself. I went ahead with Eagle Brand's Fool Proof Fudge, which was quick and easy in the microwave. Then I layered the fudge in a pan with bacon in the middle. The main recipe I consulted reminds cooks to have the fudge and the bacon about the same temperature for fail-safe melding of bacon and fudge. Mine weren't precisely the same, but it worked out.
I was also cooking for some non-pork-eaters, so I reserved part of the fudge to go in a non-bacon-containing pan. That alone made the experience worth it, as throughout the holidays we were able to ask if people would like "bacon fudge or vegetarian fudge," and the phrase "vegetarian fudge" made us laugh every time.
Oh, and how does it look? Like fudge. With bacon in it: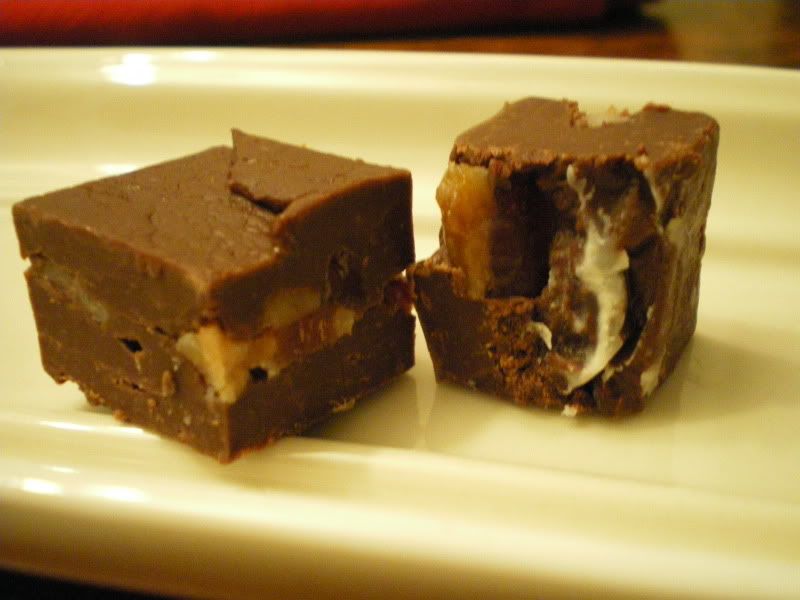 Sign up for our Newsletter
Google+ Comments