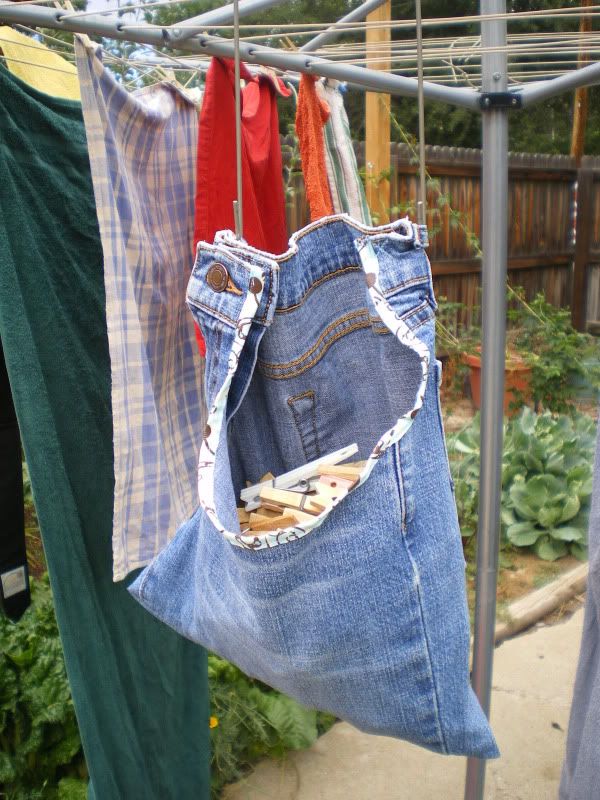 If you use clothespins, you need somewhere to store them. This summer I stitched up a new clothespin bag in an afternoon – using materials I already had.
Long-time readers know I am a huge fan of hanging laundry on the clothesline to dry. Hanging laundry saves energy, saves money, and gives you a little bit of exercise.
If you are new to hanging out laundry (or just vaguely remember it as something grandma used to do), I've written a list of my favorite laundry-hanging-out tips here.
My laundry routine
I have worked laundry-hanging into an efficient routine. In the shoulder seasons, like spring and fall, when the sun is less intense and drying takes longer, I often wash a load in the evening and let it sit overnight (we are in a dry climate where mildew won't strike that quickly). In the early morning, while it is still cool and damp outside, I quickly wash the rest, so that all the laundry is ready to hang out when the sun is higher and warmer.
Year-round, when I take the laundry off the line, I fold it and put it in baskets according to whose room it goes to. If I'm feeling really precise, I take laundry off one garment type at a time – pants first, then shirts, then PJs, or whatever – so that I have no sorting to do when I go back inside. But I'm compulsive like that.
Anyway, with my high-speed laundry-hanging, my old twill clothespin bag had finally seen better days. The bits of plastic that reinforced the rim were breaking apart, and when clothespins began to slither out the holes in the bottom, I decided enough was enough.
I had a pair of old jeans in my sewing room, so one afternoon I chopped off the legs and stitched up a clothespin bag with a cute ribbon trim. I saved the metal hanger from my old clothespin bag – it slips through the belt loops on the jeans to hang the bag on the line.
Clothespin bag tutorial
Here's what I did:
Put a denim needle in my sewing machine so I wouldn't break the standard needle. (There is not much sewing on this project – you also could stitch it by hand.)
Cut off the leg, about two inches below the crotch, to make a deep enough pocket for my clothespins (I have about 3 packs of clothespins, enough to hang up 4-5 loads of laundry).
Cut down the front of the jeans, to one side of the zipper, preserving the zipper fly and button in the part of the jeans I would use.
Cut down the seat between the back pockets to match the front.
Cut off the front pocket to make a U-shaped access for the clothespins – again preserving the zipper fly.
Turned the leg inside out and sewed a seam across the bottom and up to the zipper fly.
Pinned a piece of sturdy decorative ribbon (the twill kind, not the satin kind) over the raw edge of the U-shaped opening on the jeans.
Stitched the ribbon onto the jeans. I found that unbuttoning and unzipping the fly gave me more leeway and made it easier to sew.
Then I slipped the metal holder through the belt loops and hung it up.
It even has a back pocket that has come in handy a couple of times for holding loose change or washed-out pieces of paper that have made it through the laundry.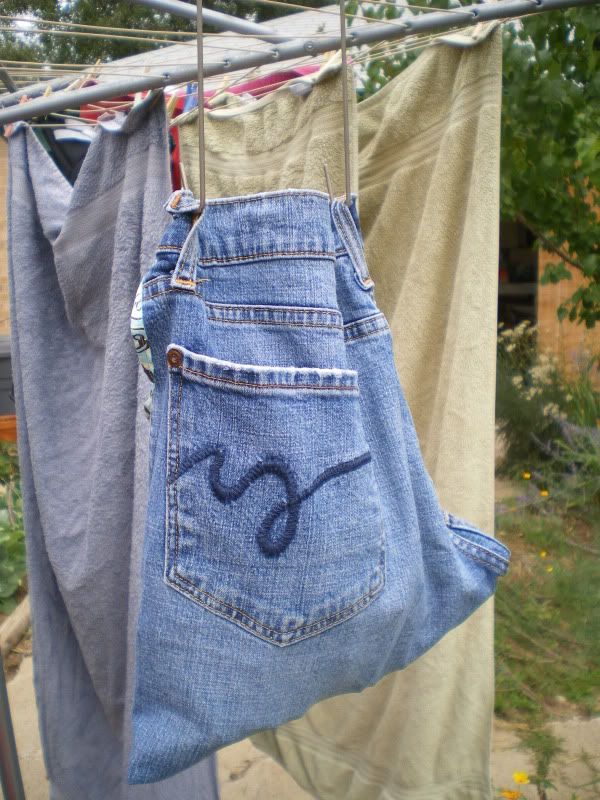 It saved me $10, should be quite durable (my old bag lasted 5+ years and it was much thinner fabric), and it makes me smile.
Find other patterns for clothespin bags here:
Tipnut has links to 11 free clothespin bag patterns (including one that is a wearable apron) plus a free embroidery-pattern download.
Martha Stewart has a different pattern that buttons over the clothesline. (Ironic, because my old bag was a Martha Stewart for Kmart purchase long ago.)
Happy laundry day!
Sign up for our Newsletter
Google+ Comments