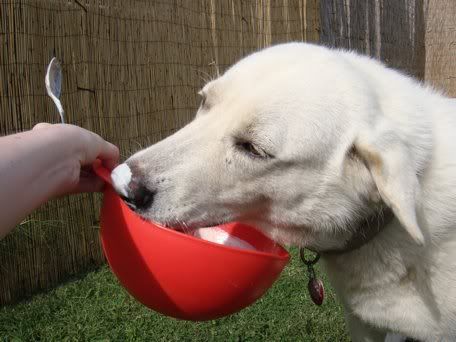 The following is a guest post from Lisa of Retro Housewife Goes Green.
First I want to thank Susanna for having me write this guest post. I love her blog and it's an honor to be able to write something for it! Now on to the blog.
Sometimes pets get overlooked when we start to go green. Pets require a lot of food and items and so these things can be made greener as well.
I have a rescued Great Pyrenees/Lab named Patience and she is quite the green dog. She wears a pink organic collar, sleeps on a bed filled with recycled plastic, has natural rubber toys, eats organically and all that good stuff.
I love making treats for her and her favorite treats are frozen yogurt treats. They are easy to make and great for hot summer days. Here is how to make your very own.
Ingredients:
1 32 oz container of organic plain (there is to much sugar in the flavored!) yogurt
2 tablespoons of organic peanut butter
Optional: 3 handfuls of fresh organic blueberries, 1 organic banana, or any other dog safe fruit.
Directions:
1. Mash up fruit (Optional)
2. Mix up yogurt and peanut butter
3. Add in fruit (Optional)
4. Put in safe ice cube trays (I recommend stainless steel) or use Baby Cubes which is my favorite way to make them.
Just give to your dog while frozen for a great summer treat.
Sign up for our Newsletter
Google+ Comments