This year I'm celebrating the holidays with a "12 Days of Christmas" series on the abundances of our kitchen and garden. Share your experiences, too, and happy holidays!

On the third day of Christmas, my true love gave to me …
3 quarts of applesauce,
2 half-gallons of sauerkraut,
and 1 quart of yogurt, homemade.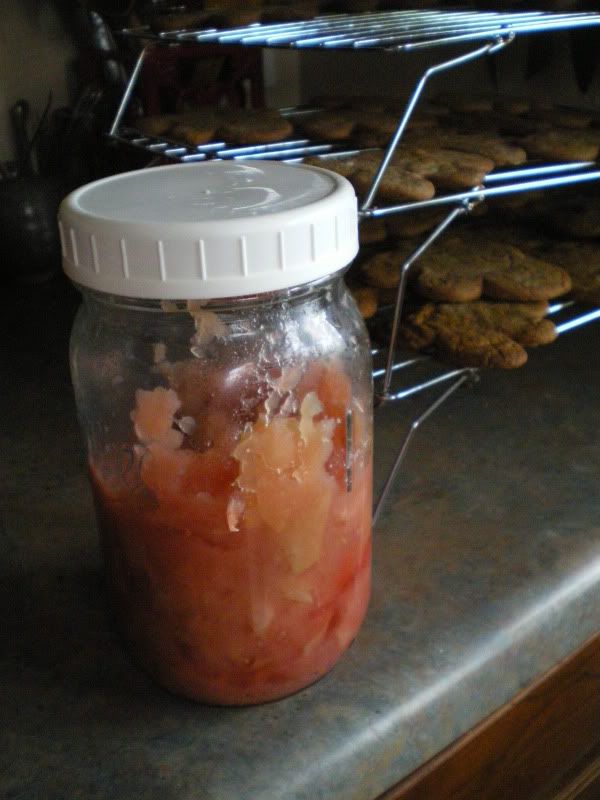 Applesauce. It's yellow and uniform, right?
Au contraire, my Joy of Cooking disciple. You *do* have a copy of the Joy of Cooking, don't you? If not, allow me to hint that you might have been very good this year and deserve a very helpful cookbook as a New Year's gift. If you were put off by all the criticism of Joy of Cooking in the recent film "Julie & Julia," allow me to point out that I bought the book on the strength of a chef and culinary instructor at a New York City French cooking school … who relied on Joy of Cooking for the school bakery's phenomenal bran muffins. It is a great resource to have.
Now that that's over, open your cookbook to the applesauce recipe. So simple. So straightforward. So perfect a thing to make with some of the many pecks of apples we received from our CSA this fall. (A peck, by the way, is two dry gallons, or 1/4 bushel.)
In my case, I did not even peel all my apples, to retain some of the pectin-y goodness and lend a beautiful pink color. I stirred up a big pot and simmered it on the stove. It finished cooking as my eight-year-old and a visiting friend came upstairs seeking snacks.
"Applesauce?!" They looked at me, aghast, when I offered it (what did I think they were – babies?), but the cinnamon aroma was reeling them in.
"Just try it," I cajoled. We sat down to warm bowls. They had seconds, then thirds.
We have eaten it warm for dessert, for breakfast with granola, stirred into yogurt or oatmeal. Dessert, guilt-free, any time of day, one comforting pink spoonful at a time.
Sign up for our Newsletter
Google+ Comments