A couple of weeks ago, some friends and I road-tripped to Santa Fe, New Mexico, where after a delicious enchilada-and-tamale lunch at Maria's New Mexican Kitchen, we headed across the street to Trader Joe's.
I've never been to Trader Joe's — we don't have one in Denver, with people holding various theories why. I've heard that it's an excellent source for good-quality, great-value food and other yummy goodies, so I was happy to check it out.
Here's what I got: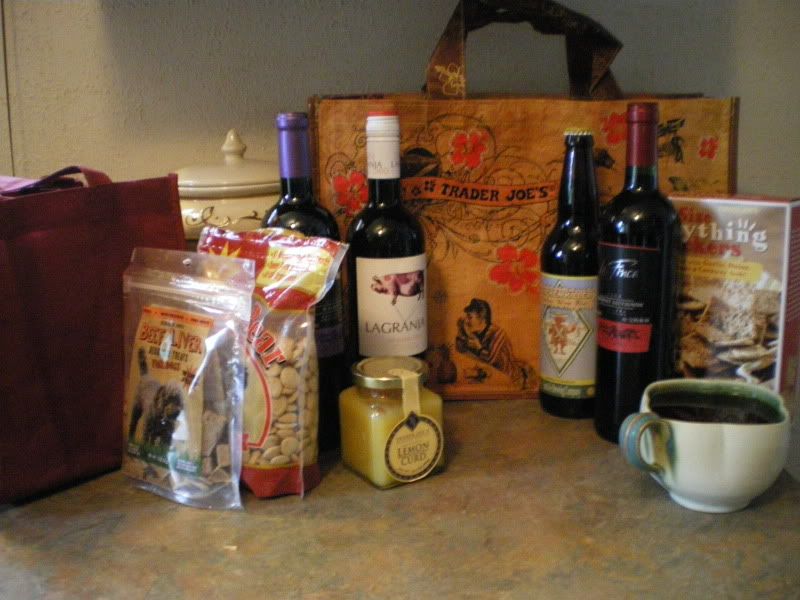 (Oops … not the cup, which I purchased from a potter outside the cathedral on an earlier trip to Santa Fe, and not the cookie jar, which I purchased at a little boutique called Goodwill.)
And I did buy some chocolate bars that aren't pictured in the photo, because I had already hidden them away from Mlle. Cheap. I'm stingy like that.
Minus those two items, my haul included the following:
Was it a good deal? I think so, except for the chocolate bars, but I did skew my shopping that way.
Mr. Cheap isn't a huge fan of "two-buck Chuck," (now three-buck), the Charles Shaw wine that made Trader Joe's a household name, but I bought several bottles of wine for $5 a bottle that outstripped our typical quaff, Black Box Cabernet, for the same price.
The dog treats were not exactly an exciting splurge – but Schnauzer Cheap is a fan of Charlee Bear treats because they have no corn, he thinks they taste good, and they have only 3 calories per treat, which is good for greedy pups who nevertheless must work to maintain their boyish figures. At Trader Joe's, they cost $2.99. I thought that was less than at PetSmart, but it turns out PetSmart's price is $4.79, so that was a good savings.
Likewise, I suspected a $3 jar of lemon curd (yum …) was a good value, as were the cool shopping bags – a great-looking tote-size bag, and two smaller bags with six compartments for carrying bottles or knitting projects. One of my friends assured me the crackers were super-delicious, and she was right.
I've heard that a lot of the desirability at TJ's is in the frozen and prepared food, but with a full trunk and a seven-hour drive ahead of us, fresh or frozen goods weren't going to work out.
I did see some things that made me cringe — like a beautiful jar of canned pears for $7, or jars of canned green beans for $5. Yikes! Yes, they were gorgeous, but those "bargains" made me grudgingly happy that I do the work to freeze and can fresh, in-season, organic produce — it can be just as lovely and far more cost-effective.
Are you a Trader Joe's aficionado? What are your don't-miss bargains — or splurges? Give us a shopping list for our next trip to a state with Trader Joe's.
Sign up for our Newsletter
Google+ Comments