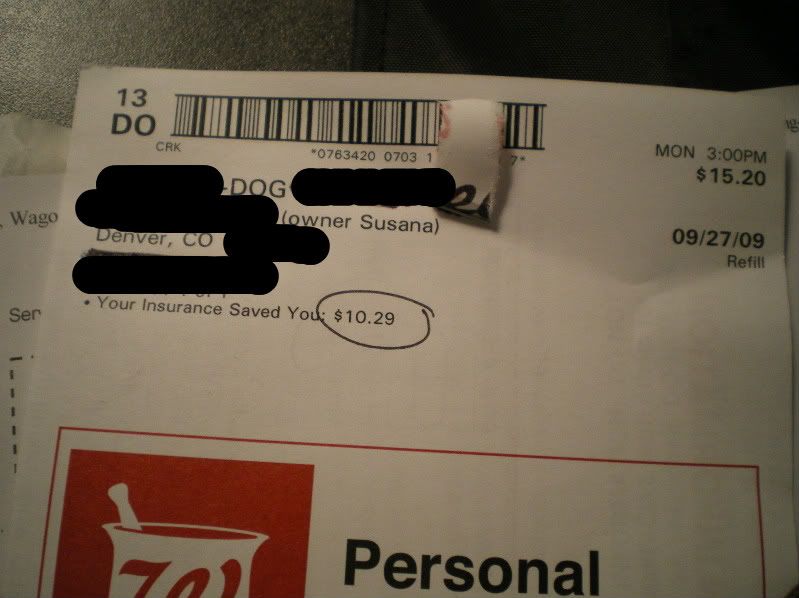 AAA members already know you can get driving tips and help when you need a tow. But did you know AAA can help cut your medication costs — even for pets? If you have prescriptions that aren't covered by insurance, your AAA membership can help pay for itself at the pharmacy.
The AAA prescription savings program through Caremark lets AAA members save an average of 20 percent of prescriptions not covered by insurance. Members can also order medication refills by mail for greater savings. It's very easy – you just write your AAA on the card at the link above and give the card to the pharmacist at a participating pharmacy.
In some cases, the savings are even more. The pharmacy envelope in the photo is from an antihistamine prescription Schnauzer Cheap takes twice a day. Obviously, he isn't covered by our human insurance policy, and he's excluded from pet insurance by (you guessed it) pre-existing conditions. The price of the drug without the AAA savings card would be $25.49 for about a two-month supply. Our savings with the AAA card was $10.29, knocking the price down by more than 40%!
Over the course of the year, we'll save about $60. Those savings cover almost two-thirds of our two-person AAA membership.
We also have a high-deductible health insurance plan without a pharmacy benefit, which means that prescriptions for the humans in the family essentially aren't covered (not until we hit our deductible, at least). In our state, we get a discount from the pharmacy for being uninsured for medications, but if you are in a similar situation or do not have health insurance, check your options to see which will give you the best price for the medicine you need.
Colorado residents can get $15 off AAA membership this month
If you live in Colorado and are interested in joining AAA, the organization is offering $15 off any membership through Feb. 28 with a referral from a member. If you want to join, and would like to support Cheap Like Me by doing so, send me an e-mail at cheaplikeme AT gmail DOT com (change AT and DOT to the symbols) and I'll reply right away with a referral link. You'll save $15 on the membership, and I'll get a $10 Target gift card.
If you live elsewhere and want to join, visit www.aaa.com for more information.
Disclosure: Readers who participate in the referral will get a discount, and Cheap Like Me will get a $10 gift card from AAA. No other consideration has been provided by AAA.
Sign up for our Newsletter
Google+ Comments