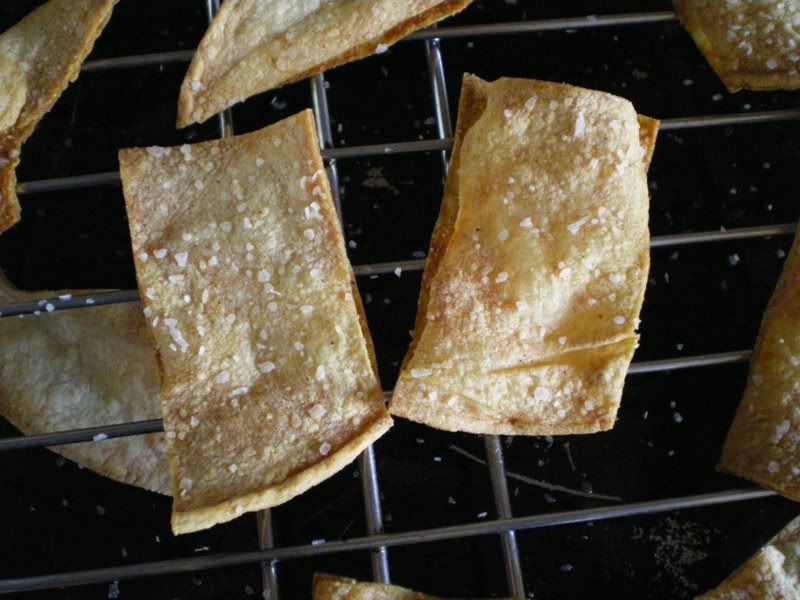 This Monday series checks out whether something that sounds like a good deal — or takes a bit of extra work — is a good deal. We'll look at cost and benefit — with everything filtered through my individual experience. Please chime in with your take.
I'm hooked on nachos. I love tortilla chips, in general. And of course, I always feel guilty about them: Fried, salty, come in a plastic bag.
I've bought the "baked" chips, but somehow they tend to have the texture of reconstituted paperboard (perhaps soaked, reconstituted, lightly salted and baked into a semi-crispy cardboardy texture).
Instead, I'd rather make my own chips. With my oven's convection feature, they take about 15 minutes. They do require a special use of the oven, but baked tortillas also save 5.5 grams of fat (that's 53 calories or half a tablespoon of butter) per serving over tortilla chips – and that's if you stop at one serving. They even save calories over purchased baked chips.
How I do it:
Turn the oven on at 350F. If you have a convection feature, fire it up.
Cut corn tortillas into eighths diagonally, or cut them into strips and cut the strips in half.
Spread the tortillas on a rack on a baking pan (you can also just do it on the pan, but Mr. Cheap innovated the rack to make them crispier).
If you like, give them a spritz with cooking spray or oil in a mister.
Sprinkle with sea or kosher salt.
Pop them in the oven.
After about 5-10 minutes, take them out and stir them around. If needed, give them another spritz/salt. Sample one and see how much more cooking they need.
Take them out when they are crispy and golden but not too brown.
You can also stack up several stacking racks for a bigger portion size and stick the whole shebang in the oven.

The cost breakdown:
I usually pay about $2.69 for a 16-ounce bag of chips at the store. More for "baked" chips. These bags contain an alleged 16 servings. For comparison's sake, I will say that we consume 12 baked corn tortilla chips in a serving (the same number of chips as in a one-ounce serving of a purchased brand).
| | |
| --- | --- |
| Ingredients | Cost |
| Corn tortillas – 1.5 | $0.11 |
| Cooking spray | $0.02 |
| Salt – 1. tsp | $0.01 |
| gas (oven) | $0.03 |
| TOTAL | $0.17 |
TOTAL = $0.17 for each one-ounce/12-chip serving.
Savings = 26 percent cheaper than baked chips, which cost $0.23 per serving, and exactly the same price as fried chips.

The winner: Homemade, as long as they won't sit out a long time … that grease keeps 'em fresh, and without it I suspect they would get dry or flabby.
The priceless factors:
Simple ingredients.
Can be as organic as you want it to be.
No plastic bags.
The drawbacks:
Takes some planning. You have to have tortillas on hand and watch the oven. It would be harder to make a lot of chips than to buy a bag.
The verdict:
Worth it. If you want nachos, toss some cheese on and throw them back in the oven. (You can turn the oven off for the melting step.)
But there's something just not as remarkable about homemade. Wait … I think it's just that I'm missing that gross feeling from eating too many chips.
Grade:
A
Sign up for our Newsletter
Google+ Comments