Yesterday I wrote about storing sweaters. But what if you look at your sweater collection and find a few duds that shouldn't see the light of next season? Too small, too pilled, too short, too huge, just not right.
You would think sweater projects would be perfect in the fall — but in the fall, you're going to want to USE those projects. Plus, it's National Craft Month! Get one or two ready now, and they'll be all set to use this fall. Store sweater projects as you would store the sweaters they're made from.
Revamp it
My first step is one I'm going to take with a sweater I just knit myself. I'm new to knitting sweaters, and it turned out waaaay different than I anticipated. I wanted a cute little cardigan. But I couldn't get the armpits to fit, and the wider you knit the shoulders, the wider the arms. Everything turned out much wider — even though I was knitting at the right gauge, followed instructions, tried it on multiple times as I knit, and got second and third opinions. And somehow, it sticks out in the back, making me look much wider all around than necessary.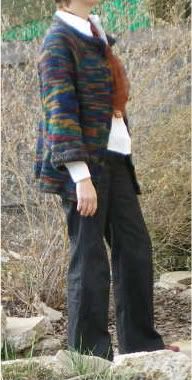 I could tear it all out and start over … but I'm tired of the yarn, which did not cooperate through 3 tries with a different pattern, and ready to move on. Mr. Cheap suggested wearing it more like a wrap jacket, and belting it (this advice is a fringe benefit of marrying an artist). I'm going to knit a belt and call it done. It'll be shaped a bit more like this:

Here are some great examples — and instructions — for other sweater remake projects I found around the Web.
Transform it into a different sweater
If this issue is that the sweater's shape doesn't work for today, you have several options.
You can just trim it down into a narrower silhouette, like julie-bird.
You can make it into a cute cardigan (suitable for spring!) a la Threadbanger (click over to see photos).
Trim it up and create a Nordic capelet like the one featured on this post, or visit the creator, Felted Finery, to buy one.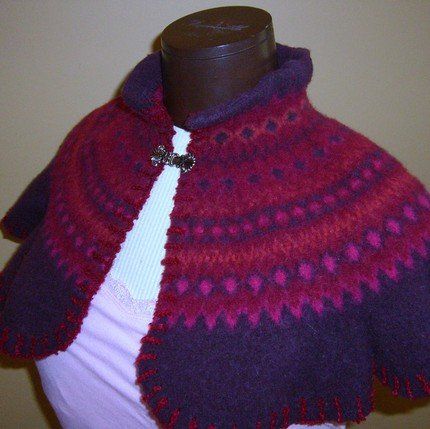 Or go edgy and cute with something like this sweater-vest-turned-dirndl-vest, featured in Craft's blog:
Bag the sweater
You can also turn an old sweater into a bag, preferably after felting it, and preferably with a liner. I found several options, from the tote bag created by Perched on a Whim …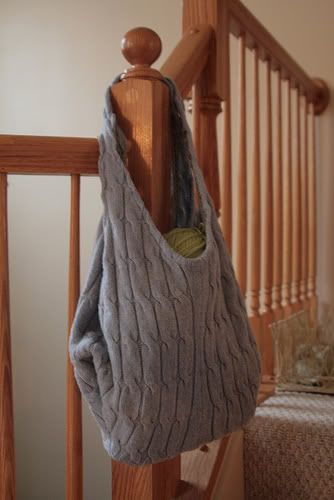 … to a really cute bag with felted decoration from Karmology Clinic …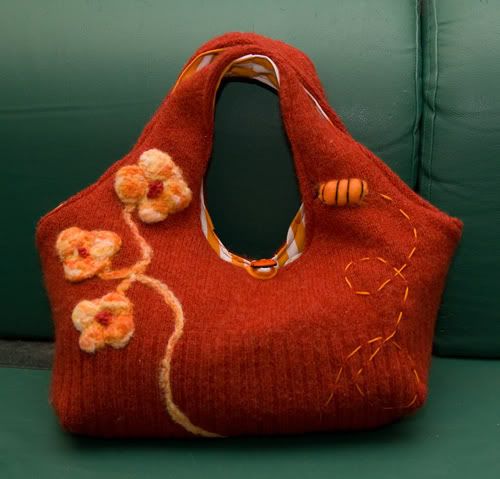 … to a yoga mat bag made from sweater sleeves: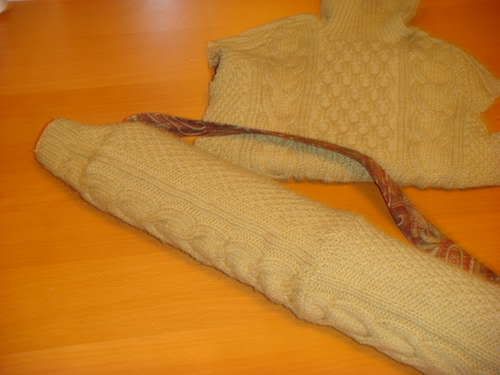 Make mittens
You can limit yourself to using the sleeve cuffs as mitten cuffs, or turn an entire sweater into sets of mittens. Instructions are here.
Make pillows
I have several sweaters set aside for this purpose, and even have some yard-sale pillows to go in them. Maybe this will be the year! MintBasil has posted a tutorial on her method here, with great tips for sewing the felted sweater.
Make critters
You can turn a sweater into a cute, cuddly creature.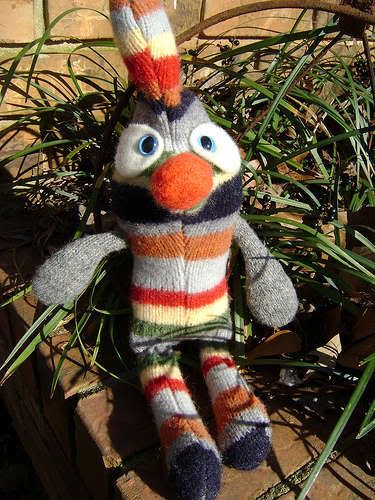 Or you can make a hat with a creature on it, again from Karmology Clinic (and of course, you can add this kind of embellishment to anything!).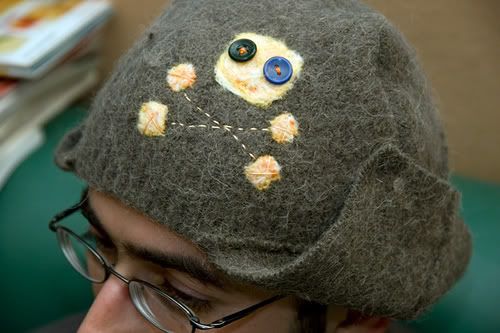 And if you're really, really handy with the felting, apparently you can turn your Roomba into a lifelike marauding creature to amuse yourself and terrify housepets (at the same time). This one isn't from a sweater, but someone inventive could work something out.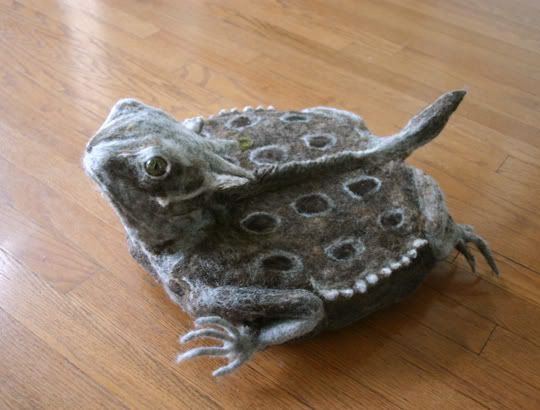 I'm inspired now! Have you made other things from sweaters? Share below!
Sign up for our Newsletter
Google+ Comments