Remember last summer, when the sun was warm and the cherries were abundant?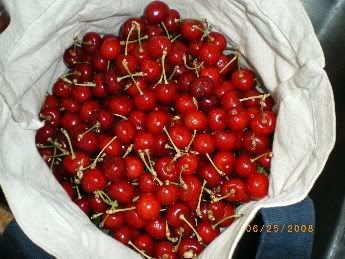 And I scavenged cherries to make cherry pies and cherry liqueur?
Well, Christmas has come, and the liqueur is ripe … and so is the time for giving.
In all honesty, we cracked open one jar of Cherry Bounce as soon as its ripening time had passed. We enjoyed it — sweet, with all the red color the alcohol robbed from the cherries, and oh-so-alcoholic! (I suppose adding sugar and sugary fruit to hard liquor and allowing it to steep will do that.)
For Christmas, I wanted to give some of the liqueur away. It took me a bit to think of how to package it. Then, on a road trip to Taos in October, Little Cheap and I indulged in some Lipton bottled tea. The bottles were made of glass, and I thought they could be reused. I removed the labels, but the bottles were very plain. Then I remembered a knitted beer bottle cozy I saw years ago in a now-defunct magazine called Budget Living. Could I recreate such a thing? Yes, I could:
I reviewed some online patterns and then invented my own cherry chart — something I've never done before. My idea is that the cozy can be used for a coffee cozy (or a beer cozy!) after the liqueur is gone. The sleeve simply slips onto and off of the bottle.
Merry Christmas to all — and be cautious with those drinks, folks — I could feel a slight buzz almost immediately. Or perhaps it was the faint recollection of the bees in the trees …
Sign up for our Newsletter
Google+ Comments