Last week, I blew my eco-conscientiousness into small, plastic-coated bits.
We're redecorating our daughter's room.
The benefit:
It looked like this before.
For some reason, the former residents thought dark orange-red was a good color. In fact, when we first moved into this house two years ago, this was Mr. Cheap's and my room. Not for sleeping, for me — it was my room for tossing, turning, and dreaming about porcupines chasing me with machetes.
We switched bedrooms with Little Cheap and she fared better. I added new, lighter curtains. Still, it was dark and dreary.
Now it looks like this.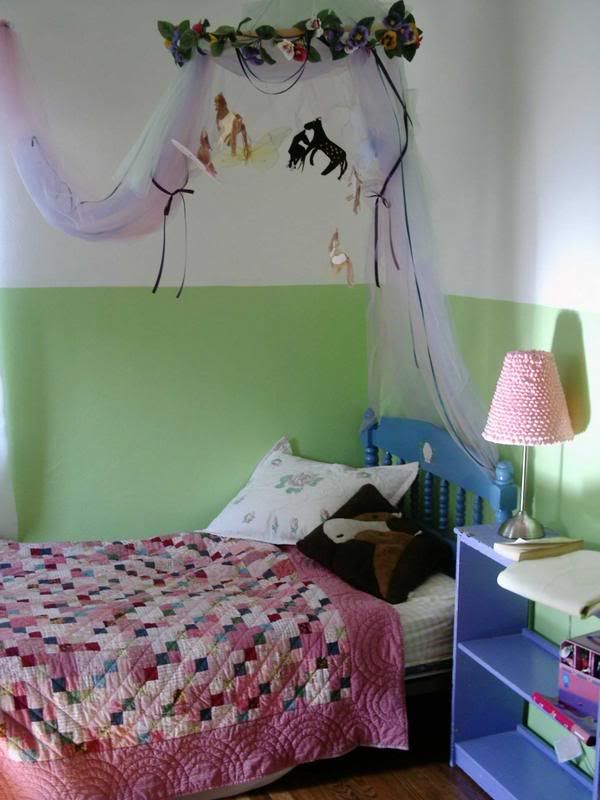 For my psyche (and I think Little Cheap's, too), this is a vast, vast improvement. At last, the room looks like a little girl's room. Now, even though it likely will still look like the room was hit by a toy bomb, at least it won't look like the bomber missed her room and hit a cave.
The cost:
Transformation ain't cheap:
Primer: $13 for one gallon at Home Depot, plus $2.62 for one-fourth of an emergency additional $10.50 quart from the local hardware store (what a rip-off!) = $15.62
Paint: Two gallons at $29 each = $58 (neither is emptied – I'm hoping we can re-use the white for the hallway or bathroom)
Dropcloth, brushes, rollers, tape: $8 for one-fifth the cost of these items, which will be used for at least 5 projects (and we chose a canvas dropcloth — washable and re-usable — instead of plastic)
Bookshelves: $70 for two tall bookcases (great deal from Office Depot, bought back in January)
Casters for the rolling table (the table itself is a wood tray we already owned) to store her toy castle: $12
Curtain rods and rings: $30
Curtains: $50 for fabric and liners, on sale.
Total: $243.62
The deals:
Yikes! On the other hand, the rest of her furnishings are a triumph of frugality:
Bed, mattress, sheets: Grandma's and great-grandma's hand-me-downs. Mr. Cheap re-painted the bed with scavenged paint. $0
Pillow: Two were new. The sham is from Freecycle, and the horse pillow was a gift. $10
Dresser: A hand-me-down from my close friend's husband's childhood. $0
Toy cabinet: Being trashed by the Art Museum; reclaimed by us. We added legs, and Mr. Cheap cleaned it up with some furniture wax. $20
Baskets in cabinet: A gift from Grandma. $0
Bookshelves: One is my childhood bookshelf, another scavenged from Mr. Cheap's current employer. $0
Rug: I think we bought it at Kmart on sale – it's green (Little Cheap's favorite color) and thus stands in for grass in her many play activities. $12
Chair: Scavenged, repainted. $1
Desk: Scavenged. $0
Lamp: From Target a couple years ago. $10
Total other furnishings: $53
So, in terms of cost, under $300 for a kid's room isn't too bad.
For the re-do, we took a huge bite out of our net cost by trading in a heap of old credit car points for a $100 Home Depot gift card. The room has a look that could endure up to her teen years, so I don't anticipate re-doing it anytime soon. And in case we decided to sell our house, the current color scheme has better resale value. Or maybe I'm just rationalizing.
The eco-quandary:
The process involved 1.5 gallons of latex paint, over a gallon of water-based primer, yards of paint-coated tape, many gallons of water to wash the brushes and pans (with the paint chemicals going into the water system), and sweat equity, which on Sunday I washed down with a 40 oz. Crystal Light Slurpee, just for a final plastic-and-chemical-foodstuff blast. (Note, however, that Little Cheap wanted to save the cup, so I washed it and we could re-use it when we feel the need for another Slurpee, which at $1.59 for a large — which Little Cheap and I split — is a great deal, at least compared to a Frappuccino or ice cream.)
When it came to choosing paint, I thought about going low-VOC. Did we? No. I didn't want to spend more, and frankly, I just forgot about it. But now I'll pay … in guilt. The good news is that, according to the article linked above, VOC emissions are significantly lower today than they were in the 1990s and before.
The other guilt factor here was the paint rollers. Which is the better ecological choice — rinsing and re-using the roller or discarding it? Rinsing takes an astonishing amount of water. At a flow rate of 2.5 gallons per minute (typical for a kitchen faucet), rinsing for 10 minutes uses 25 gallons of water. If you toss the roller instead, the paint on the roller would dry and at least would be trapped rather than polluting the water cycle. On the other hand, all rollers have plastic cores that will never biodegrade. (Financially, at 5 cents for the water versus $3 for the roller, rinsing is the no-brainer choice.)
I salvaged a little of my eco-pride by giving away the curtains and old window shutters on Freecycle.
The verdict:
I think the right choice is not to redecorate — but that's not going to work for me. And I have plans to do much, much more re-painting. I work at home, and our dark and dreary rooms — with coved ceilings for that cave-in effect — are seriously oppressive when I'm exposed to them 24 hours a day.
Second best, perhaps, is to do a good job and pick enduring colors so the painting only happens every five or 10 years, rather than seasonally.
So, mark me down as an eco-sinner on this front. A tired, overspent, achey-backed but aesthetically pleased eco-sinner.
Sign up for our Newsletter
Google+ Comments