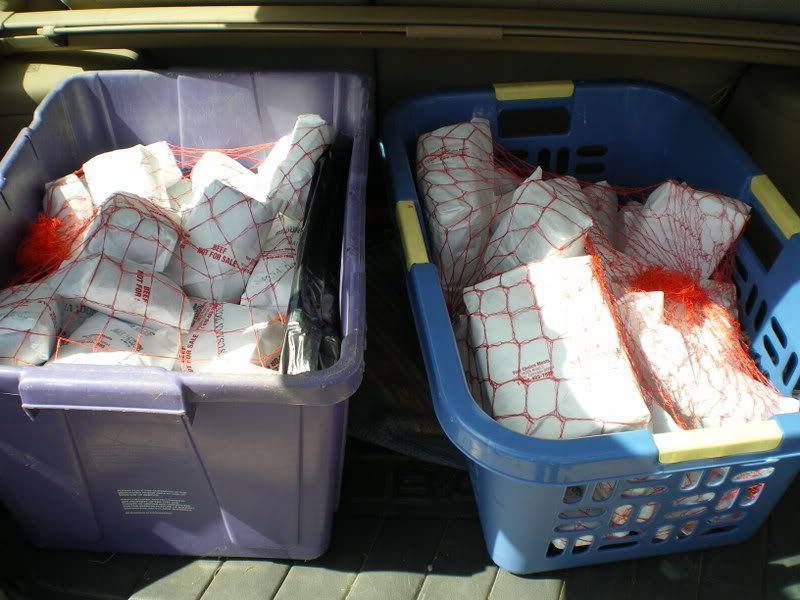 This Monday series checks out whether something that sounds like a good deal — or takes a bit of extra work — is a good deal. We'll look at cost and benefit — with everything filtered through my individual experience. Please chime in with your take.
Last Friday was a beautiful day, and Little Cheap and I spent part of the morning driving about 68 miles northeast of Denver to pick up our meat.
We saw a little of this, and a lot of that …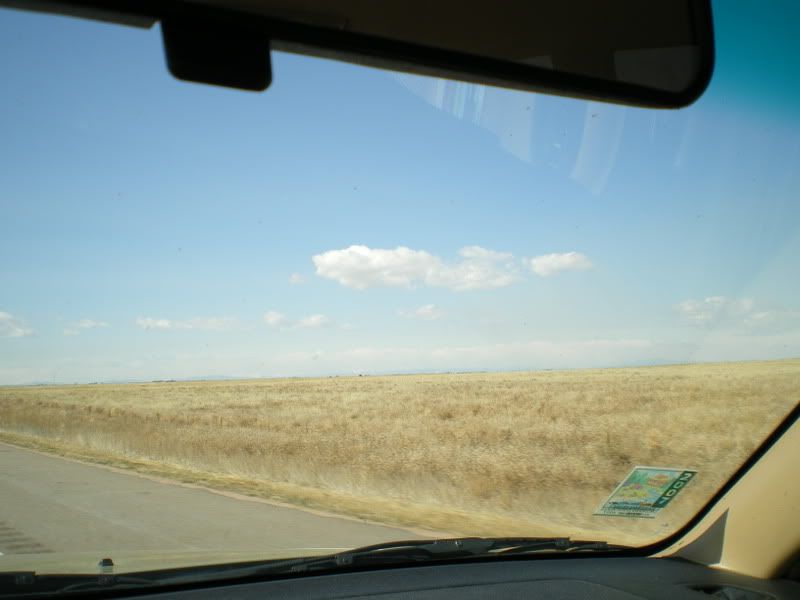 And came home and filled up our freezer with meat.
Before: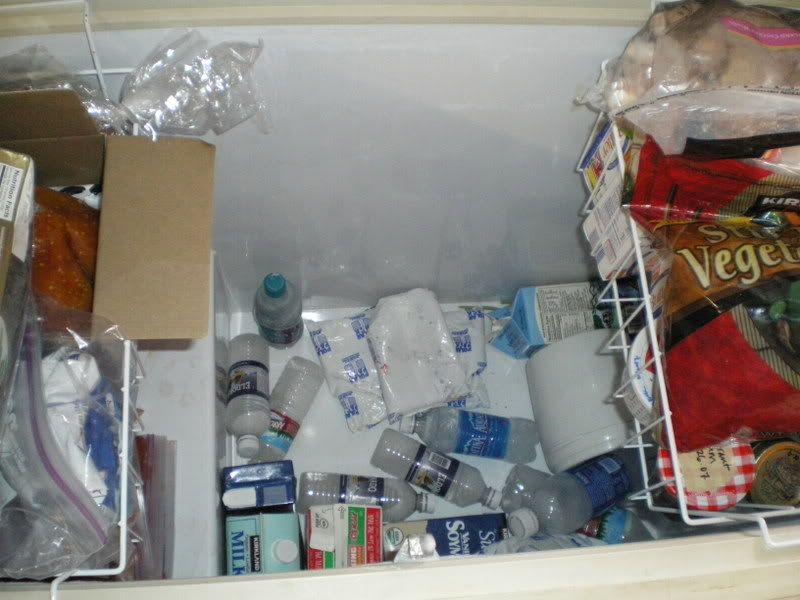 After: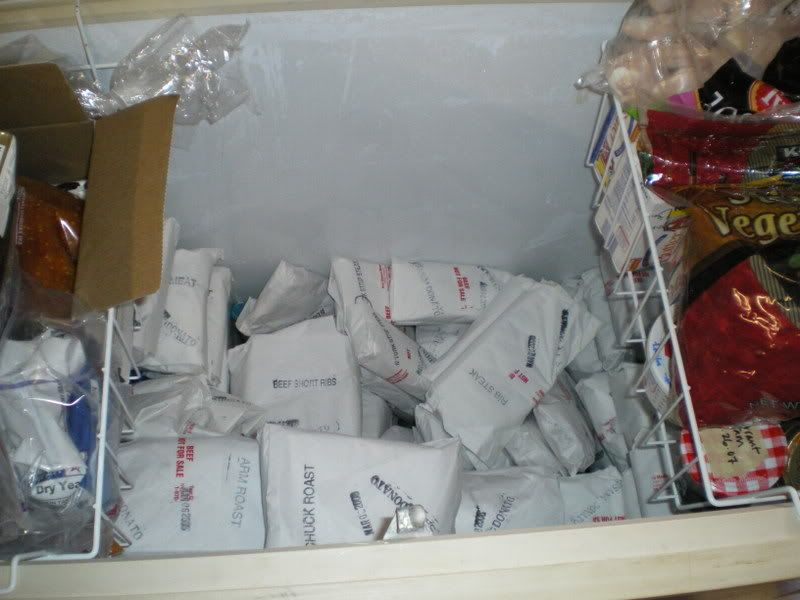 What's in 105 pounds of beef? We received:
40 lbs. of ground beef
3 packages of soup bones
2 packages of short ribs
24 steaks of various cuts
6 packages of sirloin tips (and I didn't know what those are)
7 roasts
6 little packages of filet mignon
3 packages of stew meat
So far, we have eaten one package of New York Strip steaks (verdict: Delicious — Mr. Cheap's red wine-and-shallot sauce made even me, not normally a big fan of steak, enjoy it) and one pound of ground beef (Mr. Cheap and Little Cheap had hamburgers yesterday. After turkey mole the day before steak day, and Spicy Chinese Chicken on Friday night, I was meat-ed out). Both were excellent.
The cost breakdown:
The total weight of the beef came out to about 105 lbs. Our costs were:
Meat = $310.50 (live weight was 1,150 lbs; 1/4 = 287.50 lbs x $1.08/lb)
Slaughter charge = $5.00 (1/4 of a $20 charge)
Processing = $87.53
TOTAL = $403.03, or an average $3.84 per pound.
If I add in the cost of gas for the trip, it was another $19.78. (I don't know how to calculate a deduction for the "get out of town" break I really needed, or the enjoyment Little Cheap and I got from our fleeting glimpse of a rancher rounding up calves on horseback.) That brings the grand total to $422.81, or $4.02 per pound.
The normal price for naturally raised ground beef at our grocery store is around $4.99 per pound, and the natural roasts that I purchased last fall were about $6 per pound. Online today at King Soopers' HomeShop site, it averages $5.99 per pound. (Conventional ground beef is $2.79 a pound or can be found online for $7 for 3 lbs … but I never buy conventionally raised beef.)
Cost for 105 pounds of store-bought meat at $5.50 per pound = $577.50
Savings (I hope for about a year) = $154.69 or $13 per month. We are spending about $130 more than if we bought conventional beef at the store.
The winner:
Our bulk beef, for cost, humaneness and quality.
The priceless factors:
We know our meat was locally, naturally raised, given free pasture and plenty of good care, and butchered and processed at a local business that we got to see (and if their process is as clean as their restroom, we're in very good hands).
Eating meat this consciously. Little Cheap got a little teary in the office at the processor, and again when she first looked at the steak on her plate the other night. Her concern about animals has helped us re-focus on eating meat only when it has been humanely raised. I reminded her of that regarding the steak, and she recovered to her natural carnivorous nature to enjoy the meat. I can relate to her quandary – I was a vegetarian for 10 years, and I could survive happily with little to no meat. But we're all built differently, and my family really enjoy and thrive on meat. I know there are environmental arguments against eating meat, and health arguments against eating too much red meat. On the other hand, the cattle industry is an important one in Colorado. Our family's eating vegetarian won't change that. But I hope by choosing the meat we do consume consciously, we can make a difference by supporting farmers/ranchers who are doing the right thing, and by putting our weight behind humanely raised meat.
The drawbacks:
Planning, lead time and waiting. Picking up the meat alone took a couple of hours. And it's been quite some time since we placed our order in late January.
Storage space/needing a freezer. The quarter might fit in our refrigerator's freezer, but it would take up the whole thing, and the quality would be more questionable as fridge odors could circulate there. Really, a freestanding freezer is the only realistic option.
The risk of having the meat causing one to eat more meat, therefore going through it faster and spending more on meat than before.
The verdict:
On my own, I wouldn't eat enough meat to make it worthwhile. As a family, it makes sense, and it probably would make still more sense to buy a larger portion and divide it with friends and family who have expressed interest.
Grade:
B+
If you're looking for another perspective on why and how to buy local meat in bulk, Get Rich Slowly wrote a terrific post on the topic.
Sign up for our Newsletter
Google+ Comments