My daughter went back to school yesterday, and it's time to start sending her lunch in again. Additionally, she takes a water bottle to school daily. So I was on the hunt for more eco- and health-friendly lunch solutions.
Water bottles
Last year, we replaced her cheap plastic bottles and Nalgene (with BPA) bottles with a SIGG bottle. It still has a plastic lining, but it is a better bottle … if only she can learn to screw the cap on properly so it doesn't leak all over. I was looking for a second bottle and was very happy to find this one, with no BPA and a virtually leak-proof top. We have her bring her bottle home every day and wash it out, rather than leaving it to absorb and ferment who-knows-what in her cubby.
Mr. Cheap and I have stainless bottles, but their seals are even harder for Little Cheap to manage. We still have some cheap bottles for once-in-a-while/might-get-lost events (especially where we're not likely to drink anyway … like the one I sent to the pool with her on Tuesday).
Lunch box
For several years, Little Cheap has had a stackable Hello Kitty lunch box that we got at a Japanese market. Mr. Cheap has a stackable stainless "tiffin" lunch box from Chinatown. His is a lot like this one, only not quite so groovy looking.
The problem with that lunch box for Little Cheap is that her Sigg bottle was banged up and dented within 5 minutes of her owning it, so I worry that the steel would be banged out of fit right away. And she often takes along small things — ranch dressing, yogurt, cottage cheese, pudding — that would have to go in smaller containers in her lunch box, and they don't fit in the "tiffin" box.
Then, at Vitamin Cottage, I found this: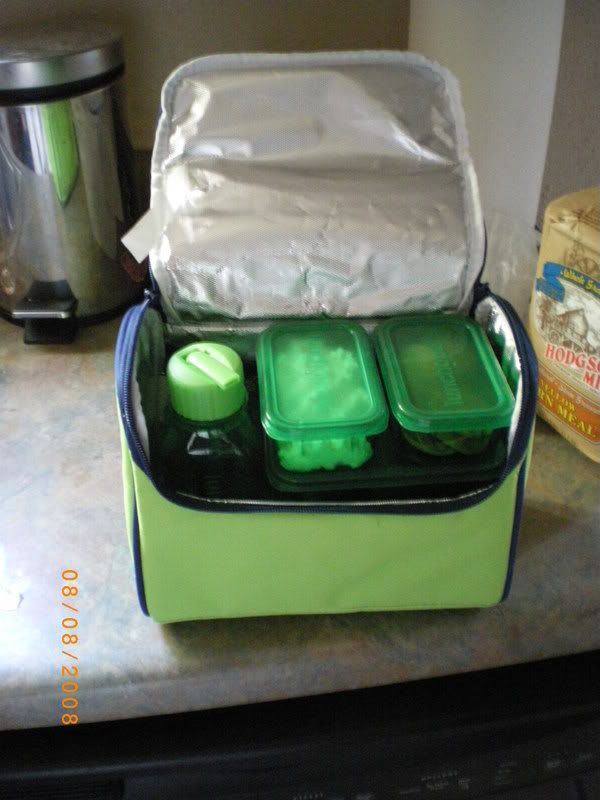 It's got no lead and it comes with four BPA-free containers (one large, one medium and two small) and a BPA-free drink bottle. (We don't usually give a separate drink at lunch, especially now that she's loving chocolate milk, but if we do, it's much better than the cheap plastic bottles I bought a couple years ago that don't work.) The small sizes are perfect for that yogurt/pudding serving. It cost a bundle … but on the other hand, we'll be saving a small fortune by sending lunch with her. Her school lunch prices have risen to $4 this year.
Then, I've been looking for a shallow container to fit in the old lunchbox, for small servings, so I don't need to use plastic bags. Finally yesterday I had a brainstorm and looked in the baby aisle. Voila, small "disposable" bowls (that will see a ton of re-use at our house) that will fit perfectly.
Waste facts & other options

The lunch box is made by Lunchopolis, which includes a bunch of facts on its Web site, including that every school-aged kid produces 67 pounds of waste per year.
The site reminds us to use a cloth napkin and reusable utensil in a lunchbox. We do this already — the oldest napkins go along to lunch, and we have a stash of cheap spoons and forks bought at the thrift store so if one doesn't come home, our nice set of flatware is unaffected.
The containers in the new box are made of polycarbonate. I'm leery of it, but with new research not finding a major danger (relative to all the environmental dangers we face), we will use it for now — but we will not heat it, put hot foods in it, etc.
For you sandwich-eaters, have you tried the Wrap-N-Mat? It looks like a nice option for taking lunch along without plastic or foil — you just wipe off the inside.
A handy tool
Finally, if you find all this plastic info as confusing as I do, try this handy refrigerator chart. Just keep a pen handy to scratch out and write in the new data as it arrives.
And let us know what you do to keep your lunchtime waste lower.
Sign up for our Newsletter
Google+ Comments