Please allow me to introduce my new coffee table. Let's call her … Xelda, for the X on her base.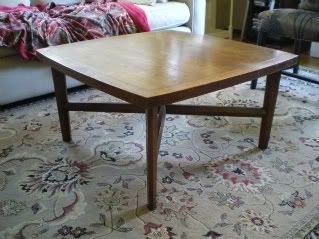 We used to have a coffee table. It was a sturdy black item that doubled as a bench, left behind when Mr. Cheap's roommate moved to San Francisco in 1995. But it was long, and we kept stumbling over it and barking our shins and eventually it was spending more time propped up against a wall than being a coffee table, so we sold it on Craigslist a couple of years ago.
Ever since, we've been looking for a replacement. We found the perfect table two winters ago at a local high-end furniture store called HW Home. It was a beautiful round padded-leather item with pull-out trays for beverages. Cozy, lovely, wonderful, and it went perfectly with the sectional sofa, which would really have been ideal in our small living room, which has windows on two sides and entryways taking up most of the largest wall. But … together they would have cost about $5,000, and there's no way that was going to happen.
We found a similar model table at Macy's. Fantatsic — this one cost more like $500 instead of $1,000. Some of you think that's a good deal; some of you are cringing. I would pay it for the perfect table if it was a good-quality, lasting item of furniture, because we keep things for a long time. But when we went to see it in person … well, it was a piece of junk. No deal.
At first, we wanted something with storage for magazines, board games and coasters. Then we installed a wall of shelving that eliminated that need.
We kept looking. Mr. Cheap found a table he really liked at Scandinavian Designs. Round, simple, easy, inexpensive. It was like a shallow wooden dish (which he loves) on legs. But I argued that the shape made it not very useful for many things, and that with its dark color it would be like a dust magnet, and I didn't want to spend my time dusting a not-very-useful dust magnet for which I had paid a couple hundred bucks.
We kept looking.
We have looked at thrift stores, yard sales, antique stores and furniture stores. We have scoured Craigslist on too many occasions to count. We have said several dozen (hundred?) times, "If we had a coffee table, we could … " or "When they are here, where should we have them set their drinks?"
Then on Thursday and Friday, I spent time hunched over on the floor, doing a jigsaw puzzle. I thought, if we are going to do puzzles, we REALLY need a coffee table!
Also on Friday, we had a big snow/rain storm in Denver. It precipitated all day.
Mlle. Cheap was out of school for the day. We stopped off to rent some entertainment and popped into our local thrift store. There I saw Xelda.
She was sitting next to a bigger, bulkier square cocktail table that had a storage shelf beneath. Her top was a bit scratched up and dry; I looked for flaws and found that a small piece of the veneer was chipped on one side. She wobbles just a tiny bit.
She also had a tag on her that said $39, and the store had a sign in the window that said "When you see snowflakes falling, everything is 50% off!!!!"
Mlle. Cheap said, "That table is way too ugly."
I didn't buy it. But when Mr. Cheap arrived home, I handed him two $20 bills and sent him over in the car to look.
He came back with the table, four young-adult/tween adventure novels for our daughter, some desk organizers for himself, and $18 in change.
Mlle. Cheap said, "That table is still ugly." But she helped her dad go over it with Feed-N-Wax
so that ol' Xelda looked a bit nicer. They tried to reglue the veneer and fasten it down with a band clamp, but there, Xelda rejected their ministrations.
Xelda's top is a little bit rough; the veneer just isn't holding up that well. Perhaps she once spent some time locked in a damp basement, or awaiting transport on an outdoor patio. Maybe she's just getting wrinkled with age — on her underside, she is stenciled "8/59," so I suspect she is 50 years old. She's about the same age as our house, which explains her petite dimensions that fit oh-so-well in our living room.
The more she sits in our living room, the more she grows on us. I figured, for $20, she can hold us until Mr. Cheap finds something he likes. But personally, I like her enough to stay. She'll hold coffee cups. Someone can set a plate down on her at a party. We can do a puzzle on her nice flat surface. She doesn't block the walkway.
She's so much more than a coffee table … she's a way to transform our living room into a living room, and she's a breath of fresh air because all it took was one $20 bill and a little bit of oil to make her our own.
Sign up for our Newsletter
Google+ Comments