Want to join the Weekend Winterizing Challenge? Read all about it here.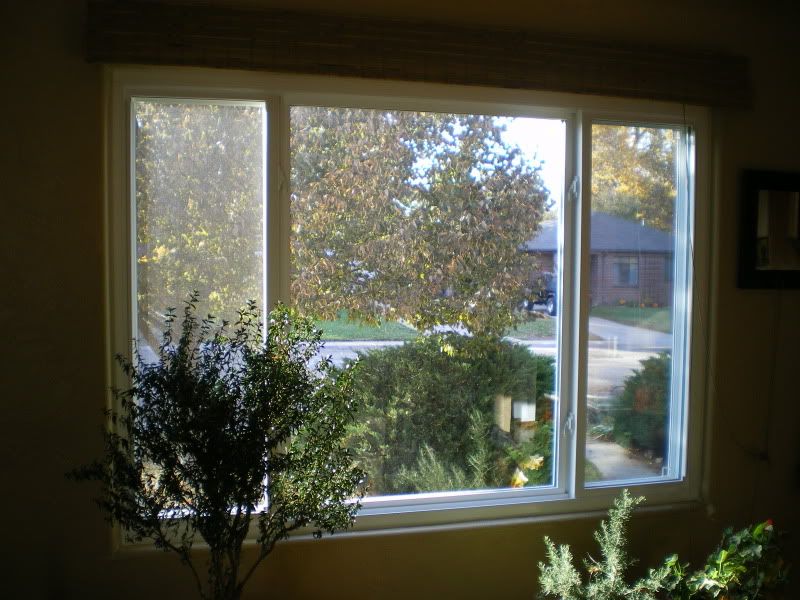 We've owned two homes in the past nine years, and lived in plenty of rentals. Thus, I've experienced a whole slew of window options. In turn, I've seen a lot of ways to add insulating power to those windows:
My first apartments had original (ca. 1910) single-pane windows with wood frames and pulleys to raise and lower the windows. These were less than efficient. Most often we used the plastic stick-on technique Jennie wrote about last week. (If you have this type of window and are looking to weatherstrip them, I came across this link for how to install spring-style metal weatherstripping that will work with them.
Our first home had original, 1950s aluminum crank-out windows. The cranks didn't work well, and some windows didn't close completely. In many of the rooms, the previous owners had installed storm windows inside the windows. These sat in frames on the interior windowsills, and slid back and forth so that we could attempt to crank out the old windows.
Eventually, we installed new windows in the entire house. For the 1,500-square-foot ranch home, new windows cost around $10,000. This was the cost from the lowest bidder, a company that left the interior finish work to us. It included three huge windows in a family room/office, and six custom-sized windows in the family room, which had single-pane, non-safety-glass windows right at toddler level. To save money, we opted not to replace another grid of six custom-sized windows in the living room because we seldom used the room and it was sheltered by a porch.
In our current home, the windows are newer than the home's 1950 vintage. They probably were replaced ca. 1995. They're not perfect, but they are much better than the original aluminum-framed windows.
Options for homeowners
In any home, good window coverings will help minimize drafts and heat loss in the winter. But if you own a home with drafty windows, you have several options to deal with the windows themselves.
Insulate seasonally like Jennie did.
Similarly, staple or tack clear, thicker plastic on the *exterior* of windows and caulking around the edges.
Install single-pane storm windows over your existing windows, either outside or inside.
Caulk around the windows to minimize air transfer.
Replace windows with more efficient ones.
We took on #5 this year. For some reason, our home's previous owners had not replaced the living room picture window. It was a single pane of glass, about 48 inches by 60 inches, framed into the wall with aluminum. As for insulation value – in the winter, the glass sometimes iced over, halfway up, for days at a time. We used the removable plastic, but even beneath it, sometimes ice would form on the inside of the glass. (And in the summer, the sun coming through was broiling hot.)
For about $700 to replace our window (that's the new one up at the top), we gained several advantages:
Much less heat in the summer and cold in the winter.
Our furniture will last a little longer without as much sun fading.
The window has slider panels at the ends, so we can open those for air flow.
We'll qualify for a tax credit for 30 percent of the cost of the window this year because it meets federal energy efficiency guidelines.
It's a good investment in the value of our home.
Caulking drafty windows

This challenge also inspired me to dive into a few more drafty-window issues. In our ground-level bedrooms, winter brings a general drafty sensation. We've never been sure if it's because the walls are so cold, or because the windows leak.
Sites such as this post from Condo Blues suggest testing for air leaks by using a candle or stick of incense near a window on a windy day. I tried the candle version in our bedroom, but it didn't show much:
I could see that the caulk was peeling away from the window slightly at the bottom: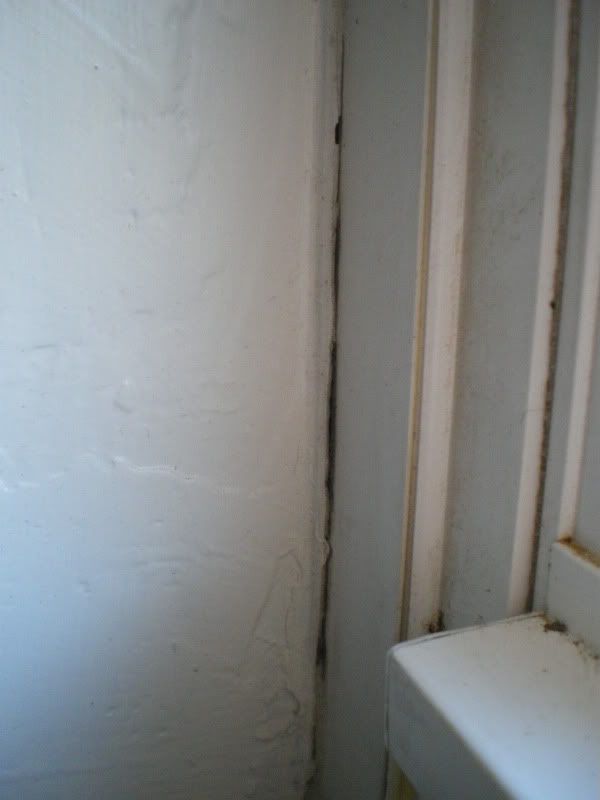 … but that wouldn't necessarily be the whole story on the drafts.
Then I remembered Mr. Cheap saying he felt the drafts from the windowsills. I stepped outside and found this:
I'm not sure if you can see that beneath each exterior window is a gap between the diagonal bricks on the windowsill, and the vertical brick wall. Some of these gaps are sealed, or somewhat sealed, with mortar, while others are wide open.
In my exterior inspection, I also realized that we have never mended an old crack in our exterior wall. On our home inspection report, the inspector wrote that the crack came from some ground movement long ago, but we should seal it to avoid water penetration. Oops.
The solution: Caulk.
At the hardware store, I bought a tube of DAP Dynaflex 3.0 All-Purpose Sealant for about $6. It says it will cover 49 linear feet. We already had a caulk gun like this, but the store had a rock-bottom basic caulk gun for around $4. Learning how to use a caulk gun was a snap after a handy web video.
This afternoon, with the sun finally out after several dark, damp days, I caulked my little heart out. The tube covered the gaps beneath all our windows, the crack in the back wall, around several pipes protruding from our brickwork, the cracked caulk inside our bedroom windows and a few miscellaneous areas as well.
Expanding foam insulation for a gappy frame
The one window where I did see some candle-blowing action was in the laundry room, where the window is not an exact fit. The window also was full of spiderwebs, which I've recently learned are a sign of drafts or air gaps.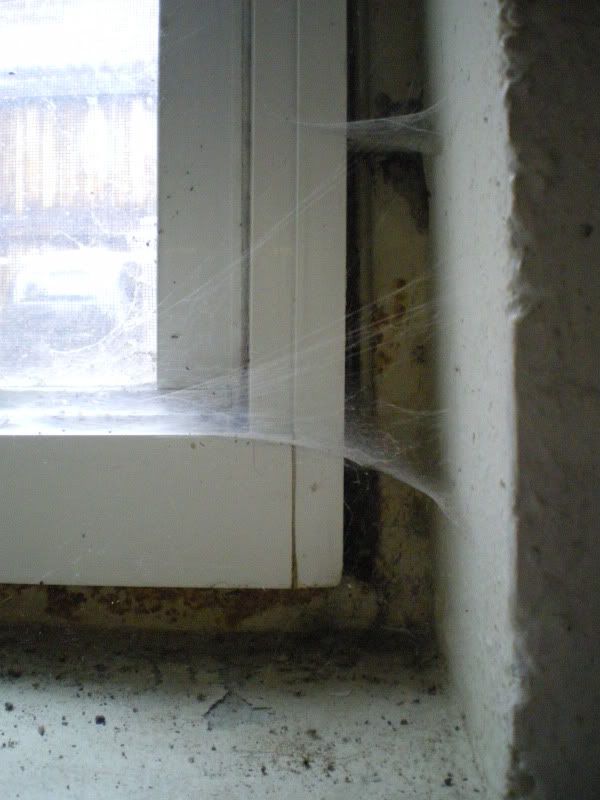 I vacuumed up the webs and extraneous mess (call me Martha Stewart, but I believe it's good to do that every five years or so). Then I pulled out my can of expanding foam sealant (about $5 for the can) and went to town. I filled in all around the sides and top of the window, and filled in some small holes in the walls where I could feel air coming in.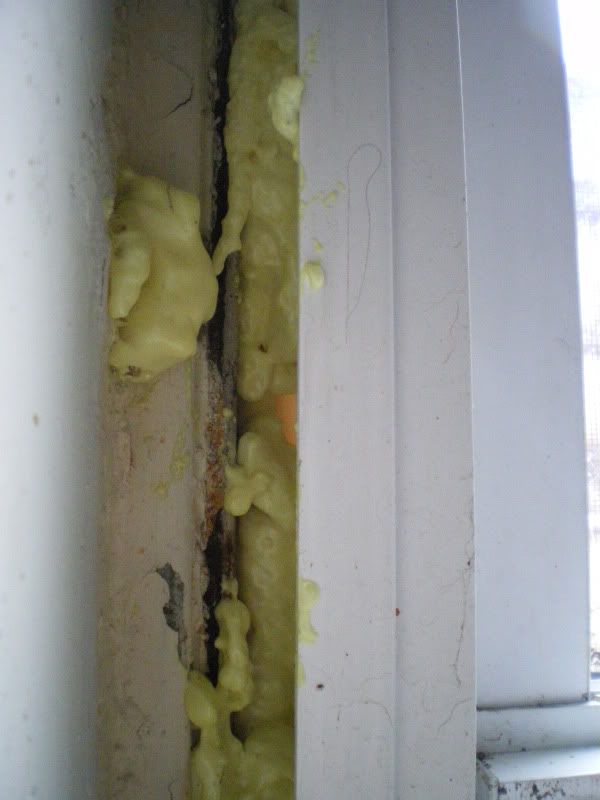 You can see, in that shot, that after one go, daylight was still visible through the plastic windowframe, so I filled it again.
Words of caution
With both of these projects, safety is important. The materials are toxic to people when they are wet. Expanding foam insulation is highly flammable when it is being used, so turn off pilot lights where you are working and be sure you have good ventilation. Safety gear (gloves and goggles) is also a must: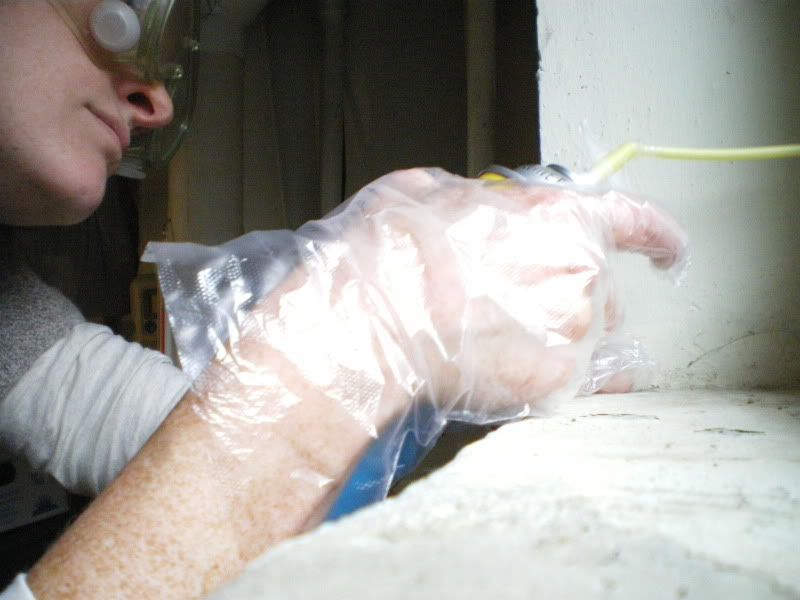 Also, be forewarned that a can of this expanding foam insulation will seal itself closed after two hours — that's in the tiny print on the can. So do all your projects at once, or be prepared to buy another can if your projects are spaced out.
The bottom line:
All told, my cost was $12.
My savings could be $40 this year.
Both of these projects – planning, shopping, caulking and insulating – took approximately 4 hours total.
Have you done these projects before? Share your words of wisdom!
DISCLOSURE OF MATERIAL CONNECTION: http://cmp.ly/0
Sign up for our Newsletter
Google+ Comments