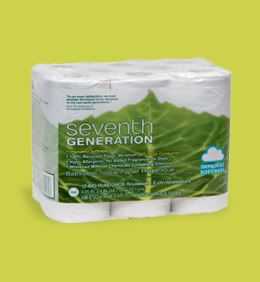 Last week's Denver Post article about this blog raised a recurring question on the blog, Twitter and Facebook: What do you mean you've used fewer than 48 rolls of toilet paper in more than a year?!
Having never participated in another adult's toilet habits, I can't speak to why you use more or why we use less. But I'll do my best to address what we *do* do (pause to be five years old: Ha ha! I said "doo doo" in a toilet paper article!) to keep our toilet paper habits green.
Read to the bottom (oh, this post is rife with double entendres!) for an opportunity to switch to recycled paper with a great giveaway thanks to Seventh Generation.
Always buy recycled toilet tissue!
I firmly believe we should not chop down trees to wipe waste from our bodies and immediately throw it away via the sewer system. Worldwide, the equivalent of 27,000 trees per day is converted into toilet paper. 27,000 trees. Daily. And many cultures don't even use toilet paper.
To eliminate potty paper, I briefly experimented with reusable toilet cloths. But after not long, I gave it up, growing tired of pulling tiny cloths out of the washer, explaining the setup and feeling "not so fresh" (guess I'm too American for that after all — hey, must draw the line somewhere!).
Instead, I returned to 100 percent recycled-content toilet paper. I sought out the lowest-priced, lowest-footprint variety. It turned out to be Seventh Generation one-ply, and that's what we've been using for nearly two years.
If you want a third-party reference as to the most eco-friendly toilet paper, tissue and other paper products, reader Ben pointed out that Greenpeace has a guide, available either in PDF format or as an iPhone app (the iPhone app link will open your iTunes store).
Isn't it rough and horrible? Isn't it thin? Don't you use three times as much?
No.
Or, not really. Some brands aren't so nice. We've been using Seventh Generation, and it's fine. Plush toilet paper might be nice in theory, but really? Unless you have a serious skin condition or a medical problem, let's face it: We're talking about a derriere. We sit on it, we ride horses and bikes on it, jeans rub on it, germs come out of it — it can handle recycled toilet paper.
If you must, keep a roll of plushy on hand in case you have a "delicate" situation. (I do not make this exception. It's a moral stance for me.)
What does it cost?
I'm glad you asked. I happen to have updated my handy-dandy spreadsheet comparing toilet paper costs in my area and online. I think the best way to compare is cost per sheet. For thicker paper, you might use fewer sheets, but you're also going to have fewer sheets on a roll. Per sheet cost levels the playing field, I think.
Note that for comparison's sake, I include Kirkland (Costco's store brand — cheaper than most "plush" papers), which is not recycled AND comes individually packaged in plastic. Kirkland is the same price as the cheapest green recycled toilet paper, and two brands (those highlighted in red here) beat it in the per-roll price.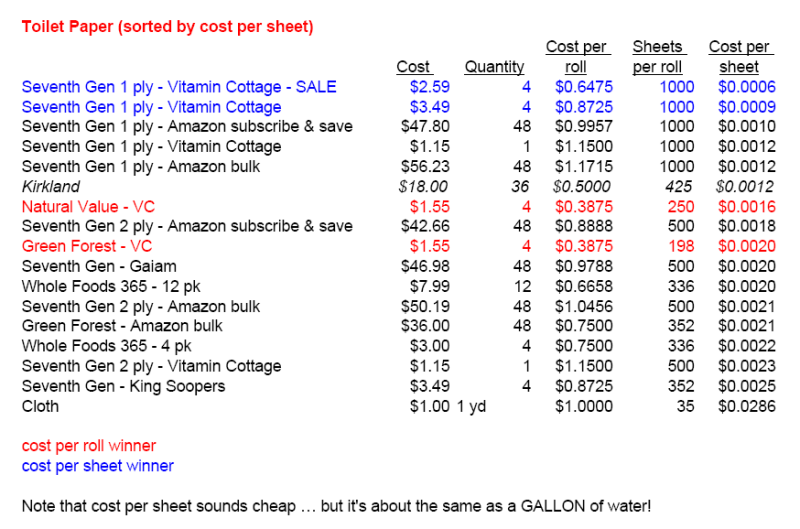 Making the most of each roll
We buy Seventh Generation one-ply toilet tissue with 1,000 sheets per roll. Since the questions arose last week, I've been counting, and for normal usage, I use 7-8 sheets per "seating." It's not Sheryl Crow's one-square-per-time limit, but let's be realistic — it IS one-ply, and it still allows for 125 uses per roll.
That means our case of 48 rolls would last through 6,000 trips to the bathroom. If the case lasts our family of three a year and a half, we're visiting the loo at home 3.7 times a day. I can't find an authoritative Web source on how many times people use the restroom daily, but the anecdotal consensus seems to be 4 to 6 times, so that about covers us. So to speak.
If your family uses a lot more, help them cut back:
Talk to them about the tree issue.
Put a mark on the wall (using pencil or masking tape) to show where to draw the line and tear off the paper.
Little known fact: There are multiple ways of managing your paper. See whether crumpling the tissue (more volume) or folding it (more surface area) works better for you.
Don't break up the family over it. Just guilt them into helping you with more recycling or composting if they freak out about their passion for TP.
Win a case of Seventh Generation toilet paper and see for yourself!
Wanting to make the switch but just haven't done it yet? Seventh Generation has generously offered to give away a whole case of Seventh Generation 100% recycled toilet paper to one reader of Cheap Like Me! (And unlike the multipack in the photo above, a case of Seventh Generation toilet tissue arrives with no plastic whatsoever — it comes in a cardboard box with rolls wrapped in recycled paper.)
To enter the giveaway, click over to the Seventh Generation website and take a look at the information you find there. Then come back here and leave a comment with your e-mail address telling us one fact you found out about recycled paper products or environmentally friendly cleaning products. (Facts are scattered all over the site — or check a package if you have SG products at home.)
Earn additional entries by leaving an additional comment if you:
Promote this contest on Twitter with @cheaplikeme @SeventhGen
Mention it on your Facebook or other social network page
Promote it on Digg, Reddit, StumbleUpon or your recommendation site of choice
For each of these actions, come back and leave another comment with your e-mail address stating what you did for an additional entry.
Meanwhile, you can also check Seventh Generation's site for coupons on their products.
Contest ends Monday, May 10. Winner will be chosen by random number selector. I have no material connection with Seventh Generation.
Sign up for our Newsletter
Google+ Comments