Recently I bought a Kill-a-Watt device to measure electricity usage, and I'll be posting here periodically about what it's teaching me.
True confession: We have a fancy Bunn coffee maker that keeps the water heated at all times so we can brew a fresh, excellent pot of coffee (into the dishwasher-safe thermal carafe) within 3 minutes.
We bought this coffee maker several years ago after very extensive research. It retails for almost $150; I combined rebates, discounts and credit card rewards to buy it for a net of around $50, and we have been thrilled ever since. Mr. Cheap is a serious coffee snob, and I must have my coffee HOT, so this has been a holdout among our wasteful appliances.
But thanks to Claire Walter's question during the anniversary question session, I looked up its energy use and found that it uses 800 watts. Holy guacamole!
The electricity tally – before
I plugged the coffee maker into the Kill-a-Watt for 24 hours and learned that during that time period, the Bunn used 1.1 kilowatt hours of electricity, which (at our actual energy cost) would cost us about $50 per year. (For comparison's sake, know that our refrigerator costs about $80 per year to run.) That is a lot of electricity for a daily pot of coffee.
Of course, we usually only brew one pot a day, during a set period of a couple of hours in the morning, so we don't need a tank of hot water 24/7. So the last time we were out at our local superstore, I picked up this little baby: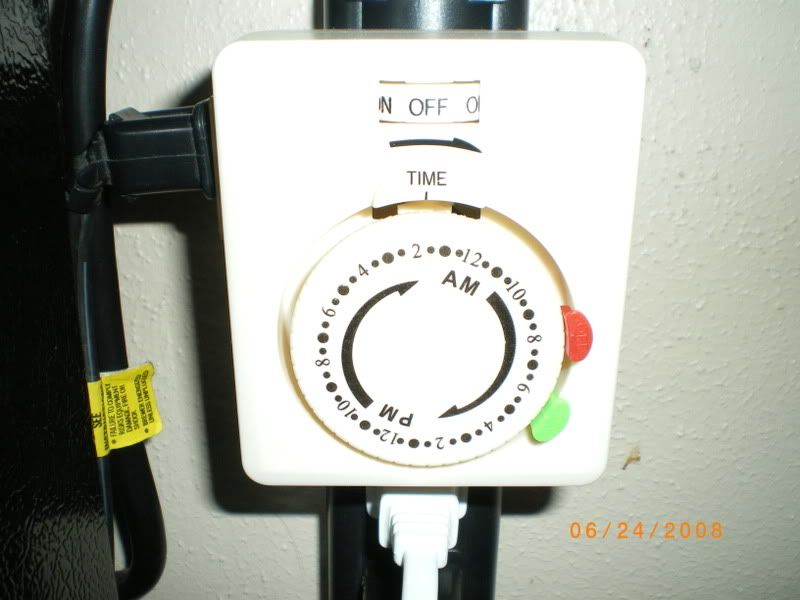 It's the simplest of the simple – a $4 manual timer that lets you stick in the pegs to tell the device plugged into it when to turn on and off. I set it to come on around 5:30 a.m. and turn off around 8:30 a.m. (for those weekend days when we might brew a second pot). Then I plugged it into the Kill-a-Watt for another 24-hour period.
The electricity tally – after
On the second go-round, while plugged into the timer, the coffee maker used .35 kilowatt hours, which will cost us $15.94 per year. That's a savings of 68 percent. We can probably save even more by whittling down the time the timer is "on" — I've been clicking the timer to "off" manually when we are finished brewing.
Now we can have our coffee and drink it too.
The alternatives
Aren't there better options for coffee-making, you might ask?
The alternatives seem to be:
For now, I'll stick with what I've got, and I won't feel too guilty since we do purchase wind power and fair-trade coffee. Nevertheless, way to inadvertently crack the whip, Claire! And thanks for saving us $34 (and 220 pounds of carbon dioxide emissions) a year.
Sign up for our Newsletter
Google+ Comments