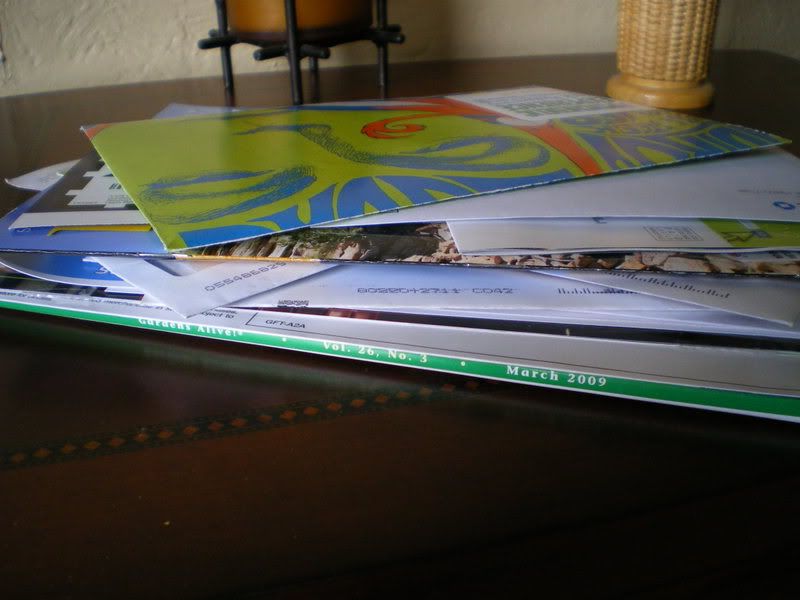 Last year, I vowed to eliminate my junk mail. After fighting in vain to contact every catalog and junk mailer by myself, I looked into other options. In July, I subscribed to GreenDimes (now renamed Mailstopper) to unsubscribe me from catalogs, companies and other unwanted senders of mail.
For an overview of their services, see my original post here. Basically, the company promises to automatically unsubscribe subscribers from direct mail services.  Then, users can go online to the Mailstopper Web site and enter in junk mail as it arrives. The company will request on your behalf that you be unsubscribed.
The premium service I subscribed to allows you to include multiple names. That is perfect for us, because my husband has two names under which some companies send him mail; my daughter and I get onto lists; and we still receive junk mail addressed to the previous homeowner (who moved out 4 years ago) and her family. All of those names are being unsubscribed.
It also includes not only catalogs, but companies — like DirecTV and Big O Tires — that have extensive mailing lists.
The service takes some time. In October, I reported that in a two-week period, my junk mail — only the mail we didn't need — weighed four pounds. At the three-month point, I didn't see a huge reduction in junk — although, granted, the holidays were approaching, and every catalog company known to humanity was sending out piles of mail.
Now? It's a different story.
The picture above shows our junk mail for the past two weeks. Total weight? 20 ounces.
And a lot of this mail isn't strictly junk. The contents include:
A seasonal gardening catalog (weight: 6 ounces)
My AAA member magazine (3 ounces)
A membership promotion from the art museum and one from the natural history museum — both of which we're likely to accept (2 ounces)
Coupons from four retailers I use and one I probably won't, total savings of $34  (3 ounces)
Two bills (1 ounce) – just signed up to receive both electronically
Two promotions for programs my daughter participates in (1 ounce)
5 pieces of financial information and promotions from a credit card company with whom we have cards (3 ounces)
Overall,  we've cut our junk mail by 75 percent. Some days, I get only one or two pieces of mail, and they're usually relevant. A year ago, my mailbox was bulging every day.
Try a free option to cut back
Several readers have commented that they use Catalog Choice. They provide a list of all catalog merchants who have agreed to participate on their site. They don't seem to include companies that Mailstopper does include. But for free, you can cut way down on the hassle, printing, recycling and shipping of all those catalogs you just don't need.
Either way, you'll also benefit from having temptation removed — if you don't see that amazing gadget or cool new pair of boots, you won't even know you want them.
Sign up for our Newsletter
Google+ Comments