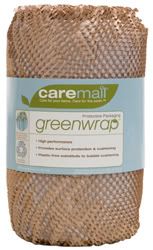 'Tis the season to send gifts far, far away … and whether you're shipping a handmade gift to your grandma, a box of donations to children in another country or (we won't tell) an item so perfect that you averted your green AND cheap mindsets just this once, I ask you to consider your shipping supplies.
Whatever the contents, wherever the destination, whichever the shipping service, think about doing what you can to unpack the plastic and waste from your shipped items.
Padding packages
A couple of months ago, I wrote about UPS and their plastic bubble wrap envelopes. After that experience, I started looking around for more earth-friendly padded envelopes. At first, I thought of those envelopes filled with insulation-like fiber — but the world is awash in complaints about how the paper fibers can get everywhere, ruin DVDs and videos, render outfits unpresentable, etc. And once used, even assuming the recipient is clever enough to pull the opening tab instead of cutting open one end and unleashing the dusty filling, they can't really be used again, and probably are difficult to recycle. (Although apparently they are perfect for shipping "oily components.")
Then I found this GreenWrap at Staples. It is imperfect (not recycled), but a great alternative to plastic.
Greenwrap comes in sheets and is a substitute for conventional plastic bubble wrap. Over 75% of the fibers in Greenwrap are sourced from Certified Sustainable Forests and the product is fully recyclable with mixed papers.
I was pleased to see that much of the padding in a gift box I ordered recently from Uncommon Goods was Greenwrap.
I have shipped several items in Greenwrap and a plain 8 1/2 x 11″ envelope – perfect!
Unplastic the tape
What had not crossed my mind until recently was to seek out alternatives for plastic shipping tape. This site — referred to by Fake Plastic Fish, who was promoting a No Plastic Packaging Challenge — looks great, and it's a good place to order paper packing tape. For good measure, the paper tape is much cheaper than plastic tape. At case rates found online, plastic tape costs 3.7 cents per foot; paper tape costs 0.125 cents (1/8 of one cent) per foot. Apparently, you can buy a case of 24 rolls of paper tape for $5.
To finish eliminating plastic tape, I'll need to:
Handwrite addresses instead of taping on pre-printed shipping labels from sales channels like Amazon.com and Alibris.
Using environmentally friendly shipping labels instead of taping on pre-printed postage labels when postage is printed online from eBay or the USPS.
Or better yet, just stop by the post office en route to somewhere else and managing postage manually, with stamps or simple water-based, glue-on metered postage.
Reuse
For most readers of this blog, this goes without saying, but reusing any packing material is better than buying new anything else. If you throw away the bubble wrap you receive and run out to buy paper padding, you aren't doing yourself any favors. Use the old and you'll save time, money and resources.
If you have too much bubble wrap or too many packing peanuts, drop them off at a shipping store. You'll still be recycling and they'll be happy to see you coming, because you'll save them a few dollars, too.
If you are looking to pack your shipments for free and you don't have enough shipping materials to reuse, this post mentions a bunch of places to find free shipping supplies.
Save money on shipping fees
When it's time to actually get that package out the door, it's hard to know what method will be most cost-effective. A new beta site called ShipGooder proposes to help you with that. Enter the starting point, destination, size and weight, and it will return a chart of options to help you find the least expensive route for your goods.
Sign up for our Newsletter
Google+ Comments