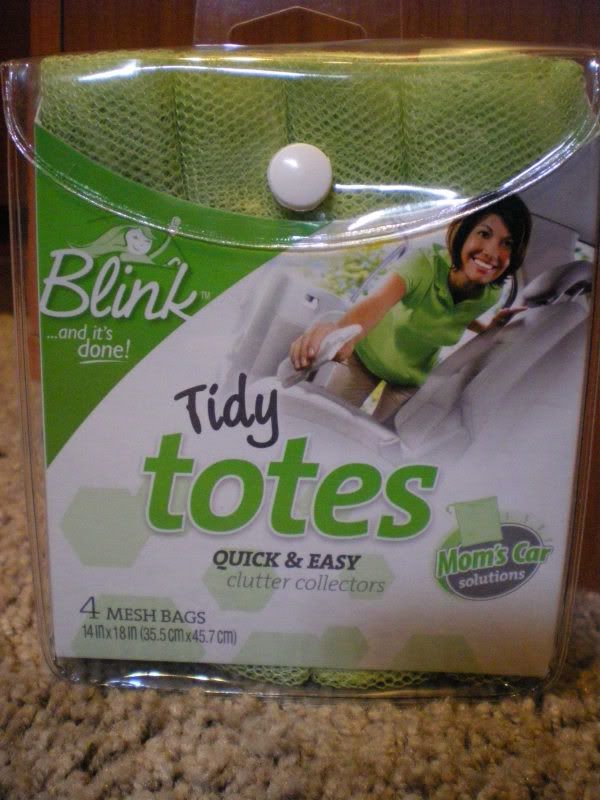 I've been seeking reusable produce bags for quite a while.
I've been cringing when I pull a plastic bag off the roller at the store, cringing even more when I let some spinach sit too long in the fridge and it gets gooey in the bottom of a plastic bag, meaning I have to throw it out rather than reuse it, and cringing again when I find a mound of bags in my big grocery bag and recycle the unneeded ones.
I bought some drawstring material to whip up my own produce bags. That was sometime in late 2008.
But last week, at Dollar Tree, I found these bags. As the slogan says, "everything is just $1," and that included$1 for FOUR little drawstring bags, which I used this weekend for my grocery shopping.
Each bag is 14″ by 18″ (about 36cm by 46cm), with a drawstring cord.
The lightweight material won't add much to my produce costs.
They are a nice bright light green that shows up in the depths of my grocery sacks.
They are made of mesh, so veggies can be rinsed in the bag, and the bag can be rinsed (or, most likely, thrown in the washer occasionally).
When she was scanning my veggies, the checker fondled one of the bags and said, "ooh, this is nice!"
The drawback is that they come in a sturdy plastic pouch for which I can't think of a use. But in the end, I think they are less resource-intensive than a stack of plastic bags — and less money-intensive than the reusable bags being sold in my grocery store produce section for $7.50 for three.
I found mine in the household/automotive section. They are marketed as "mom's car solutions," but mine were with the pledge dusters and the like. When I'm in the area, I'm going to go back for one more package.
UPDATED: If you can't find these at your dollar store, Tidy Totes are available at Amazon
, but watch out for the shipping unless you're ordering multiple items from the same retailer.
Sign up for our Newsletter
Google+ Comments