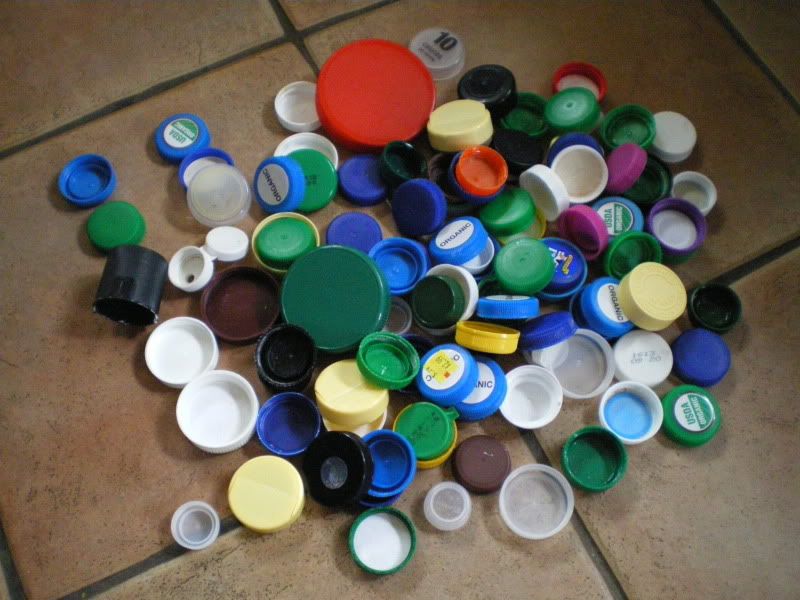 Quite a while ago, I heard that Aveda would accept plastic caps for recycling, but now they are back with an official RECYCLE CAPS WITH AVEDA program. Hooray!
Plastic caps are the part of the recyclable plastic container that doesn't recycle around here. Fortunately for me, I've had faith that Aveda or someone else would come back and help us out, so I've been collecting caps for a year or so in a bag in my laundry room (also home to my beer bottle, plastic bag, milk carton and styrofoam collections).
Why recycle the caps?
Here's what Aveda says about the reason for recycling caps:
Often these caps end up as litter or trash, ending up in landfills and beaches or migrating into our rivers and oceans. Birds and other marine creatures mistake them for food with tragic results. The magnitude of this pollution problem is devastating to our oceans and wildlife.
What are they doing with the caps?
They're going to turn them into new packaging, they say:
Aveda has been able to work closely with our suppliers to develop ways to make new caps and containers from the recycled caps. We hope to ship new products using this reworked, environmentally-friendly material later this year.
My experience
That's my cap collection, in the photo. (I'm actually surprised how few there were after saving them for so long.)
On Friday, I stopped by the Aveda store at our local mall and asked if I could drop off the caps. Not only could I drop off my caps — the sales clerk gave me some cool tea, a head and shoulder massage, and offered me a sunny bronze makeover, and then sold me two products instead of the one I came in for. I did check out their products on Good Guide and was happy to see that they are healthier than the drugstore version of mousse I've been using up. The Environmental Working Group's Cosmetics Database agrees.
Currently, it  looks like the program accepts caps that are brought into Aveda stores or salons only. If you are interested in expanding the caps recycling program to your child's school, Aveda will supply special shipping labels for the school to ship the caps for recycling.
Sign up for our Newsletter
Google+ Comments