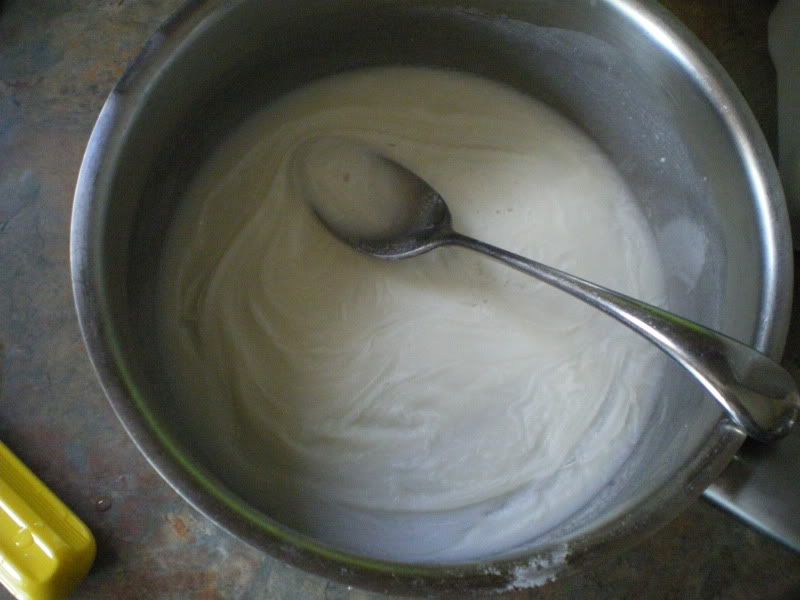 This series checks out whether something that sounds like a good deal — or takes a bit of extra work — is a good deal. We'll look at cost and benefit — with everything filtered through my individual experience. Please chime in with your take.
Sometimes, fate and B.O. collide.
Last week, as my deodorant was running out, I ran into a post on the blog One Long Adventure called "Deodorant – take 2."
Make my own deodorant? The post sounded like the mysterious substance — made wholly from safe-for-the-kitchen, even edible, ingredients — was easy to create and might even work. To the kitchen!
The recipe
The recipe is very simple:
Here is the recipe we followed:
* Place 5 tablespoons of coconut oil (unrefined from natural food store) in a pot and liquify over low-medium heat.  This happens very quickly.
* Remove from heat and add other ingredients.
* Add 1/4 cup of corn starch
* Add 1/4 cup of baking soda
* Stir continuously until smooth
*Add essential oils drop by drop until desired scent is reached
* Pour into a 4 oz canning jar.
*Leave lid off until cool.  Re-stir once cooled, as essential oils sometimes float to the top. Can refrigerate for a couple days to solidify.
(I mixed into mine a few drops of lavender essential oil and about 6 drops of tea tree oil as a mild antibacterial.)
The photo at the top is the solidifying mixture in the pan. The whole process took about 10 minutes.
I didn't put mine in a canning jar. Instead, when I dug around in my bin of containers, I found this perfect way to store the deodorant: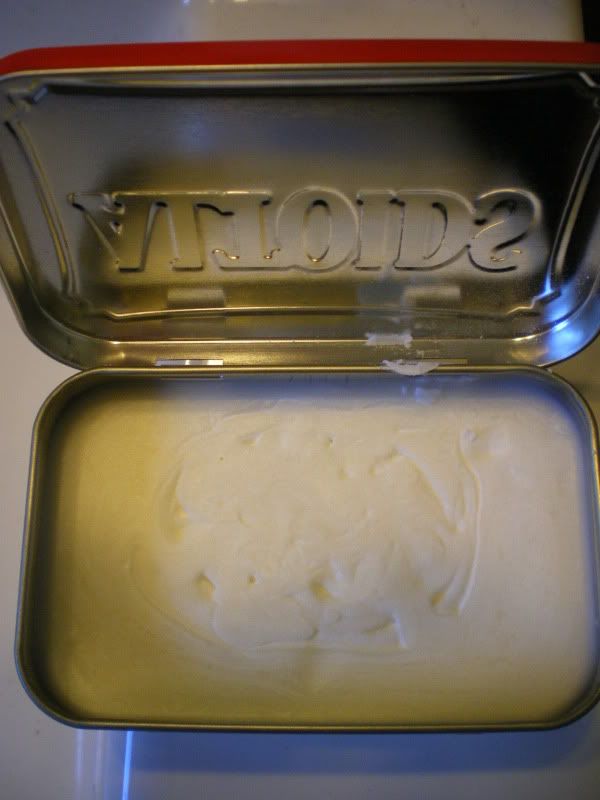 Taking it one step further
Just for kicks, I decided to use a tip I read on another blog a while back and put half of the homemade deodorant into my old deodorant container for convenient application.
The process took as long as making the deodorant. I used a couple of simple tools to pry the top off the deodorant container.
Then I used soap and water to scrub the old deodorant out of the inside — the worst part of the whole process. Slimy, greasy and hard to remove, but when it was done, it was clean. It took a couple of minutes for me to figure out how to lower the plunger that drives the deodorant up through the holes on top, but once I held the central post still with the pliers it was simple to click the plunger back down.
I scooped the deodorant mixture in, popped the top back on and voila, homemade deodorant in an easy-to-use container that, among other things, will blend in in public places, if it matters.
The cost breakdown
When I purchase deodorant, my goal is always to find something for as close to $1 as possible, but realistically, commercial deodorant costs about $4 per container. Natural deodorant (from Tom's of Maine to Dr. Hauschka to the crystal) can cost from $6 to $12, although the crystal will last a long time.
Here's the cost breakdown for my ingredients:
Ingredients
Cost
Coconut oil – 5 T (organic)
$1.43
$8 for 28 T (14 oz)
Baking soda – 1/4 c.
$0.01
$5.59/12 lbs. or 200 cups

Cornstarch – 1/4 c. (organic)
$0.81
19.54 for 6 8-oz. boxes (48 oz.)
Essential oils – 10 drops
$0.13
$8 for about 600 drops (1 ounce)
Gas stove
$0.02
.28 per hour of stovetop use
TOTAL
$2.38
2 containers
$1.19
per container
Savings = 70 percent cheaper than conventional deodorant at $4 a stick.
But does it work?
I've used the deodorant for several days now and it has been effective — and typically, only "clinical protection" levels of deodorant are fail-safe for my personal armpit "rainforest" of bacteria. Interestingly, a couple of times when things have gotten a little sweaty (driving in the car on a sunny, warm day with the windows up, just to test it), I've caught a whiff of smelly — but a few minutes later, the odor is gone, as if the tea tree oil knocked it out or the baking soda or cornstarch absorbed the odor.
In the past couple days, this natural recipe sustained me through changing temperatures inside a jacket (often a recipe for odor), overnight, through a workout and through a surprise session at a quick yoga class before I could grab a shower. That's definitely at least equal to "clinical strength" protection for me.
We've also tried the deodorant from the tin. You can simply rub your fingers across it and then apply it to your armpits. It leaves just a faint greasy feel on fingers that is easy to remove — unlike regular deodorant. Those with hairy pits might find the rubbing-it-into-the-fur a little off-putting.
Time will tell whether it continues to work, or needs to be alternated with other products to be effective, but so far, so good.
The winner: I wasn't sure it would work, but obviously, homemade! So far, it's amazing! And I really like it in the re-used tube.
The priceless factors:
Simple, nontoxic ingredients. (According to the Environmental Working Group's Skin Deep Cosmetic Safety Database, the baking soda is the most toxic ingredient in this concoction. It received a 3 (out of 10) on the hazard scale, and it is only 1/3 or so of the ingredients. My previous Dove deodorant received a 4, although some products by Ban receive a nice, green 1.)
Can be as organic as you want it to be.
Quick process — the mixing/cooking process took 5 minutes or so.
Easy to use recycled containers.
The drawbacks:
Takes slightly more time and effort than grabbing a roll-on off the shelf at the store.
The verdict:
Worth it.
Grade:
A
Have you tried it? Would you? Let us know your take on homemade deodorant.
Sign up for our Newsletter
Google+ Comments